Highlights

The S&P/ TSX Capped Utilities Index swelled by over nine per cent in a year.
Hydro One stock shot up by over 14 per cent in 52 weeks
Algonquin Power recently collaborated with Meta Platforms (NASDAQ: FB).
Fear of jumbo rate hikes have instilled recession fear among investors. The International Monetary Fund (IMF), for one, has slashed its global growth outlook to 3.6 per cent for 2022-2023 due to the Russia-Ukraine crisis.
Also read: ARTG, RUP, NFG & more: 5 TSXV gold stocks to hedge against market crash
Soaring commodity prices too can further exacerbate inflationary pressure. Amid all this, investors can turn to less risky equities like utility stocks that could help them offset implications of such situations in the long run. Notably, the S&P/ TSX Capped Utilities Index swelled by over nine per cent in one year, while the TSX benchmark spiked by nearly three per cent during the period.
Let us discuss the following five TSX stocks that could provide growth exposure and stable returns in the future.
1. Hydro One Limited (TSX: H)
Hydro One is currently the largest utility company in terms of market capitalization with operations in Ontario. The utility company recorded revenues of C$ 2.04 billion and a net profit of C$ 310 million in Q1 FY2022 compared to C$ 1.81 billion and C$ 268 million in Q1 2021.
Hydro One also raised its quarterly dividend to C$ 0.28 apiece, scheduled for June 30.
H stock shot up by over 14 per cent in 52 weeks. As per Refinitiv data, Hydro One's Relative Strength Index (RSI) value was 48.57 on Wednesday, May 11.
Also read: BEI.UN, REI.UN, CAR.UN, IIP.UN and CRT.UN: 5 TSX REIT to buy and hold
2. Algonquin Power & Utilities Corp (TSX: AQN)
Algonquin Power's Liberty recently collaborated with Meta Platforms Inc (NASDAQ: FB) for the Deerfield Wind II Wind project of 112 Megawatt (MW) in Huron County, Michigan. This new project marks the expansion of their renewable partnership and is estimated to start commercial operation in 2023.
Algonquin Power & Utilities held a dividend yield of nearly five per cent. AQN stock slipped by over seven per cent in 12 months and held an RSI value of 18.84 on May 11.
3. Canadian Utilities Limited (TSX: CU)
Canadian Utilities announced that its parent Atco Ltd (TSX: ACO.X) signed an agreement with the railroad giant Canadian Pacific (TSX: CP) to provide construction and other related services for two hydrogen production and refuelling stations in Alberta.
Canadian Utilities is set to pay a quarterly dividend of C$ 0.444 per share on June 1. CU stock climbed over 12 per cent in a year and, according to Refinitiv findings, had an RSI value of 56.3 on May 11.
4. Northland Power Inc (TSX: NPI)
Northland Power reported a year-over-year (YoY) surge of 13 per cent in sales to C$ 695.05 million in Q1 FY2022. The midcap utility saw its net profit surge to C$ 287.58 million in the latest quarter compared to C$ 151.38 in Q1 2021.
Northland Power will pay a quarterly dividend of C$ 0.10 apiece on May 16. NPI stock jumped by about five per cent in three months, and its RSI value was at 38.27 as per Refinitiv data.
5. AltaGas Ltd (TSX: ALA)
AltaGas Ltd expects its normalized earnings per share (EPS) to range between C$ 1.80 to C$ 1.95 in 2022. The C$ 7.9 billion market cap company will pay a quarterly dividend of C$ 0.265 per share on June 30.
ALA stock rose by over 17 per cent YoY, and currently, its RSI stood at 40.95 as per Refinitiv.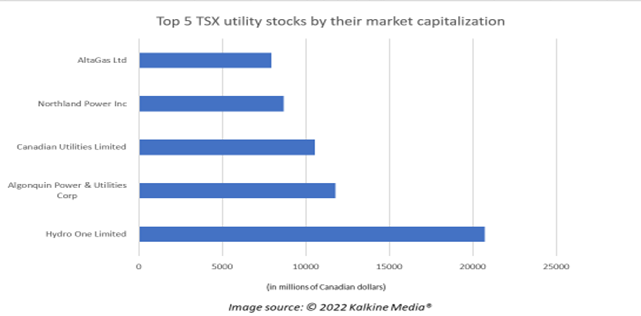 H, AQN, CU, NPI, and ALA: 5 TSX stocks to focus on amid recession fear
Bottomline
Besides steady dividends, these TSX utility companies can provide exposure to renewable energy. The utility stocks can also grow in the long run with the increasing emphasis on clean energy and net zero-emission.
Please note, the above content constitutes a very preliminary observation based on the industry, and is of limited scope without any in-depth fundamental valuation or technical analysis. Any interest in stocks or sectors should be thoroughly evaluated taking into consideration the associated risks.