Summary

Shopify is valued over C$ 150 billion, supports 2.1 million full-time jobs across the world, and powers millions of businesses
Since its IPO debut in 2015, shares have returned over an astonishing 4405 percent.
It became the largest company on the TSX, overtaking the Royal Bank of Canada in 2020.
Shopify's red-hot stock rally has become the stuff of legend in these pandemic-laden days. Consumers shift to digital shopping and businesses scramble to sell products online has turned into gold for this C$ 150 billion-tech firm, returning over 170 percent on its stocks this year.
Shopify is Canada's most valuable public company and investors have continued to binge on this e-Commerce giant, hoping its bull run continues in the coming months.
Our latest Hot Stock pick is Shopify, and in this article, we decode the factors contributing to its success along with future projections.
What is Shopify?
Shopify is a one-stop online commerce platform helping businesses kickstart their operations and grow. It offers a wide a range of services and tools to merchants including building (or redesigning) the online store website, payment gateway integration, integration with social network, online sales, in person Point of Sale (POS), shipping, analytics, customer engagement tools and more.
Simply put, Shopify helps retailers, entrepreneurs and small- and medium-sized businesses get online and then assists them in achieving goals thought a basket of simplified and extensive solutions.
(Source: Shopify investor's deck)
(Source: Shopify investor's deck)
It has its own payment gateway called Shopify Payments, a channel for large business Shopify Plus, an extensive partner and app ecosystem, plus multiple tie-ups with industry biggies such as Walmart, Google, Facebook and also the Government of Canada etc.
The Shopify Story
Shopify's story began in 2004, when the three people – Tobias Lütke, Daniel Weinand, and Scott Lake – went online to launch their snowboarding equipment store, Snowdevil. Frustrated with the existing e-commerce solutions that failed to integrate all aspects of online business, they took the matter in their own hands.
Like all entrepreneurs, the trio stumbled upon a problem and embarked on a journey to find a solution that ultimately evolved to become Shopify.
Today, Shopify is valued over C$ 150 billion, supports 2.1 million full-time jobs across the world, powers millions of businesses and hosts over 325,000 shops for sellers, including tech giants like Google and Tesla.
Shopify has three target groups:
Entrepreneurs
Small and medium businesses (SMBs)
Large Brands
With a $78 billion capacity, SMBs forms the highest part of Shopify's total addressable market.
Between 2016 and 2019, over US$ 100 million was generated by merchants across 52 nations. Business in 18 countries, including US, UK, Australia, Canada, China, and Germany, supported more than US$ 1 billion in economic activity on the platform.
Shopify Milestones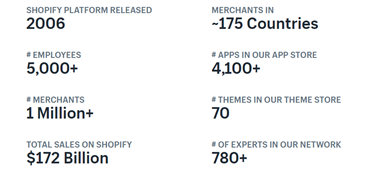 Shopify Financials
Shopify's revenues have grown larger and larger as the world got deeper and deeper into the pandemic. Within a mere three months (April to June), its total revenue rose by nearly 52 percent – from US$ 470 million in Q1 of 2020 to US$ 714 million in Q2. And if seen year-on-year (June 2019 to June 2020), the revenue jump has been almost 97 percent.
As merchants scrambled to open digital sales and distribution channels, the platform reported 71 percent new stores in Q2 as compared to Q1. Its year-on-year gross merchandize value (GMV) subsequently increased by 119 percent to US$ 30.1 billion, with food, beverages, and tobacco categories registering double GMV vis-à-vis Q1 amid continued COVID-19 restrictions.
Spotify's revenue comes from two streams – subscriptions and merchants. In Q2, while subscription revenue growth was US$ 196.4 million – a modest rise of 28 percent y-o-y, merchant solutions revenue was up 148 percent – at US$ 517.9 million.
Naturally, the Q2 gross profit was up too – by 83 percent to US$ 375.0 million – from US$ 204.8 million in Q2 of 2019.
Shopify now has a war chest of US$ 4 billion – as cash, cash equivalents and securities.
Shopify Stock Report
Shopify is the largest company listed on the Toronto Stock Exchange (TSX), overtaking the Royal Bank of Canada in 2020. It is also the largest tech firm on the stock exchange.
After its initial public offering (IPO) on May 20, 2015, the company began trading on the TSX and the New York stock exchanges on May 21, 2015.
Since its debut, shares have returned over an astonishing 4405 percent.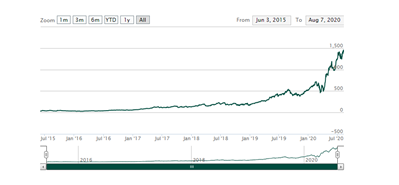 In other words, US$ 10,000 invested in Shopify shares during its 2015 IPO, has turned US$ 450,618.63 in 5.2+ years. The average annual total return stands at 107.43 percent. However, the company has not declared or paid any dividends till date.

(Source: Shopify)
Shopify shares have returned over 172 percent since January this year and 42+ percent in the last three months.

Outlook for Shopify
Shopify's bull run has not just benefitted the company and the merchants on its platform, it has dragged the TSX and the NYSE higher along with it.
But will the stock continue the red-hot rally in future?
The answer is divided.
Shopify's success is based on business model puts merchants first. The more the revenues for merchants, the more Shopify's revenue grows. The company profited during the pandemic-fueled online spending soar and merchants' rush for digitalization. As e-commerce explodes across the world, Shopify is bound to bag a lion's share of the market with its simplistic commerce tools. The stocks will soar higher if the market share and revenues expand.
Many view Shopify as a growing threat to Amazon's e-commerce dominance. But Shopify isn't a retailer; rather a platform helping retailers compete against larger businesses.
(Source: Shopify investor's deck)
On the other hand, handful analysts seem to believe, Shopify's stock is overvalued and may tumble once the bubble bursts.
But for now, its anyone's guess!