Renewed lockdowns in Canada have propelled the demand for software-as-a-service (SaaS) products once again. In this light, stocks of Canadian tech firms Lightspeed POS Inc (TSX:LSPD) and Docebo Inc (TSX:DCBO) have been trending for a while now, rising about four per cent over the past week.
There is, however, another reason that could be boosting these tech stocks. Both the companies are expected to announce their latest earnings reports in May.
Meanwhile, fellow Canadian tech company Shopify Inc (TSX: SHOP) released its latest financials on Wednesday, April 28, reporting a 110 per cent surge in its top line on a year-over-year basis. Following its robust e-commerce sales report, the stock rose over 11 per cent on Wednesday.
Let us check out the two tech stocks' previous financials and price performances.
Lightspeed POS Inc. (TSX:LSPD)

Lightspeed is set to release its fourth quarter and 2021 earnings before the market opens on May 20.
The software company provides its cloud-based SaaS network for digital payments and client data interfaces. It has a market cap of C$ 11.6 billion.
Its shares swelled more than 275 per cent in the past one year. Following the announcement of its earnings release date on Wednesday, the stock increased by two per cent to C$ 88.06 apiece.
Lightspeed's One-Year Stock Performance Chart. (Source: Refinitiv)
Lightspeed's cloud-based services revenue soared to US$ 57.6 million in the third quarter of fiscal 2021, up from US$ 32.3 million in Q3 FY2020. This spike was guided by a massive rise in its online payment operations due to unprecedented digital transactions amid the COVID-19 pandemic.
Consequently, Lightspeed's stock surpassed the S&P/TSX Application Software Index in one year.
For its fourth-quarter guidance, the company expects to score a top line in the range of between US$68 million to US$70 million. However, its outlook shows an adjusted EBITDA loss of US$ 12 million to US$ 14 million in the upcoming quarter.
Docebo is set to announce its first fiscal quarter of 2021 earnings on May 13.
The artificial intelligence (AI)-powered learning platform has made best out of the pandemic-induced work-from-home culture. Docebo stcks skyrocketed over 296 per cent in the last one year, led by the higher sales of its cloud-based services.
After witnessing a downward correction, it is up 12.3 per cent month-to-date (MTD). However, it is still down 26.7 per cent YTD.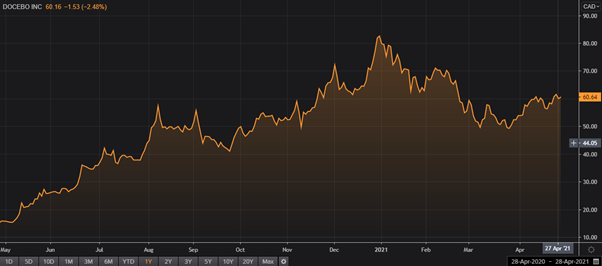 Docebo's One-Year Stock Performance Chart. (Source: Refinitiv)
In the fourth quarter of 2020, its revenue was up 53 per cent YoY to US$ 18.8 million. This surge was bolstered by its increased subscription revenue, which represented 89 per cent of the revenue. Docebo's gross profit increased by 84 per cent to US$ 15.8 million, representing 84 per cent of revenue.
For its Q1 2021 earnings forecast, the company could generate higher revenue sequentially due to the continuing stay-at-home order and rising remote training across most enterprises.
The above constitutes a preliminary view and any interest in stocks should be evaluated further from investment point of view.