Highlights

The TSX technology index shrank by about 36 per cent in 52 weeks
Stocks of Sierra Wireless zoomed by almost 69 per cent in six months
The CLS stock expanded by about 23 per cent in a year
Investors focused on growth-focused investment could explore quality TSX technology stocks for significant returns in the future. Though the tech index shrank by about 36 per cent in 52 weeks, some TSX tech stocks like Sierra Wireless (TSX: SW), Celestica (TSX: CLS), Constellation (TSX: CSU) and Evertz (TSX: ET) saw a price increase during this time.
As these Canadian stocks managed to be in the green territory despite the tech sell-off and economic pressure stemming from rate hikes affecting market sentiments, they could grow as and when the technology sector rebounds.
Keeping this in mind, let us discuss TSX tech stocks that should be on your radar.
1. Sierra Wireless Inc (TSX: SW)
Sierra Wireless is a small-cap technology firm that designs wireless communication equipment and offer Internet-of-Things (IoT) solutions. The Canadian tech provider posted a year-over-year (YoY) surge of 60.1 per cent in revenues to US$ 173 million in Q1 2022.
Sierra said that this 'improved' performance during the latest quarter was mainly led by 'strong' demand and realized investments in inventory. However, the hardware solution firm saw its gross margin plunge to 31.8 per cent in Q1 2022 compared to 34.9 per cent a year ago, primarily impacted by product mix, obsolete inventory from home security division and expedited shipping costs.
Stocks of Sierra Wireless zoomed by almost 69 per cent in six months. The SW stock clocked a 52-week high of C$ 34.74 on July 18 this year. According to Refinitiv, SW stocks seemed to be on a moderate momentum with a Relative Strength Index (RSI) value of 54.39 on Friday, July 29.
2. Celestica Inc (TSX: CLS)
Celestica is a hardware technology company providing supply chain solutions through Advanced Technology Solutions (ATS) and Connectivity & Cloud Solutions. The small-cap company reported a 21 per cent growth in its revenue to US$ 1.72 billion in Q2 2022 compared to Q2 2021.
Celestica saw a top line surge across its business segment. The ATS division posted revenue growth of 24 per cent, while the CCS division's revenue jumped 19 per cent in the latest quarter compared to Q2 2021.
CLS stock expanded by about 23 per cent in a year. As per Refinitiv data, CLS stocks recorded an RSI value of 56.18 on July 29. Celestica had a debt-to-equity (D/E) ratio of 0.53, which can point to low financial risk.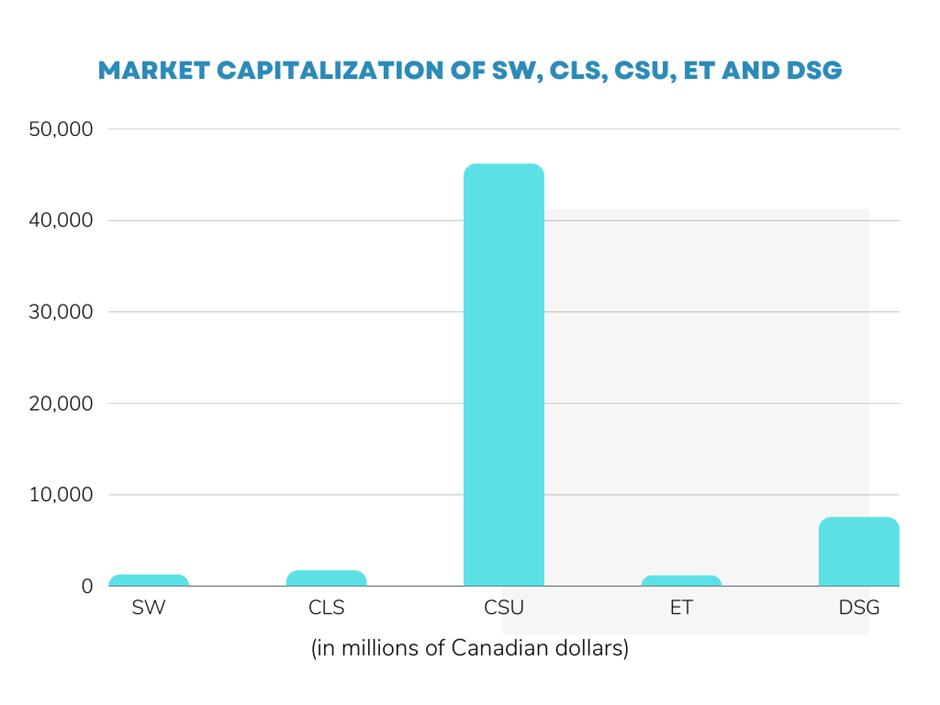 ©Kalkine Media®; ©Garis Studio via Canva.com
3. Constellation Software Inc (TSX: CSU)
Constellation Software recently stated that i2 Group is extending its analytical capabilities by acquiring Rosoka Software. i2 Group is a 100 per cent owned subsidiary of its operating group N. Harris Computer Corporation, which provides intelligence analysis software.
Constellation posted a revenue of US$ 1.43 billion in Q1 2022, up by 22 per cent from Q1 2021. The large-cap tech company improved its net profit to US$ 98 million in the latest quarter against a net loss of US$ 9 million in Q1 2021.
The CSU stock swelled by about nine per cent in 12 months. As per data collected from Refinitiv, CSU stocks saw its RSI value surge to 75.42 on July 29, representing a high momentum in the market.
4. Evertz Technologies Limited (TSX: ET)
Evertz Technologies is a hardware technology firm serving the communication services sector. The C$ 1-billion market cap firm offers telecom equipment and tech solutions to the broadcast and media industries.
Evertz said its quarterly revenue grew by 24 per cent YoY to C$ 116.1 million in Q4 FY2022. The Canadian tech firm also saw its net profit improve significantly by 96 per cent YoY to C$ 19.2 million in the latest quarter.
Stocks of Evertz Technologies jumped by over 11 per cent in the past one month. ET stocks seemed to be gaining momentum as its RSI value reached 72.46 on July 29, surpassing the overbought mark of 70, as per Refinitiv data.
5. Descartes Systems Group Inc (TSX: DSG)
Descartes Systems is a mid-cap software company that enables communication between users in the shipping industry. Descartes posted revenue of US$ 116.4 million in Q1 FY2023, marking a YoY change of 18 per cent from US$ 98.8 million recorded in Q1 FY2022.
The supply chain solution company also saw its net earnings increase by 26 per cent YoY to US$ 23.1 million in the latest quarter. The company strengthened its e-commerce shipping footprint across the globe by acquiring Utah-headquartered XPS Technologies.
Stocks of Descartes Systems climbed roughly 11 per cent month-to-date (MTD). According to Refinitiv information, DSG stocks had an RSI value of 61.45 on July 29, which generally represents a moderate-to-high momentum.
Bottomline
The TSX Capped Information Technology Index seems to be recovering slowly as its posted a quarter-to-date (QTD) gain of almost 10 per cent. Hence, growth-focused investors could explore the TSX tech stocks mentioned above to capture significant returns.
Despite the weak market environment, these Canadian technology companies posted revenue growth in their latest quarter. Some of these stocks have also been expanding their technological footprints during sell-offs. Hence, stocks with such fundamentals could gain notably if tech rebounds completely.
Please note, the above content constitutes a very preliminary observation based on the industry, and is of limited scope without any in-depth fundamental valuation or technical analysis. Any interest in stocks or sectors should be thoroughly evaluated taking into consideration the associated risks.