Highlights

In Q4 2022, Absolute Software Corporation's total revenue rose to US$ 52.5 million.
In Q3 2022, the net income for Constellation Software Inc. rose to US$ 143 million.
In Q4 2022, total assets for Absolute Software Corporation grew to US$ 555.6 million.
Several macroeconomic factors have brought various challenges for investors in Canada. The Russia-Ukraine war, rising interest rates, and inflation have affected several sectors in the equity markets, and the technology sector is one of them. However, recently, the sector has showcased a QTD (quarter-to-date) increase of 1.9 per cent.
If you are planning to select your stocks aligned with a long-term approach, it can lead to sustainability. Your portfolio reflects your wealth goals and makes sure that it portrays a stable image.
As an investor, be aware and alert to the changes happening in your surroundings. Keep a close watch to make changes to your portfolio accordingly.
Let us look at the two tech stocks, ABST and CSU, and analyze them based on their recent financial performance:
Absolute Software Corporation (TSX: ABST)
Absolute Software Corporation is a control platform that focuses on marketing, developing, and providing cloud-based endpoint visibility and security of computing devices. The company caters to sectors like government, education, professional and financial Services, and healthcare.
In Q4 2022, the total revenue for Absolute Software rose to US$ 52.5 million from US$ 31.8 million in Q4 2021. The adjusted EBITDA also grew to US$ 15.4 million from US$ eight million for the same period.
The net loss of the company was posted at US$ 5.3 million versus US$ three million in the year-ago quarter. The total assets grew to US$ 555.6 million from US$ 232.6 million in the same comparative period in 2021. Absolute Software distributes a quarterly dividend of C$ 0.08 per share and has a dividend yield of 2.181 per cent.
Constellation Software Inc. (TSX: CSU)
Constellation Software Inc. caters to public and private sector markets in terms of software. It is engaged in developing and customizing the software along with managing and acquisition of vertical-specific businesses. The portfolio of the company includes different sectors such as tour operators, hospitality, beverage distribution, textiles, auto clubs, and apparel companies.
For Q3 ending September 30, 2022, Constellation Software's revenue increased to US$ 1,725 million from US$ 1,299 million in the year-ago quarter. The company's net income also rose to US$ 143 million from US$ 121 million for the same period. Constellation Software pays a quarterly dividend of US$ one with a three-year dividend growth of 6.79 per cent.
The total market capitalization of ABST and CSU: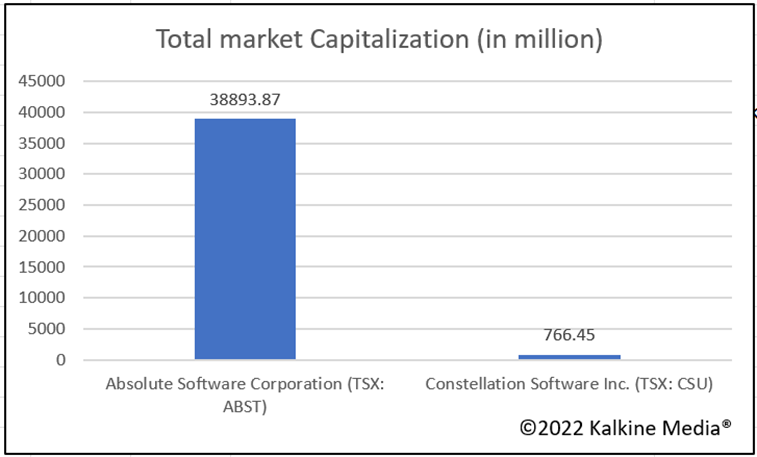 Bottom Line
Amid market fluctuations, align your portfolio with a long-term approach. Study and assess the latest market trends and implement them in your stock selection strategy.
As an investor, if you have the right understanding of the market and its trends, it may be easier to select the stocks with growth potential. Additionally, align your financial goals with the latest trends to be on the safe side. Analyze the overall market and look for stable areas. Along with this, diversify your portfolio and work on risk mitigation strategies.
Please note, the above content constitutes a very preliminary observation based on the industry and is of limited scope without any in-depth fundamental valuation or technical analysis. Any interest in stocks or sectors should be thoroughly evaluated taking into consideration the associated risks.