Highlights

Canada's main index edged lower amid rising recession fears on June 29

The Canadian technology index has lost almost 39 per cent year-to-date

Lightspeed said that its revenue improved by 78 per cent year-over-year in Q4 FY2022
As the TSX main index edged lower amid rising recession fears on Wednesday, June 29, its tech stocks also dwindled by over two per cent, bringing its year-to-date (YTD) loss to almost 39 per cent. But though the near-term market situation remains volatile, Canadians looking to invest long-term could explore quality TSX tech stocks like Enghouse (TSX: ENGH) and Lightspeed Commerce (TSX: LSPD).
Let us look at these Canadian tech stocks that are presently trading at discounted prices amid the selloff.
Enghouse Systems Limited (TSX: ENGH)
Software provider Enghouse recently acquired Competella AB, a Stockholm-headquartered tech company founded in 2009.
Enghouse reported C$ 106.31 million in revenue in Q2 2022, down from C$ 117.3 million in Q2 2021. However, the tech company improved its liquidity by posting increased cash and cash equivalents of C$ 227.37 million at the end of Q2 2022, higher than C$ 195.89 million on October 31, 2021.
ENGH stock dropped by almost 49 per cent in 52 weeks. The tech stock regained over 20 per cent from a 52-week low of C$ 23.96 (clocked on June 13). According to Refinitiv data, ENGH stock appears to be on a recovery path with the Moving Average Convergence/ Divergence (MACD) indicator heading up towards the base line. Refinitiv suggests that ENGH noted a relative Strength Index (RSI) of 47.1 (moderate level) on June 29.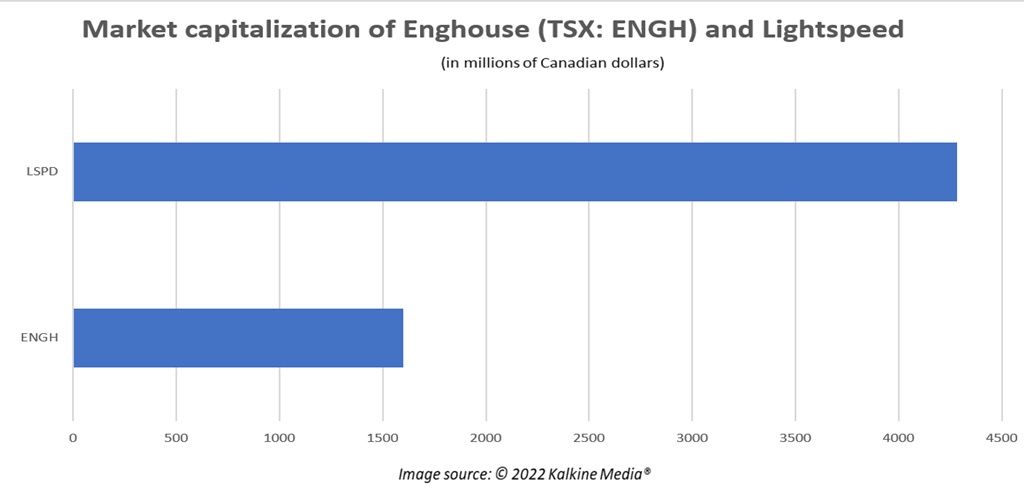 Lightspeed Commerce Inc (TSX: LSPD)
Lightspeed Commerce said that its revenue improved by 78 per cent year-over-year (YoY) to US$ 146.6 million in Q4 FY2022, supported by a 77 per cent growth in subscription revenue and an 88 per cent surge in transaction-based revenue compared to a year ago.
In June, Lightspeed partnered to integrate Threedium's 3D technology into its NuORDER to improve its business-to-business (B2B) buying process by elevating its shopping experience.
LSPD lost nearly 73 per cent in 12 months. According to Refinitiv, LSPD held an RSI value of 47.12 on June 19.
Bottomline
Enghouse and Lightspeed are small-cap and mid-cap stocks, respectively, priced under C$ 30 and could provide growth exposure to long-term investors. A point investors can note here is that both the companies recorded a low debt-to-equity (D/E) ratio, below 1, indicating low solvency risk.
Please note, the above content constitutes a very preliminary observation based on the industry, and is of limited scope without any in-depth fundamental valuation or technical analysis. Any interest in stocks or sectors should be thoroughly evaluated taking into consideration the associated risks.