Highlights

Small-cap players are associated with higher risk and volatility owing to their lower market capitalization.
The small-cap investing approach, when rightly done, can be very fruitful.
If a small-cap stock continues to trend upward, it indicates its ability to grow into bigger stock.
Small-cap stocks are hard to overlook when talking about growth exposure and associated rewards. These companies are generally young players in the respective industries and smaller in market size (market capitalization) than established companies. If the market environment favours and business dynamics remain positive, these new companies could widely outperform their larger counterparts, which includes mid-cap and large-cap companies.
But there is a catch that every investor should think of while investing in small-cap stocks: risk appetite. Small-cap stocks are associated with high risk and volatility owing to their small market capitalization, which ranges from C$ 300 million to C$ 2 billion.
When rightly done, the small cap investing approach, based on proper research of a company's fundamentals and financial and growth prospects, can yield desired results for investors. Hence, investors with risk-bearing abilities might find small-cap stocks an interesting option. However, finding a healthy small-cap stock could be challenging if one is not that well versed in fundamental analysis and market dynamics.
To educate you on small-cap investing and help you pick a quality small-cap stock, Kalkine Media® has come up with the following pointers that investors should remember while evaluating different small-cap stocks:
1. Idea and ability to disrupt the industry
Small-cap companies are generally perceived to have the ability to disrupt the entire market industry. Let us take the banking industry as an example. Better known as fintech, many financial technology companies are usurping the traditional banking model by introducing touch-free payment and other banking solutions.
Such high-growth companies may have explosive ideas that could potentially disrupt the respective industry and help them gain a competitive advantage over their peers in the future or build compelling business models over other competitors.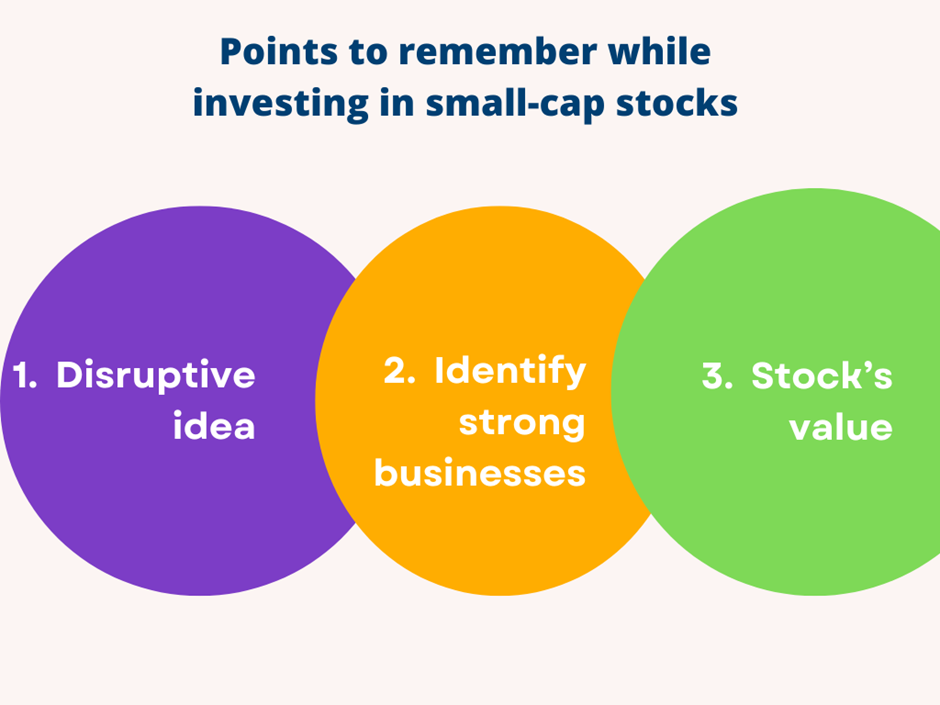 ©Kalkine Media®; ©Garis Studio via Canva.com
2. Identify strong businesses
A disruptive idea is not enough if the company cannot sell that idea in the market. Also, the company must be supported by solid businesses to turn the explosive idea into reality. Hence, to identify such businesses, one should determine how much revenue the company is generating and by what rate its revenue is growing. Notable growth in revenue over the years could mean that the company is making progress with the potential to expand its market size and business operations.
Stock price movement is another indicator generally reflecting the company's business performance. If a small-cap stock continues to trend upward, it indicates its ability to grow into a bigger stock. On the other side, if a stock has been in a downward trend or has remained flat for a longer duration, it could represent its inability to sustain itself in the future.
3. Evaluate stock's value
An undervalued small-cap stock supported by robust financials in the present and past years could be a healthy choice. On the other hand, some small-cap stocks with high price-to-earnings (P/E) ratios but not-so-good financial performance would be an expensive choice.
Bottom line
In-depth analysis of a stock's performance, fundamentals, financials etc., is crucial in investing. One could consider the ideas mentioned above while considering small-cap stocks.
Please note, the above content constitutes a very preliminary observation based on the industry and is of limited scope without any in-depth fundamental valuation or technical analysis. Any interest in stocks or sectors should be thoroughly evaluated taking into consideration the associated risks.