After a difficult 2020, the Canadian retail stocks saw some growth this year as restrictions eased. The pandemic has altered consumer behavior, which led to retailers seeking innovation to drive sales. While many retailers have shifted to digital channels, another round of lockdown may add to their woes.
Let's glimpse at these Canadian five retail stocks, which wowed investors' with their resilient performance.
Canada Goose Holdings Inc. (TSX: GOOS)
This apparel manufacturer is one of Canada's favorite retail stocks due its ability to clock returns despite headwinds. Toronto-based Canada Goose specializes in outerwear clothes and earns revenues primarily through wholesale and retail channels.
The consumer cyclical sector stock closed at C$ 47.75 on Monday, June 7, 2021. Its current price is about 23.7 per cent lower than its 52-week high of C$ 62.57, which it touched on March 2 this year.
The TSX-listed company's stock grew by 26 per cent year-to-date (YTD), while the TSE 300 Composite Index rose 9.8 per cent during the same period. The S&P/TSX Apparel, Accessories, & Luxury Goods (Sub Industry) Index, on the other hand, rose by only 3.1 percent YTD, making Canada Goose one of the outperformers in the index.
With about 59.4 million outstanding shares, the company has a market capitalization of C$ 5.27 billion.
The stock recovered significantly from the pandemic-led slump in its fourth quarter, ended March 28, 2021. Clocking the highest fourth quarter growth in terms of revenue, its total revenue rose 33.7 per cent year-over-year (YoY), aided by global e-commerce revenue. However, domestic revenues were impacted, seeing a 6.9 per cent decline during the quarter.
Canada Goose operated in the US, Asia, and Europe markets, apart from Canada.
Sleep Country Holdings Inc. (TSX:ZZZ)
Many investors view Sleep Country Holdings as a key constituent of Canadian retail stocks basket. The mattress retailer, which operates only in Canada, has a subsidiary Endy Sleep that sells sleep products online. A large chunk of its revenues flows from the sale of its bedding products such as bed frames, pillows, mattress pads, sheets, duvets, among others.
The Canadian mattress retailer's stock current price of C$ 29.46 (on June 7) is down by about 17.5 per cent from its 52-week high of C$ 35.7 (on May 11).
Its growth has largely been upbeat in the last one year, with some periods of slump. The stock advanced by 75.8 per cent in the last one year, while the TSE 300 Composite Index rose 39.1 per cent during the same period.
The financial earnings for the first quarter ended March 31, 2021, shows resilience. Its revenue rose 20.7 percent YoY, while its net income rose about 74 per cent YoY to reach C$ 8.7 million.
In a bid to expand its e-commerce operations, Sleep Country recently announced the launch of its products on omnichannel retailer Best Buy Marketplace. It also opened more retail stores, taking the total number of retail stores across the country to 283.
Sleep Country has a market capitalization of C$ 1.08 billion.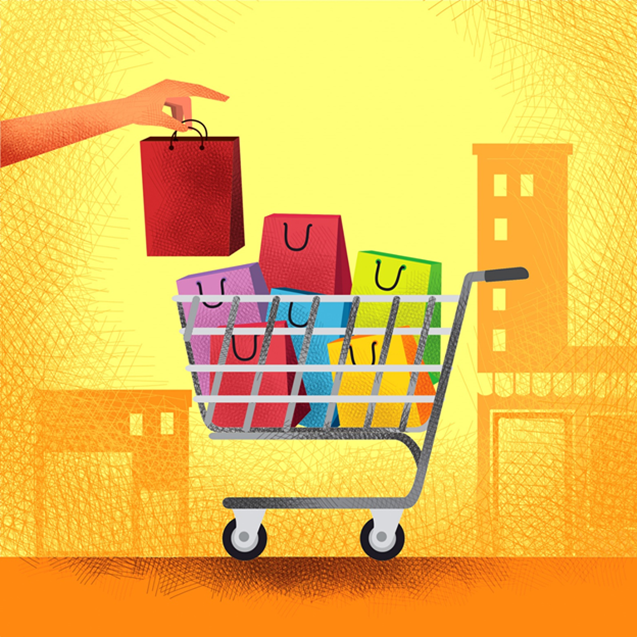 Copyright © 2020 Kalkine Media
Canadian Tire Corporation Limited (TSX:CTC)
Stocks of merchandise store operator Canadian Tire Corporation closed at C$ 255 on Monday. The retail cyclical stock is among of the top performers on the TMX's "Top Consumer Goods" stock list.
It sells a plethora of products through 1,740 retail stores across Canada. It also owns a majority stake in Canadian Tire Financial Services, and a real estate investment trust.
Canadian Tire returned about 20.4 percent in the YTD period, while the TSE 300 Composite Index rose 4.8 per cent in the same period. The S&P/TSX Genral Merchandise Stores (Sub Industry) Index returned 9.4 per cent YTD.
The C$14.6-billion company has a price to earnings (P/E) ratio of 16.50, while its earnings per share (EPS) stands at C$ 11.26. It offers a 21.69 percent return on equity (ROE).
In the first quarter ended April 3, 2021, Canadian Tire recorded a 257 per cent jump in its e-commerce segment sales across banners, which rose to C$ 450 million.
Revenues from its retail segment, excluding petroleum products, rose 26.8 per cent during the first quarter, aided by robust demand from its dealer network.
Loblaw Companies Limited (TSX: L)
Loblaw Companies Ltd, a key consumer sector stock, is not just a grocer. It has diversified into pharmacy, and general merchandise to time. It is also, in fact, a top performer as per the TSX "Top Consumer Goods" stocklist.
The stock closed at C$ 75.51 on Monday, June 7, 2021, and is currently hovering near its 52-week high.
Loblaw outperformed the TSX, returning 20.2 per cent YTD. The TSE 300 Composite Index rose 4.6 per in the same period. The S&P/TSX Food Retail (Sub Industry) Index, which zooms in on the industry's performance, rose 10.25 per cent YTD.
The C$ 25.8 billion market cap company also oversees a financial services business. It offers a P/E ratio of 22.70, a price-to-book (P/B) ratio of 2.364, and C$ 3.32 EPS.
The company's performance slightly improved on a YoY basis in the first quarter ending March 27, 2021. Its revenue from operations was C$ 11,872 million, up just 0.6 per cent YoY.
The retail segment sales in the first quarter were 0.7 per cent higher YoY. Its net income rose 30.4 per cent, while its operating income rose 14 percent YoY.
Metro Inc. (TSX: MRU)
The Montreal-based grocer operates under several banners, which are predominantly located in Quebec. Metro is also among the top consumer stocks on the TSX.
Metro's stock returned 3.57 per cent in the YTD period, while the S&P/TSX Food Retail (Sub Industry) Index declined by 5 per cent in the same period.
The stock's last close was C$58.83, about 11.2 per cent lower than its 52-week high of C$66.25, which it attained on November 9, 2020.
The food retailer has a market cap of C$ 14.47 billion, and a P/E ratio of 17.60. The company offers a quarterly dividend of 25 Canadian cents, at a dividend yield of 1.70 per cent.
Its revenues grew by 5.1 per cent YoY in the second quarter ended March 13, 2021. While its food same-store-sales rose 5.5 per cent, its pharmacy same-store-sales were 0.8 per cent lower.
Net earnings improved by 6.8 per cent YoY to hit C$188.1 million.
Going forward, the company expects to achieve sales volumes higher than its pre-pandemic levels.
Please note: The above constitutes a preliminary view and any interest in stocks should be evaluated further from an investment point of view. The reference data in this article has been partly sourced from Refinitiv.