Highlights

Investors with a high-risk appetite can consider certain penny stocks
AN stock swelled by almost 281 per cent year-over-year (YoY).
RGD stock ballooned by nearly 308 per cent in the last 52 weeks.
Some investors look away from penny stocks as these generally have low market capitalization and can lack stability. Those with a high-risk appetite, however, can consider penny stocks like Arena Minerals (TSXV: AN), Reunion Gold (TSXV: RGD), Devonian Health Group (TSXV: GSD), Petroteq Energy (TSXV:PQE) and New Stratus Energy (TSXV: NSE).
These penny stocks can stir your interest if you are looking for equities under the price of C$1 apiece. Notably, they could also, in the right circumstances, help you fetch short term gains as they have returned more than 100 per cent in a year and relatively outshined the S&P/ TSX benchmark index. Let us discuss them.
1. Arena Minerals Inc (TSXV: AN)
Arena Minerals is a mining company that owns Antofalla lithium brine and has a 65 per cent ownership stake in the Sal de Puna Lithium Project, located in Argentina. In addition, the junior miner also has an 80 per cent interest in Atacama Copper in Chile.
AN stock swelled by almost 281 per cent year-over-year (YoY) and decreased by over 27 per cent from a 52-week high of C$ 0.68 (April 5). AN's Relative Strength Index (RSI) value was 43.25 at the time of writing, according to Refinitiv data.
2. Reunion Gold Corporation (TSXV: RGD)
Reunion Gold recently revealed additional drill results from Kairuni Zone as its Guyana's Oko West site. The company said that these results signify the continuity of gold mineralization, specifically in Black 4. Additionally, the gold miner expanded its 2022 drill program to a diamond drill rig to enhance its drilling speed and ability to drill deeper.
RGD stock ballooned by nearly 308 per cent in the last 52 weeks with an RSI value of 48.93, as per Refinitiv.
3. Devonian Health Group Inc (TSXV: GSD)
Devonian Health Group is a junior pharmaceutical firm developing botanical drugs comprised of plant ingredients, algae, macroscopic fungi or their combination. The TSXV healthcare company was incorporated in 2015, and in February 2018, it acquired Altius Healthcare Inc to diversify its operations and maximize growth potential.
GSD stock shot up by over 144 per cent in 12 months, with its RSI value standing at 60.07 at the time of writing this, according to Refinitiv findings.
Also read: RCI.B, T, BCE, CCA and SJR.B: 5 TSX telecom stocks for beginners
4. Petroteq Energy Inc (TSXV: PQE)
Petroteq Energy is an oil extraction and remediation tech company. The company claims its proprietary technology requires a facility with a small land footprint, utilizes no water and generates no emissions or any negative environmental impact. It added that this technology can be used for residential and commercial purposes.
PQE stock rocketed by approximately 200 per cent in the past one year and recorded an RSI value of 62.7 as of writing, according to data collected from Refinitiv.
5. New Stratus Energy Inc (TSXV: NSE)
New Stratus Energy recently announced its preliminary results for Q4 2022, according to which its average gross production amounted to 15,396 barrels of oil per day on the Blocks. According to the preliminary results, the oil and gas company held a cash balance of C$ 17.27 million in Q4 FY2022.
NSE's RSI value was at 58.54 as per Refinitiv. The TSXV energy stock spiked by over 133 per cent YoY.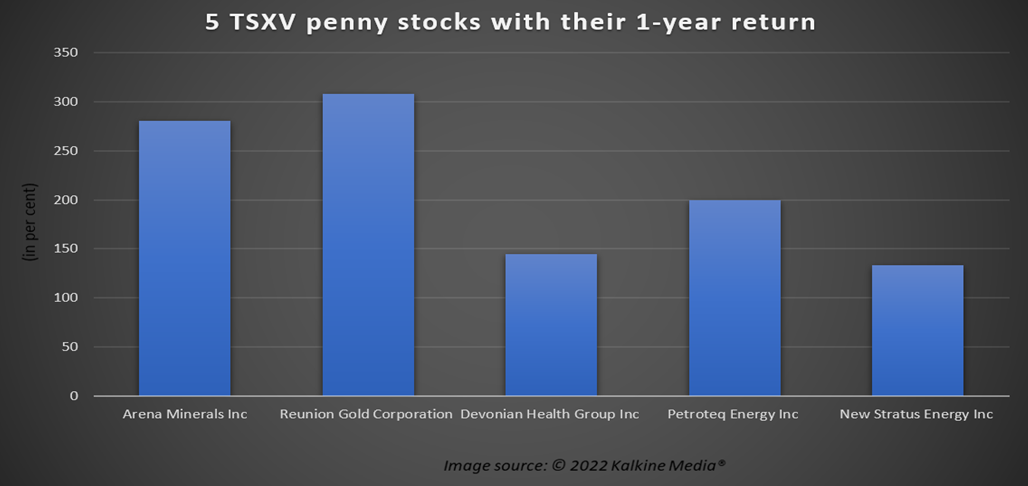 Bottomline
Penny stocks are generally riskier than small-cap or mid-cap stocks. Hence, investors should bet their money on suitable investment options, which can be or cannot be penny stocks depending upon their risk levels. However, some penny companies like Reunion Gold and Arena Minerals can expedite your returns if the market favours them.
Also read: Got $100? 5 best TSX bluechip stocks invest in
Please note, the above content constitutes a very preliminary observation based on the industry, and is of limited scope without any in-depth fundamental valuation or technical analysis. Any interest in stocks or sectors should be thoroughly evaluated taking into consideration the associated risks.