Highlights

In Q2 2022, Redishred Capital's revenue was C$ 14.59 million.
Hamilton Thorne's gross profit in Q2 2022 was US$ 7.08 million.
Xebec's revenues in Q2 2022 were C$ 44.5 million.
Penny stocks are basically stocks of a small company with a price of less than US$ 5 per share. Such stocks with an upward movement may prove to be pocket friendly in the long term. However, the investments must be research-backed and not be speculation based. Additionally, discipline is required while operating in the market.
Although prospects of gains are manifold with penny stocks, they are also fraught with risk at times. Make sure to keep an eye on the overall performance of the company including past and present. With a 360-degree view, it becomes easy to analyze the performance of a stock from your portfolio.
With the right decision, an investor can achieve stable gains and stability. Here, we look at the three penny stocks with their current financial performance:
Redishred Capital Corp. (TSX: KUT)
Redishred Capital Corp. operates under two business models-franchising and direct ownership of shredding trucks and facilities. It operates in eight locations in the US and has a global presence too under the Proshred brand and other business platforms.
In Q2 2022, the revenue of Redishred Capital rose to C$ 14.59 million from C$ 8.67 million in Q2 2021. Its EBITDA also grew to C$ 4.54 million from C$ 2.62 million for the same period. The operating income also increased to C$ 3.15 million from C$ 1.54 million. The price-to-earnings (P/E) ratio is at 18.5 with an EPS of C$ 0.22.
The total market capitalization of KUT, HTL, and XBC: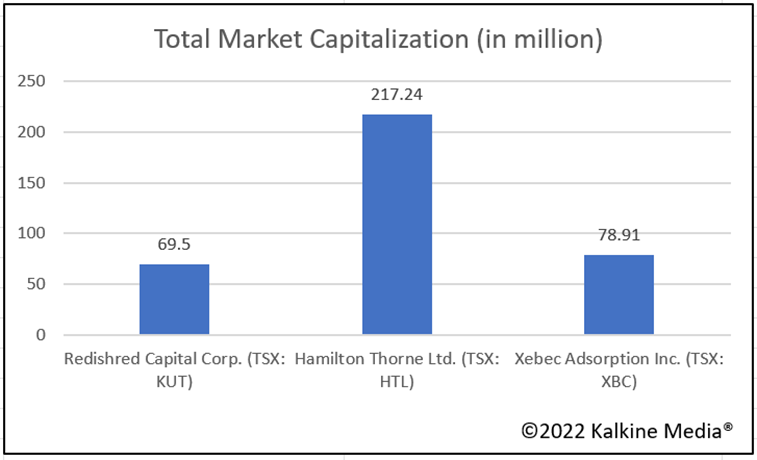 Hamilton Thorne Ltd. (TSX: HTL)
Hamilton Thorne Ltd. operates in different segments including consumables, precision instruments, ART (Assisted Reproductive Technologies), software. Further, the company is engaged in providing services that facilitate improving results, cost reduction, improving productivity and results. It also focuses on breakthroughs in biology research markets.
For the quarter ending June 30, 2022, the sales increased by 14 per cent to US$ 14.2 million from US$ 12.5 million in the same quarter of the previous year. The gross profit also rose to US$ 7.08 million from US$ 6.39 million for the same period. The adjusted EBITDA declined to US$ 2.43 million from US$ 2.44 million in the same comparative period. The P/E ratio of the company is 69.1.
Xebec Adsorption Inc. (TSX: XBC)
Xebec Adsorption Inc. is engaged in products that cater to dehydration, purification, filtration equipment for gases and compressed air. The company is involved in three segments-Support, Systems, and Corporate and other.
As of June 30, 2022, the net debt of Xebec Adsorption decreased to C$ 37.8 million from C$ 43.4 million on December 31, 2021. Xebec's revenues rose by C$ 11.8 million to C$ 44.5 million from C$ 32.7 million in the year-ago quarter. The net loss was reported at C$ 23.4 million versus a net gain of C$ 10.2 million.
Bottom Line
Before investing in any stocks, it is crucial to evaluate the company's quality, its operations, financials and abide by one's risk-reward profile to minimize losses. Meanwhile, ensure that your portfolio is set up in a diversified manner.
While investing, be diligent in your research and focus on the time factor as well. The right strategy will facilitate picking up the right stocks and at the right time.
Please note, the above content constitutes a very preliminary observation based on the industry and is of limited scope without any in-depth fundamental valuation or technical analysis. Any interest in stocks or sectors should be thoroughly evaluated taking into consideration the associated risks.