Highlights

SU stocks jumped higher by over three per cent to C$ 40.51 at 10:53 AM EST on Monday, July 18
This surge in its stock price came as it announced an agreement with Elliot Investment Management
SU stock have returned nearly 54 per cent in a year
Suncor (TSX: SU) stock has been trending higher on stock markets as the Canadian oil sand company announced an agreement with Elliot Investment Management on Monday, July 18, as per which its board will select three new independent directors.
SU stock jumped higher by over three per cent to C$ 40.51 at 10:53 AM EST in the wake of this development.
The large-cap oil and gas producer has also revealed its plans to form a new committee to evaluate its downstream retail business. Suncor disclosed that this review would involve support from external advisors to review and consider a wide array of options ranging from the sale of businesses to enhancing retail business's value.
With this latest development in line, let us look at Suncor's financial and stock performance.
Suncor Energy Inc (TSX: SU)'s Q1 FY2022 financial results
The C$ 54-billion market cap company more than doubled its adjusted funds from operations to C$ 4.09 billion in Q1 2022, relatively up from C$ 2.11 billion a year ago. Suncor also recorded a net debt reduction of C$ 728 million in the first three months of 2022.
The oil producer reported a net profit of C$ 2.94 billion in Q1 2022 compared to C$ 821 million a year ago. While delivering its latest quarterly results, Suncor's Board increased its quarterly dividend by 12 per cent to C$ 0.47 compared to the previous payment.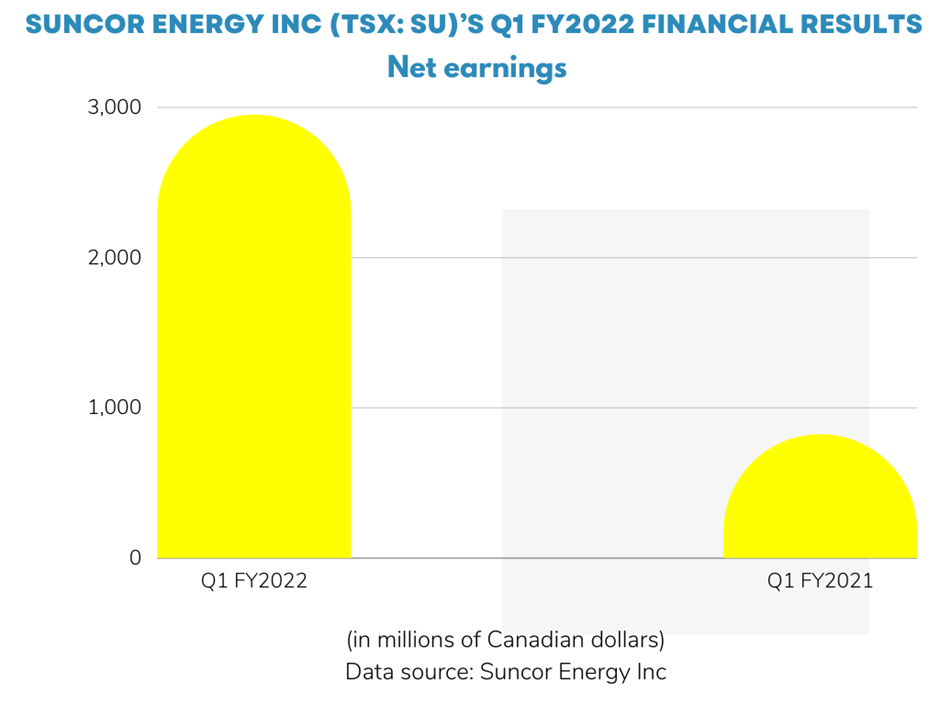 ©Kalkine Media®; ©Garis Studio via Canva.com
Suncor's stock performance
SU stocks shot up by almost 29 per cent year-to-date (YTD) and noted a one-year return of nearly 54 per cent. According to Refinitiv data, SU stock recorded a rising Relative Strength Index (RSI) of 38.54 (above the oversold level of 30) as of writing on Monday, July 18.
Suncor's profitability, represented by its return on equity (ROE), was over 17 per cent. SU's debt-to-equity (D/E) ratio was 0.47, which generally points to low financial risk.
Bottomline
The energy index has been up by almost 26 per cent YTD. Investors looking for exposure to the oil and gas space could consider Suncor as it offers quarterly dividend income, which could give some financial stability amid the volatility in oil and gas prices.
Please note, the above content constitutes a very preliminary observation based on the industry, and is of limited scope without any in-depth fundamental valuation or technical analysis. Any interest in stocks or sectors should be thoroughly evaluated taking into consideration the associated risks.