Energy is among the core sectors of an economy and hence forms an essential part of any investor's equities portfolio. However, Canadian oil and gas stocks hold a central position in the stock markets, considering the country's oil sands reserves. Top companies such as Suncor (TSX:SU), Enbridge (TSX:ENB) and Baytex (TSX:BTE) have been trending on the Toronto Stock Exchange as crude prices rise.
While the world moves towards renewable sources of energy, the essential nature of oil and gas-based energy generation cannot be negated. According to some experts, revenues flowing in from the fossil fuel industry are likely to continue for quite some time.
In the meantime, as oil prices recover from the pandemic-led morass, the energy industry in Canada is set to rebound.
Let's now look at three major Canadian oil and gas industry players that investors have been bullish on:
Tern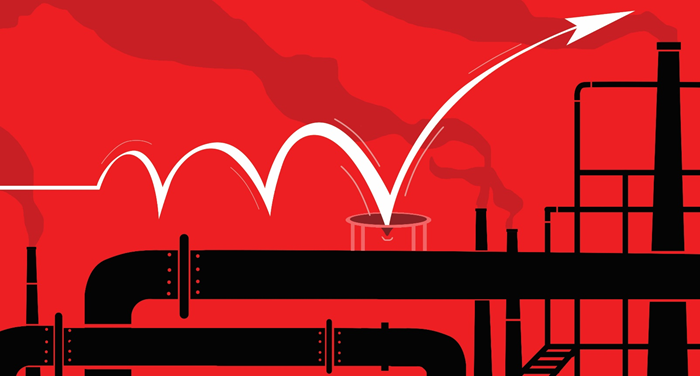 ©Kalkine Media 2021
Suncor Energy Inc. (TSX:SU)
One of Canada's popular integrated oil and gas conglomerate, Suncor Energy's scrip last closed at C$ 28.06 on Monday, May 31, on the Toronto Stock Exchange (TSX).
The stock's growth has been remarkable in the last six months with an increasing demand for oil-based products amid a pickup in industrial activity in Canada following a pandemic-led slump.
The C$ 42.25-billion market cap player's stock returned nearly 35.1 per cent in the last six months.
In a bid to move towards green energy sources, Suncor Energy recently announced its partnership with engineering, logistics and energy holding firm ATCO to build a project that will generate about 300,000 tonnes of clean hydrogen per year. Reports suggest that the project is likely to be commissioned by 2028.
The company's stock has a price-to-book ratio (P/B ratio) of 1.164, as per TSX data, and its stock currently trades at a price about 32 per cent lower than its pre-pandemic valuations, calculated as per its price on June 2, 2019.
Enbridge Inc. (TSX:ENB)
Enbridge is one of the most actively traded stocks on the TSX, as per the stock exchange's "Top Volume" list updated on Monday, May 31. This highlights the stock's popularity among investors. Its 30-day average daily trading volume is nearly 10.3 million shares, according to TSX.
The energy sector company, with a market share of about C$ 93 billion, grew about 12.75 percent year-to-date, as against the S&P/TSX Composite Index,
The company also offers a high dividend yield of about 7.277 per cent and distributes quarterly dividend of 83.5 Canadian cents per share.
The oil and energy industry giant has an earnings per share of C$ 3.13, and price-to-earnings ratio (P/E ratio) of 14.70. Its debt-to-equity ratio is 1.23.
The company's P/B ratio, currently at 1.681, signals towards its discounted valuations. The stock was trading at a nearly 8 per cent higher valuation in the pre-pandemic period, TSX data showed.
Enbridge reported net earnings of C$ 1.9 billion in the first quarter ended March 21, as against a net loss of C$ 1.4 billion in the same period year ago.
Baytex Energy Corp. (TSX:BTE)
Calgary-based energy sector player, Baytex Energy is engaged in the acquisition, development and production of crude oil products in Canada and the US, with majority of its revenues flowing from the former region.
Baytex Energy was trading at C$ 2.00 in the pre-market session at the time of writing this. Its YTD returns have been about 190 per cent, while its quarter-to-date (QTD) returns were about 52.7 per cent. In contrast, the TSE 300 Composite Index grew about 35.2 per cent QTD.
The mid-cap player commands a market capitalization of about C$ 1.13 billion, with a P/E ratio of 35, and earnings per share of 5 Canadian cents, TSX data showed.
The company said it expects to generate free cash flow of over C$ 250 million in 2021, as per its guidance in the first quarter ended March 2021.
Its petroleum and natural gas sales in the quarter amounted to about C$ 385,000, slightly higher than the year-ago period, while its net loss shrunk to C$ 35,352, as against a net loss of about C$ 2.5 million in the corresponding period last year.
Please note: The above constitutes a preliminary view and any interest in stocks should be evaluated further from an investment point of view. The reference data in this article has been partly sourced from Refinitiv.