Source: Kononova Nina, Shutterstock
The rise in lumber demand and its shortfall across North America may push its prices higher. Lumber futures zoomed over 12% last month as home renovation and building restoration have soared amid lockdowns.
Amid the ongoing decades-long lumber dispute between Canada and the US, the threat of export duty looms large. In 2020, the World Trade Organization largely supported the Canadian subsidies clause against the US demand of curtailing provincial subsidies for timber producers.
In the wake of higher lumber prices, the following two lumber stock may extend their share price rally:
West Fraser Timber Co. Ltd. (TSX: WFG)
This leading North American lumber company produces pulp and wood products and has expanded operation after acquiring Norbord last month.
The wood stock has grown nearly 127 per cent in one year. It is trading at C$ 82.61 per share, down 17.29 per cent against its 52-week high of C$ 99.88 per piece. The stock has bounced back by 282.45 per cent from its pandemic-caused crash to C$ 21.60 on March 23, 2020.
The timber producer distributes C$ 0.20 per stock to its shareholders for the ongoing quarter. Its stock holds a noticeable return on equity of 27.83 per cent.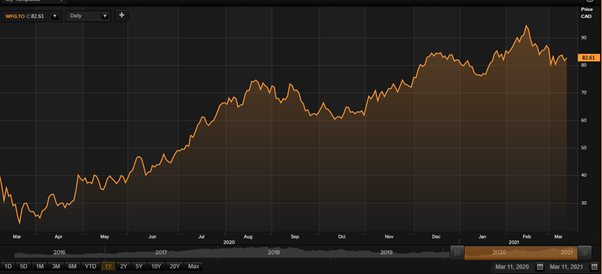 West Fraser's One Year Stock Performance Chart. (Source: Refinitiv)
The company's sales of forest products increased to C$ 1.689 billion in the fourth quarter of 2020, up against sales of 1.129 billion in Q4 2020. West Fraser posted earnings of C$ 366 million in Q4 2020 against a loss of C$ 42 million in Q4 2020.
Canfor Corporation (TSX: CFP)
This softwood lumber company also has operations across the US and Canada. This stock has an excellent one-year return of 202.66 per cent. It is up almost 14 per cent year-to-date.
Its market cap stands at C$ 3.28 billion, and its return on equity is 28.26 per cent.
Canfor's One Year Stock Performance Chart. (Source: Refinitiv)
In the fourth quarter of 2020, the firm reported sales of C$ 1.618 billion, up compared with C$ 1.105 billion in Q4 2019. The mid-cap company held available cash of C$ 1.4 billion as of December 31, 2020.
Lumber Market Outlook 2021


In 2021, the global lumber demand has boosted considerably in response to rising housing consumption. On top of that, there are low supplies of lumber items, and the shortage of wood could propel prices across this segment.