Highlights

The S&P/ TSX Composite Index grew by 1.48 per cent to 19,254.56 points on Wednesday, July 27
The CPG stock galloped by over 124 per cent in a year
The BTE stock zoomed by over 222 per cent in 52 weeks
Crescent Point (TSX: CPG) and Baytex Energy (TSX: BTE) garnered some interest on the stock market this week as both the midcap companies released their Q2 2022 financial results.
The main Canadian index rose this month to close 3.16 per cent higher month-to-date (MTD) amid surging oil prices. Amid this, investors with moderate risk levels can consider these under-C$ 10 midcap stocks in order to brace for price fluctuation in the oil market. Let us talk about these two Canadian stocks in detail.
Crescent Point Energy Corp (TSX: CPG)
Crescent Point reported C$ 526.6 million in cash from operating activities in Q2 2022, relatively higher than C$ 285.5 million in Q2 2021. The C$-5.33 billion market cap firm posted a net profit of C$ 331.5 million in the latest quarter, relatively down from C$ 2.14 billion in the same period a year ago. Despite depleting profits, the energy company said that it would deliver a quarterly dividend of C$ 0.08 on October 3.
The CPG stock galloped by over 124 per cent in a year and, according to Refinitiv, had a Relative Strength Index (RSI) value of 50.95 on July 27, which points to a moderate market condition.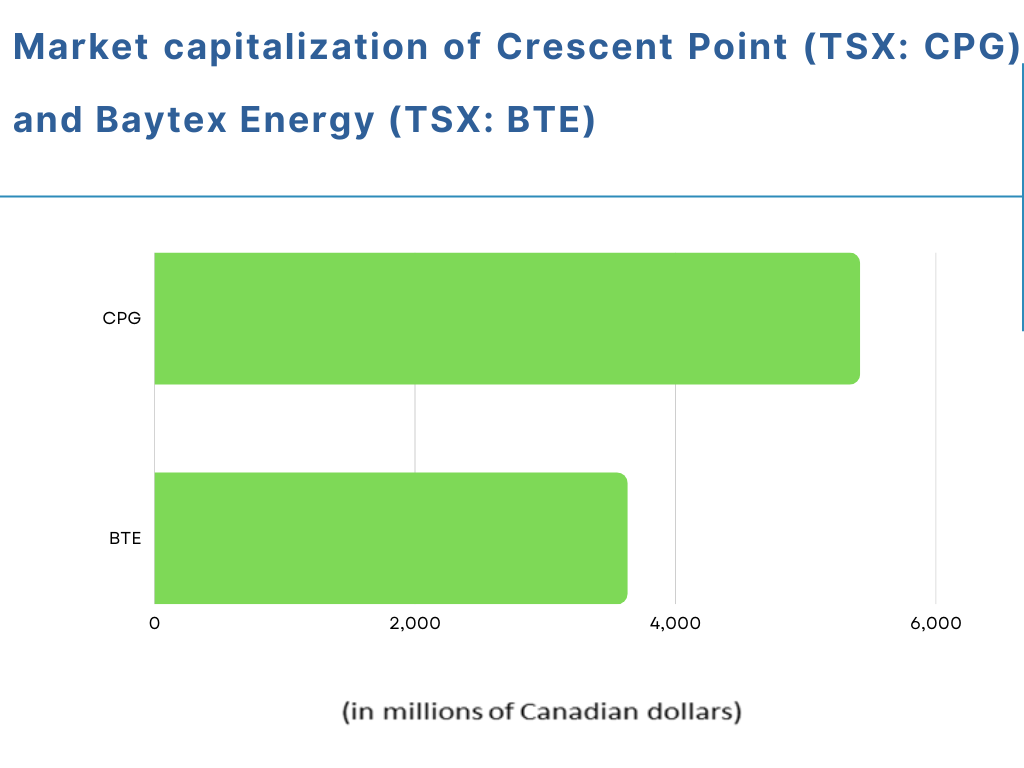 ©Kalkine Media®; ©Garis Studio via Canva.com
Baytex Energy Corp (TSX: BTE)
Baytex Energy significantly improved its free cash flow (FCF) by 118 per cent year-over-year (YoY) to C$ 245.31 million in the second quarter of FY2022. The Canadian energy firm also saw its net income reach C$ 180.97 million in the latest quarter, notably down from C$ 1.05 billion recorded in Q2 2021. However, net income in Q2 2022 was notably higher than C$ 56.85 million in Q1 2021.
The BTE stock zoomed by over 222 per cent in 52 weeks. As per Refinitiv, this midcap energy stock recorded an RSI value of 55.2 on July 27.
Bottomline
Debt-to-equity (D/E) ratios of Crescent Point and Baytex were 0.3 and 0.58, respectively (below one), which can reflect a lower financial risk. In addition, the return on equity (ROE), which represents profitability, was almost 77 per cent for Crescent and about 124 per cent for Baytex.
The energy index was up by over 38 per cent year-to-date (YTD). Investors can explore these TSX midcap energy stocks amid fluctuating oil prices.
Please note, the above content constitutes a very preliminary observation based on the industry, and is of limited scope without any in-depth fundamental valuation or technical analysis. Any interest in stocks or sectors should be thoroughly evaluated taking into consideration the associated risks.