Summary

Air Canada's performance stands out on a quarter-over-quarter basis.
It reported total revenues of C$ 757 million in the third quarter of 2020, nearly 44 per cent surge quarter-over-quarter.
Shares of Air Canada have soared by over 44 per cent in the last six months.
Air Canada is among the most active stocks across the TSX and the TSXV with a 10-day average trading volume of nearly 6.16 million units.
The aviation stocks witnessed positive movement in the equity markets this week following multiple reports suggesting that the Canadian government is mulling a financial aid package for the pandemic-hit sector. Air Canada (TSX:AC) stocks soared over 28 per cent during Monday's intraday trading over bailout package hopes, better than expected third quarter financial results and Pfizer Inc's promising update on Covid-19 vaccine front.
The carrier decided to defer its additional route suspension, riding on expectations of a financial aid from the Trudeau-led federal government.
To know more about this aviation stock, let us deep-dive into its last three-month financial progress and stock performance.
Current AC Stock Price: C$ 20.35
Air Canada operates domestic and international carrier services and offers scheduled and charter air transportation for passengers and freight services.
Its revenues in the third quarter of 2020 stood at C$ 757 million, up 43.64 per cent as compared to C$ 527 million in the second quarter of 2020. The figures also show an 86 per cent year-over-year decline.
The airline posted negative EBITDA of C$ 554 million, which is an improvement from negative EBITDA of C$ 832 million a quarter ago. Operating loss also improved to C$785 million in Q3, from operating loss of C$ 1.555 billion in Q2 2020.
The company's performance stands out on a quarter-over-quarter basis due to the severe cost-cutting measures undertaken.
Air Canada focused on capital reduction and suspension program for 2020, which has now amounted to nearly C$ 1.5 billion, an improvement from an initial target of C$ 500 million, said Chief Executive Officer Calin Rovinescu.
On a capacity reduction of 81.7 per cent, third-quarter 2020 operating expenses decreased C$ 3.032 billion or 66 per cent from the same quarter in 2019, driven by the progress made on both managing variable costs and cutting fixed expenses.
AC Stock Performance
The airline stock has soared by over 25 per cent in the last three months and surged by over 44 per cent in the last six months.
Air Canada stock has rebounded over 67 per cent since the COVID-19 caused a market meltdown on March 20.
Its current market capitalization stands at C$ 6.038 billion.
As per data on the TMX portal, Air Canada's price-to-book (P/B) ratio is 2.954, and the price-to-cash flow (P/CF) ratio is 17.70. The stock delivers return on equity (ROE) and return on assets (ROA) of 115.86 per cent and 11.59 per cent, respectively. Its current debt-to-earnings (D/E) ratio is 2.06.
Air Canada is trading among the most volume active stocks across the TSX and the TSXV with a 10-day average trading volume of nearly 6.16 million units.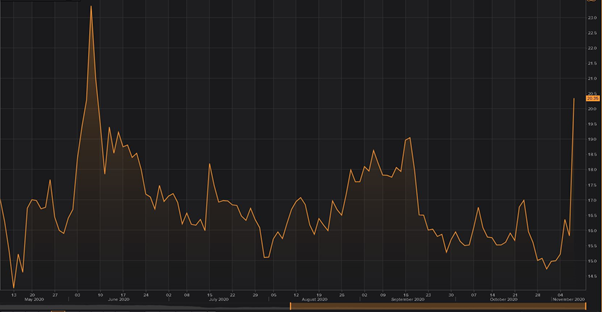 Six-month Price Chart of Air Canada (Source: Refinitiv, Thomson Reuters)
Air Canada's Current Operational Developments
In September, the Canadian national airline completed a private offering of two batches of enhanced equipment trust certificates (EETCs), the proceeds of which were used to purchase equipment notes allotted by Air Canada and secured by three Boeing 787-9 aircraft, three Boeing 777-300ER aircraft, one Boeing 777-200LR and nine Airbus A321-200 carrier.
In early October 2020, the company announced that it had finalized sale and leaseback transactions for nine Boeing 737-8 aircraft for total proceeds of C$ 485 million. The nine Boeing 737-8 were provided to the company in the last three years.
Air Canada holds 15,561,600 class B voting stocks in the capital of Chorus, representing, at the time of issuance, nearly 9.99 per cent of the total issued and outstanding voting shares of Chorus Aviation. This showed an investment of C$ 97 million by Air Canada.
Federal Government Mulls Airline Bailout Packages
Transport Minister Marc Garneau Monday stated that the government is set to start talks with major Canadian airlines on a bailout package so that they can resume operations on regional routes that were cut because of the pandemic-related restrictions.
Air Canada will provide an update on its suspension of routes decision once the government package arrangements have been decided.
Air Canada Outlook
Air Canada estimates net cash burn between C$ 1.1 billion and C$1.3 billion in the fourth quarter of 2020. This comprises of C$4 million/day in capital expenditures and C$5 million/day in rent and debt expenses.
The airline estimates high net cash burn in Q4 2020 as compared to Q3 202 due to the following factors:
Higher end-of-lease payments due to more aircraft being returned to owners
Maintenance of dealer payment suspensions affecting working capital
Lower cash receipts related to the Canada Emergency Wage Subsidy (CEWS) program
Higher capital expenditures because of additional Airbus A220 aircraft deliveries.