Stocks of Ballard Power Systems Inc. (TSX:BLDP) plunged as much as 19.5 per cent on Tuesday after the company reported a massive drop in its quarterly earnings.
It posted a loss of 6 cents per share as revenue dropped 26 per cent year-over-year (YoY), failing to meet analysts' expectations that anticipated revenue to rise by US$ 25.7 million. The fuel cell producer generated total revenue of US$ 17.6 million in the first quarter of 2021. It reported the dip in revenue in its technology solutions and power items segments.
Ballard stockholders unloaded their shares as the overall fuel cell market dropped. The clean stock has weakened in the last two months, down almost 63 per cent against its 52-week high of nearly C$54 apiece (on February 9, 2021).
However, the renewable energy equipment provider held 1.3 billion cash reserves, a massive 600 per cent surge YoY, representing an accelerated investment to support its further research in hydrogen fuel cell technology.
©Kalkine Group 2021
Ballard also entered a collaboration on Monday, May 3, with Canadian automotive parts maker Linamar Corporation (TSX:LNR) for building fuel cell powertrains for class 1 and 2 automobiles, including conventional passenger vehicles and light trucks. Both vehicle parts manufacture claim to develop advanced products and tech solutions in line with zero-emission mobility.
Let us look at the alternative energy stock's price-performance:
Ballard Power Systems Inc. (TSX:BLPD)

Ballard Power Systems CEO Randy MacEwen still believes that the company is developing sustainable solutions at a viable price for the strong futuristic market.
The hydrogen cell stock has declined around 33 per cent year-t0-date (YTD). However, its one-year return is still up at 44.54 per cent, which surpassed the S&P/TSX Capital Goods Index relatively.
At the close of C$ 19.99 apiece, the stock was down nearly 28 per cent from its short to long-term simple moving averages, indicating a bear market, as per Refinitiv data. Investors might stay away from this stock until the company comes up with some solid plans in the coming months.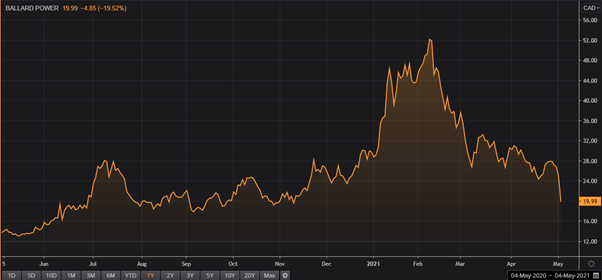 Ballard Power's One-Year Stock Performance Chart. (Source: Refinitiv)
Ballard's Bet On Fuel Cell Electric Vehicles (EVs)
The company is considering expanding its footprints in China. At present, Ballard is serving 3,300 hydrogen cell-based industrial trucks and passenger buses, comprising approximately 3,100 Chinese battery-powered vehicles.
Ballard claims that fuel cell EVs are a solution to its current challenges. It sees rising demand for these automobiles that can perform on long duty trips – sans payload issues. It can be quickly refuelled to boost fleet operation.