Summary

Bombardier's scrips are trading with an average volume of 8.4 million in the past 50 days.
The stock has climbed nearly 44 per cent in January 2021, led by US$ 2.3-billion funding by the UK government.
The company reported that it is investing six million euros to increase the production capacity of its Belgian plant.
The aviation industry has been sinking in COVID-created morass. The aerospace and defense companies have been operating at just 25 per cent capacity. While over the years, the industry has grown massively, it has been hammered by the renewed lockdowns.
The Toronto Stock Exchange (TSX)-listed Bombardier Inc. (TSX: BBD.B), a manufacturer of transportation solutions, was already reeling under massive loss and debt accumulation. Its misfortunes grew with the pandemic crisis.
However, its stock continues to be among the most active TSX stocks, trading high volumes in the last couple of months. Intraday traders are still betting on this aerospace and defense firm's stock.
Let us dig further into its market fundamentals and stock movements:
Bombardier Inc. (TSX: BBD.B)
Current Stock Price: C$ 0.69
The Montréal-based aircraft maker has manufacturing and engineering factories in more than 25 countries. It holds two business segments, including aviation and transportation.
Bombardier's share has swelled by about 44 per cent in 2021 so far. The Canadian manufacturer's rail division bagged US$ 2.3-billion construction contract from the UK government. The grant will allow Bombardier to finance its Derbyshire plant in England, which is currently developing monorail trains for Cairo, Egypt.
The industrial stock has an average volume of 8.4 million for the last 50 days. The company has nearly 2.4 billion listed shares outstanding of all classes. Its B class shares have a return on equity of 28.12 per cent.
The aviation stock rebounded over 119 per cent in the last three months, with a present price-to-cashflow ratio of 12.40. However, its one-year return still down by approximately 47 per cent.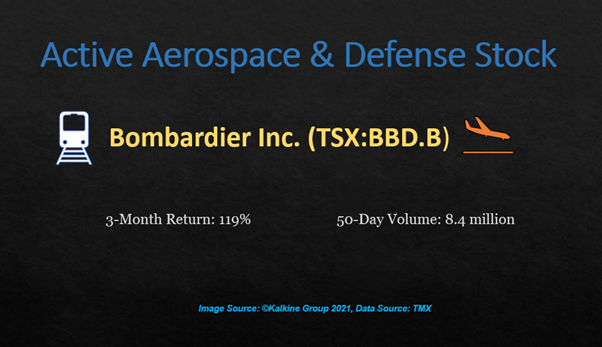 The aerospace firm posted total revenue of US$ 3.5 billion in the third quarter results of 2020, a fall of 5 per cent year-over-year due to the COVID-19 crisis impact. Its aircraft segment generated revenues of US$ 1.2 billion, up 10 per cent YoY, driven by global deliveries. It reported revenues of US$ 15.8 billion in the full fiscal year of 2019.
Bombardier is likely to release its fourth-quarter numbers on 11 February 2021.
Latest Operation Development


The company is modernizing and enhancing production at its site in Bruges, Belgium. This factory will be backed by an investment of over six million euros, which will help create at least 180 new jobs. It will also aid its suppliers across Belgium, enabling them to be trained with modern tools. The company generates an income of nearly 70 million euros annually for its Belgian suppliers.