Source: whiteMocca, Shutterstock
Stocks of West Fraser Timber Co. Ltd. (TSX: WFT) has witnessed a sharp rally in the last one month on the back of all-time high lumber prices. Its share price has catapulted over 30 per cent in one month.
Earlier in February 2020, the Vancouver-based lumber producer acquired Norbord Inc., an oriented strand board manufacturer, in a C$ 4 billion deal. The joint entity is operating and trading under the brand name of West Fraser.
Lumber prices have risen almost 25 per cent in the last two weeks. In the same line, West Fraser stock has delivered 17 per cent returns month-to-date (MTD).
Let us look at this forest product stock's movement in detail:
West Fraser Timber Co. Ltd. (TSX: WFT)
The stock is trading at C$ 104.83 (around 11:10 ET on April 16), up almost C$ 19.43 apiece from C$ 85.40 per common share in February 2021(Prior to its acquisition of Norbord). Its market cap has also increased to C$ 12.80 billion. It distributes a cash dividend of C$ 0.20 per common share quarterly.
The scrips gained 265 per cent in the past one year, outperforming the S&P/TSX Forest Products (Sub Industry) Index, which has increased by 14.54 per cent relatively. The wood stock has swelled by 29 per cent year-to-date (YTD).
It has a return on equity of 27.83 per cent and current earnings per share of C$ 11.30. The forest goods stock could maintain its current bull-run in the wake of higher lumber demand across North America.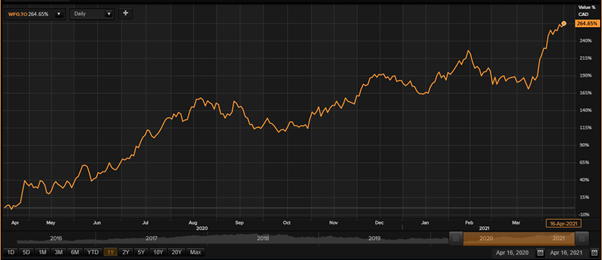 West Fraser's One-Year Stock Performance Chart. (Source: Refinitiv)
In full-year 2020 earnings, the company reported an adjusted EBITDA of C$ 1.46 billion. Its annual sales also rose to C$ 5.85 billion in 2020, up against 4.88 billion in 2019. Its earnings per share soared to C$ 12.27 in 2020, compared with a loss of C$ 0.31 per common share.