Highlights

A financial services growth stock mentioned here achieved year-over-year (YoY) growth of more than 188 per cent.
An energy stock listed below grew by almost 163 per cent in the past year.
An asset management company among them posted a dividend yield of 2.539 per cent.
Investors are often interested in venturing into the stocks that can fetch significant returns on the invested money in the future. That's how growth stocks come into the picture.
Growth companies generally capture wider market share and are keen to explore business expansion opportunities, often resulting in quality returns. With this in mind, growth stocks are often suggested for investor portfolios.
Also read: 3 Canadian cannabis stocks to buy under $20
Now, let us explore some of the Canadian growth stocks listed on the Toronto Stock Exchange (TSX).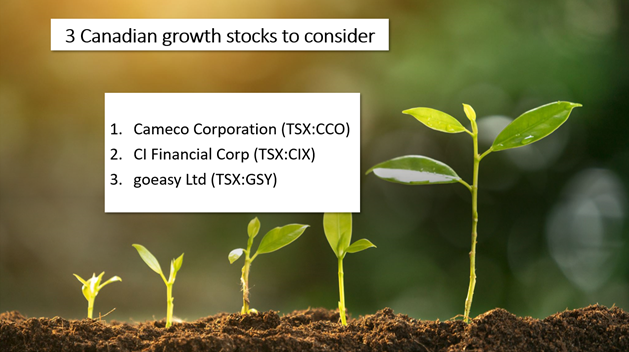 Image source: © 2021 Kalkine Media Inc
1. Cameco Corporation (TSX:CCO)
Stock of Oakville-based uranium producer Cameco Corporation hit a day high of C$ 33.49 during the trading session on Tuesday, October 26, and closed at C$ 33.22 apiece, up by 1.157 per cent.
Though it decreased by about two per cent from the one-year high of C$ 33.92 reached on October 19, 2021, CCO stock marked a year-over-year (YoY) gain of almost 163 per cent.
It also jumped up by more than 102 per cent in the last nine months and rose by approximately 60 per cent in the past six months. On a year-to-date (YTD) basis, it soared by nearly 95 per cent.
The pure-play uranium company is all set to examine Terrestrial Energy's IMSR Generation IV nuclear technology to supply uranium fuels and services and thereby explore the much-possible partnership opportunities, said an announcement on October 13.
At the time of writing this, Cameco held a price-to-book (P/B) ratio of 2.675 and yielded a dividend of 0.241 per cent with a 10-day average trading volume of C$ 1.3 million.
2. CI Financial Corp (TSX: CIX)
A global financial advisor, CI Financial Corp saw its stock wrapping trade at C$ 28.36 apiece, up by 1.831 per cent, on October 26. It surpassed the last 52-week high of C$ 28.39 (October 22) and touched a day high of C$ 28.57 during the session.
Top Canadian growth stocks to buy in November
On October 21, CI Financial agreed to acquire the Seattle-based wealth management company McCutchen Group LLC (with assets under management of US$ 3.4 billion). This deal may further increase its US wealth assets to about US$ 83 billion and expand its global asset holdings to approximately C$ 329 billion.
CIX stock surged by roughly 71 per cent YoY and ascended by almost 80 per cent on YTD. Its nine-month growth stood at nearly 67 per cent. Moreover, it gained more than 43 per cent in the previous six months and surged by almost 26 per cent in the past month.
Since early 2020 when CI Financial entered the U.S. registered investment advisory business, it has been considered one of Canada's fastest-growing wealth management companies.
As of October 27, it posted a return on equity (ROE) of 31.54 per cent and a dividend yield of 2.539 per cent. Its return on assets (ROA) stood at 7.70 per cent.
Canadian financial service provider goeasy Ltd saw its stock price stand at C$ 201.93 per share, down by 0.316 per cent, at market close on October 26. At this closing, it dropped by roughly eight per cent below the 52-week high of C$ 218.35 (September 24, 2021).
However, GSY stock has noted a YoY gain of more than 188 per cent. Further, it spiked up by nearly 109 per cent YTD and expanded by more than 18 per cent in the previous three months.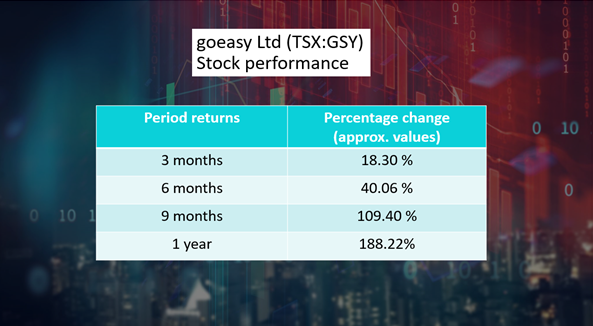 Image source: © 2021 Kalkine Media Inc
Image description: goeasy Ltd (TSX:GSY)'s stock performance as of October 26, 2021
goeasy held an ROE of 39.19 per cent and an ROA of 11.37 per cent from the valuation front (as of October 27).
Also read: Rogers (RCI) stock plummets amid family drama: What investors must know
Bottom line
While quality growth stocks can fetch notable gains in the long term, investors should be bear in mind that there is always a possibility of things going south in the stock market.
To prepare for that, investors need to note the financials and fundamentals of a company, along with its outlook and plans, to evaluate the quality of investment.