Highlights

Canada' main equity index plummeted by 187.59 points to 19,505.33 on Tuesday, August 2
CAE reported a significant growth of 487 per cent in operating profit in 2022 compared to 2021
Cameco said its net profit notably improved to C$ 84 million in Q2 2022 relatively higher than a loss of C$ 37 million in Q2 2021
Canada's main equity index plummeted by 187.59 points to 19,505.33 on Tuesday, August 2, after recording triple-digit gains for three straight sessions. These market fluctuations can be daunting for investors seeking growth exposure as such investments involve high risk.
Focus on long-term growth could be a less complex way for such investors to tackle the current market volatility. Hence, here's a list of 10 Canadian growth stocks by Kalkine Media that one can explore amid economic turmoil.
CAE is a Montreal-headquartered company offering simulation training and critical operational support to the aerospace and defense industry. The large-cap company recently in July partnered with Piper Aircraft to advance green aviation technology under the newly launched Electric Aircraft Modification Program.
CAE said its top line surged by 13 per cent to C$ 3.37 billion in fiscal 2022 compared to the previous year. The C$ 10 billion market cap company reported significant growth of 487 per cent in operating profit to C$ 284.2 million in 2022 relative to 2021.
The CAE stock spiked by almost nine per cent in three months. According to Refinitiv, CAE stocks had a Relative Strength Index (RSI) value of 59.32 (moderate trend) on August 2.
2. BlackBerry Limited (TSX:BB)
Software provider BlackBerry received conformance certification for Future Airborne Capability Environment (FACETM) that would enable aerospace and defense manufacturers and developers to deploy cost-effective defense capabilities. BlackBerry stocks surged by 3.3 per cent to close at C$ 8.13 on August 2, in the light of this new FACE accreditation.
The BB stock climbed by over 17 per cent quarter-to-date (QTD). As per Refinitiv findings, BB stocks appeared to be on a moderate momentum with a rising RSI value of 60.8, supported by a trading volume of 1.71 million, on August 2.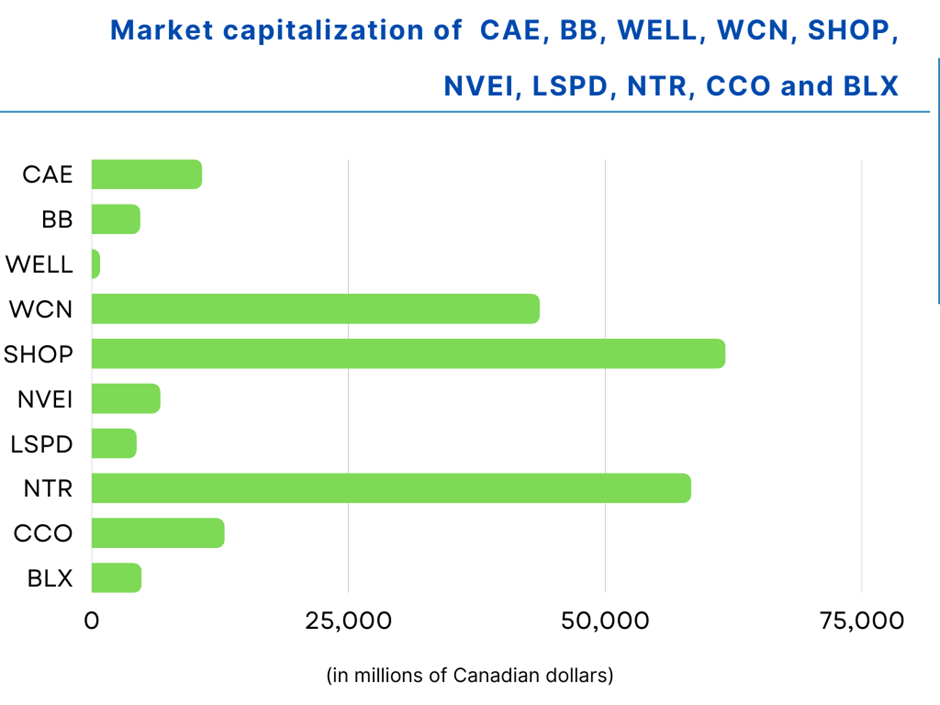 ©Kalkine Media®; ©Garis Studio via Canva.com
3. Well Health Technologies Corp (TSX:WELL)
Vancouver-based digital healthcare company Well Health holds a market capitalization of C$ 773.3 million. Well's debt-to-equity (D/E) ratio was 0.61 (less than one), which denotes less financial risk.
Well Health revealed that omnichannel patient visits grew by 50 per cent year-over-year (YoY) to 839,698 in the second quarter of 2022. While reporting pre-liminary financial results, the small-cap health company said that it projects revenue to surpass C$ 130 million in Q2 2022. As for its stock performance, the WELL stock climbed more than 13 per cent in a month. According to Refinitiv data, WELL stocks saw an RSI value of 56.81 on August 2.
4. Waste Connection Inc (TSX:WCN)
Waste Connection is a large-cap waste management company offering solid waste and recycling solutions across North America. The Toronto-based industrial company anticipates its 2022 revenue to reach US$ 7.12 billion, higher than the original revenue guidance of US$ 6.87 billion. Waste Connection will also distribute a quarterly dividend of US$ 0.23 on September 1.
The WCN stock zoomed by over seven per cent in 12 months. As per Refinitiv findings, WCN stocks recorded an RSI value of 64.86 on August 2, marginally down from the overbought mark of 70.
5. Shopify Inc (TSX:SHOP)
Canada's e-commerce infrastructure company Shopify expanded its fulfilment network by acquiring Deliverr for a transactional value of about US$ 2.1 billion. The software company said its total revenue swelled by 16 per cent YoY to US$ 1.29 billion in the second quarter of fiscal 2022.
The SHOP scrip gained by over 19 per cent in the last week. Shopify stocks recorded an RSI value of 55.06 on August 2, with 4.05 million shares-exchanging hands, as per Refinitiv.
6. Nuvei Corporation (TSX:NVEI)
Nuvei is a financial technology company with a market capitalization of C$ 6.65 billion. On August 2, the fintech firm announced to offer payment services to Selina, a global hospitality brand, in Europe and Israel under a partnership agreement. The Canadian company also revealed that these payment services to Selina would soon be available in other geographies, with additional alternative payment methods in the pipeline to be delivered this year.
The NVEI stock dipped by over 43 per cent in 2022. According to Refinitiv, NVEI stocks saw an RSI value of 51.28 on August 2, reflecting moderate momentum.
7. Lightspeed Commerce Inc (TSX:LSPD)
Lightspeed Commerce recently extended its system integration partnership with Booking Holdings (NASDAQ:BKNG)'s platform, OpenTable, to North America. The technology firm said that this partnership expansion would enable real-time communication, thereby streamlining core information restaurants require to operate efficiently on the financial front. Lightspeed reported revenue growth of 78 per cent to US$ 146.6 million in Q4 2022 compared to Q4 2021.
The LSPD stock swelled by about 26 per cent last week. According to Refinitiv information, LSPD stocks held an RSI value of 57.1 on August 2.
8. Nutrien Ltd (TSX:NTR)
Nutrien is focused on expanding its retail footprints in Brazil and on July 20, agreed to buy Brazil-based agriculture solution provider Casa do Adubo. The large-cap fertilizer company stated that if approved and completed, this acquisition is projected to boost its run-rate sales by US$ 400 million, taking its Ag solutions annual sales to about US$ 2.2 billion in Latin America.
The NTR stock gained by roughly 43 per cent in 12 months. As per Refinitiv, NTR stocks had an RSI value of 51.73 on August 2.
9. Cameco Corporation (TSX:CCO)
Uranium producer Cameco said its net profit notably improved to C$ 84 million in Q2 2022, higher than a loss of C$ 37 million a year ago. This increase in profits came as its latest quarter's revenue jumped by 55 per cent YoY to C$ 558 million. The CCO stock galloped by almost 46 per cent in 52 weeks. As per Refinitiv information, CCO stocks held an RSI value of 62.12 on August 2, with 1.1 million share switching hands.
10. Boralex Inc (TSX:BLX)
Boralex is a mid-cap firm engaged in producing electricity. The utility company develops, constructs and manages renewable power stations and sells to customers across the US, Canada and France. The BLX stock grew by over 42 per cent in six months. As per Refinitiv, BLC stocks held a high RSI value of 72.93 on August 2, signalling high momentum.
Bottom line
The TSX Composite Index lost about eight per cent this year as economic pressure continues to affect market sentiments. However, investors can consider the TSX growth stocks mentioned above to unlock significant gains from long-term growth exposure.
Please note, the above content constitutes a very preliminary observation based on the industry, and is of limited scope without any in-depth fundamental valuation or technical analysis. Any interest in stocks or sectors should be thoroughly evaluated taking into consideration the associated risks.