Highlights

China has banned cryptocurrency transactions and amid a market crash, the YGG crypto recorded a price surge.
The YGG crypto is the native token of Yield Guild Games, a play-to-earn gaming guild.
Yield Guild Games invests in non-fungible tokens (NFTs) used in blockchain-based games.
The YGG crypto is gaining momentum and seems to have entered a bullish zone as it recorded a surge of about 643 per cent in its one-day volume. At the time of writing, YGG crypto's 24-hour volume was $ 291.3 million and its price had increased by 28 per cent to US$ 7.3 per token.
The YGG crypto is the native token of Yield Guild Games, a play-to-earn gaming guild that aims to bring millions of players together and enable them to earn through blockchain-based economies.
What is Yield Guild Games?

It is a decentralized autonomous organization, which means that this entity is represented by rules encoded as a computer program and is not governed by any central organization. DAO automates decisions and facilitates cryptocurrency transactions.
Yield Guild Games is involved in non-fungible tokens (NFTs) as it invests in them. NFTs are used in blockchain-based games and are becoming increasingly popular. Meanwhile, the native token of this platform is YGG, which can be used for making payments for network services, staking and yield farming.
Also read: Dromos crypto: Price prediction and everything to know about DRM token
As blockchain-based gaming is becoming increasingly popular, Yield Guild Games wants to attract more users by creating a stable gaming world economy. YGG aims to do this through its community-owned assets and rewards YGG crypto holders.
YGG has merged decentralized finance with the protocol behind NFTs and this move is expected to attract more users as it brings yield farming to in-game economies. Last week, it had partnered with HaloDAO, a stablecoin-focused decentralized finance (DeFi) project.
This partnership will allow YGG users to cash out in local regions via an automated market maker (AMM) on the Polygon and Ethereum blockchain networks.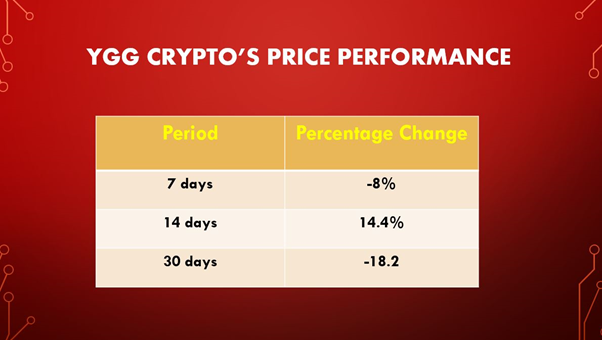 © 2021 Kalkine Media Inc.
YGG price movement and prediction

The surge in the YGG token price came as Binance, the largest cryptocurrency exchange in the world announced that it will list Yield Guild Games and will open trading for YGG/BTC, YGG/BNB and YGG/USDT among others.
Also Read: What is Illuvium? ILV coin price prediction as volume soars over 550%
In the last 14 days, YGG token's price surged by 14.4 per cent after a decline of 18.2 per cent since the past month.
On August 27, the YGG token had clocked an all-time high of US$ 10.62 per token and if the bullish momentum continues, the token could reach near its ATH by the end of this year.
Bottom line
As China has announced a ban on cryptocurrency transactions, the overall cryptocurrency market is expected to be impacted negatively and could enter a bearish zone in the near term.