Source: Freedomz, Shutterstock
Bank stocks nosedived in 2020 due to the COVID-19 outbreak and witnessed a bearish trend throughout the second and third quarters. Despite that, the big six Canadian banks continued to distribute quarterly dividends during lockdowns.
Amid economic uncertainty, big bank stocks traded in the red zone and set aside extraordinary provisions for bad assets in 2020. In the first fiscal quarter of 2021, the Canadian blue-chip stocks bounced back with nearly double-digit profit growth.
The International Monetary Fund (IMF) forecasted an optimistic outlook for the Canadian economy, which is now in recovery mode. The IMF expects the federal economy to grow as much as 5 per cent in 2021, 1.4 per cent higher than its previous estimation. This development will further bolster the ongoing bank stocks rally.
Investors who bought big six bank shares during the COVID-19 market crash have garnered attractive returns. Bank of Nova Scotia (TSX: BNS) stock soared more than 41 per cent in one year, Toronto-Dominion Bank (TSX: TD) stock also grew over 41 per cent, Royal Bank of Canada (TSX: RY) stock swelled about 35.61 per cent, and Bank of Montreal (TSX: BMO) stock returned 60 per cent in the same period. Canadian Imperial Bank of Commerce (TSX: CM) gained 52 per cent, and National Bank of Canada (TSX: NA) yielded almost 60 per cent in one year.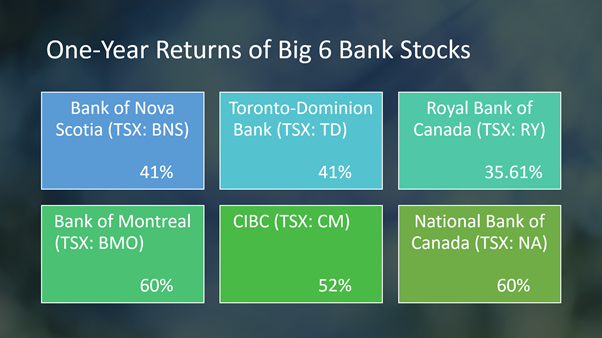 @Kalkine Image 2021
Let us glance at a few of these lenders' year-to-date (YTD) returns and stock trend:
TD Bank shares have delivered over 16 per cent returns this year. At the last close price of C$ 83.45, it was trading stands at 22.24 per cent above from its 200-day simple moving average (SMA), as per Refinitiv data.
Meanwhile, BMO stock is up nearly 17 per cent YTD. At the previous close share price of C$ 113.09, it was marching ahead of its 200-day SMA by 26.51 per cent.
National Bank shares have risen approximately 19 per cent in 2021. At the close price of C$ 84.23, it was up almost 20 per cent against its 200-day SMA.
Image Source: Kalkine Group @2020
Investors may choose to add more weight to their existing bank stocks portfolio amid the ongoing bullish trend.
Why so?
Because of higher dividend yields and sustainable equity growth.
The Big Six Canadian banks might also increase their quarterly divined in the upcoming quarters.
Bank stocks have already bounced back from their bleakest phase and are set to have robust balance sheets in 2021. Reopening the economy would create more opportunities for banks, and their loan demand might see a spike by the end of this year. Hence, holding these stocks may not be a bad idea.