Source: Piyawat Nandeenopparit, Shutterstock
Stocks of Upstart Holdings (UPST:US or NASDAQ: UPST) zoomed over 89 per cent on Thursday, March 18, on the back of its announcement of acquiring a digital automotive lending platform. The consumer lending company also released its full-fiscal 2020 and fourth-quarter earnings yesterday.
The US-based Artificial Intelligence-powered lending firm is set to purchase Prodigy Software Inc., an automotive retail software. Upstart claims that US$ 1 trillion worth of cars are sold annually in the US, and most of them are financed.
Dave Girouard, co-founder, and CEO, Upstart stated that Shopify (TSX: SHOP) and Amazon (AMZN:US or NASDAQ: AMZN) have transformed the e-commerce experience, the automotive industry has not been able to catch up to this acceleration. Upstart expects to cut the cost of auto financing, and it plans to modernize its lending platform through a multi-channel buying experience.
The company's reported top line was US$ 86.7 million in the fourth quarter of 2020, up 38 per cent year-over-year (YoY). It also generated an adjusted net income of US$ 5.4 million in Q4 2020. It posted full-year 2020 revenue of US$ 233.4 million, a jump of 42 per cent YoY.
Let us take a glance at the lender stock's performance:
Upstart Holdings (UPST:US or NASDAQ: UPST)
The stock commenced its trading journey on the NASDAQ on December 17, 2020, and since then it has grown almost 222 per cent. The mid-cap company has a market cap of US$ 8.34 billion.
It has soared more than 182 per cent this year, marginally up against the NASDAQ Composite Index that is up 177.52 per cent year-to-date. Its more than half growth of this year has come from the last one-week performance.
The credit service stock is currently trading at US$ 115.09, with an active average volume of 3.6 million for the past 10 days. It is also delivering earnings per share of US$ 0.24 and a return on equity of 13.94 per cent.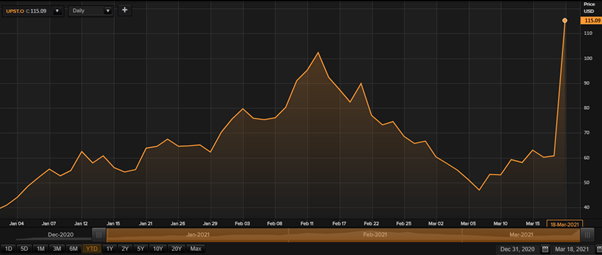 Upstart Holdings' Year-To-Date Stock Performance Chart. (Source: Refinitiv)
Upstart Outlook For Fiscal 2021


For the fiscal year 2021, the company expects total revenue of nearly US$ 500 million along with adjusted earnings before interest, taxes, depreciation, and amortization (EBITDA) Margin of almost 10 per cent. The potential acquisition of Prodigy Software Inc could fuel its further growth.