Alternative cryptocurrencies, aka altcoins, have been getting traction from investors on the back of the rising institutional and mainstream acceptance. Some altcoins have even delivered a triple-digit returns in 2021.
In the recent bear crypto market, altcoins may seem discounted and undervalued. Crypto experts are looking bullish on stablecoins and decentralized finance (DeFi) projects, which have an uptrend potential.
Let's look at top 10 crypto tokens that may worth your investments.
1. Tether (USDT)
Hong Kong-based firm Tether has a native crypto token, USDT, which is a leading stablecoin in the cryptocurrency industry. It replicates the value of the US dollar.
Tether launched its crypto token in 2014 as Realcoin using Bitcoin's blockchain platform. Later Tether renamed it to USTether, finally exported it to Ethereum's blockchain, and now it is known as USDT.
It has a market cap of over US$ 62 billion, with a circulating supply of 62.37 billion tokens. It is placed at the third position on CoinMarketCap's website. It does not have upper token supply cap and dominates 4.35 per cent of the crypto market.
Its guaranteed value of US$ 1 per token makes it unique and stable against other cryptocurrencies. During the crypto market crash, investors treated USDT as a 'safe haven' to reserve their investments.
2. Cardano (ADA)
ADA is the native token of the Cardano blockchain platform. Decentralized application developers create projects using the Haskell programming language on Cardano's blockchain. The network also offers 'proof of stake'.
Its tokens are listed on Binance's smart chain at US$ 1.42 apiece. It has a maximum supply of 45 billion coins and a current circulating supply of 32.70 billion. Its market cap stands at around US$ 45 billion. It has the fifth rank in the crypto market, with a 3.16 per cent dominance. ADA has grown almost 155 per cent year-to-date (YTD).
3. Ripple (XRP)
Ripple's XRP token is one of the most talked-about coins among investors. The seventh-ranked cryptocurrency has gained 205 per cent YTD. It has a market cap of US$ 31.21 billion at US$ 0.6765 apiece. It dominates 2.18 per cent of the market.
Ripple, a fintech firm, recently made headlines as the US regulator filed a lawsuit against the offering of XRP tokens. In the wake of this development, Ripple has dropped by almost three times from its one-year high of US$ 1.96 apiece. It has a lifetime high of US$ 3.40 per token.
Investors have been counting a big on Ripple's upcoming initial public offering. The company's management expects to get a final resolution in their favor in the ongoing case against the Securities and Exchange Commission (SEC).
4. Polkadot (DOT)
DOT is the native token of Polkadot, which is a blockchain platform that executes multiple transactions. It has a total circulating supply of 957 billion tokens, with one per cent of market dominance.
The ninth-ranked token has a market cap of US$ 15 billion, as per CoinMarketCap's website. It is trading at US$ 15.57 apiece. The crypto token is up 113 per cent in 2021.
The relay chain project is built on Binance's smart chain and is known as one of Ethereum's blockchain rivals. The platform is said to be governed independently using nominated proof-of-stake.
5. Uniswap (UNI)
UNI is the native coin of a decentralized token swapping protocol Uniswap. It also offers trading options in DeFi tokens through its blockchain network.
The token is up 386 per cent this year, with a market cap of nearly US$ 12 billion. The project has a total supply one billion UNI tokens. The Ethereum based token has declined almost half in valuation against its all-time high of US$ 45 apiece.
UNI is placed at the tenth spot, with a market dominance of 0.83 per cent. Its fully diluted market cap was up more than 41 per cent over the 24 hours (July 5, 2021).
6. Polygon (MATIC)
Polygon's native token MATIC has started making buzz as the second layer of Ethereum's blockchain network. The token has skyrocketed 6,310 per cent YTD, led by the extraordinary demand for its project. The network provides faster execution of smart contracts with lesser gas fees.
MATIC has a market of over US$ 7 billion at US$ 1.14 apiece. It has ranked 16th, dominating 0.50 per cent of the market. It has a massive circulating supply of 6.30 billion tokens against the maximum pegged supply of 10 billion coins.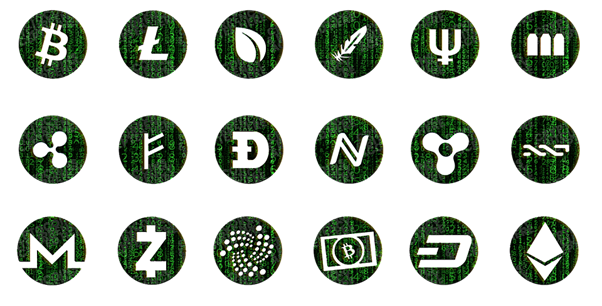 Source: Pixabay.com
7. Litecoin (LTC)
Litecoin's developer has replicated the Bitcoin protocol to build the advanced blockchain technology platform. Its native token LTC dominated the crypto market for almost nine years after its launch in October 2011. The decentralized platform charges a low transaction fee and generates a block per 2.5 minutes.
LTC has a market cap of US$ 9.36 billion at US$ 14029 apiece. It is placed at 13th position, with a market dominance of 0.65 per cent. It has a current supply of 66.75 million LTCs that are 79 per cent of its maximum supply of 84 million tokens.
The token is up 13 per cent YTD. However, it has plummeted against its one-year high of US$ 413 apiece. Crypto experts believe that it is one of the undervalued tokens.
8. Solana (SOL)
Geneva-based Solana is an open-source blockchain project that does not require any permission to offer DeFi solutions. The DeFi platform was founded in March 2020. It offers its network to develop decentralized applications and charges a gas fee in its native token SOL.
SOL has a market cap of US$ 9.38 billion at US$ 34.4 apiece. It has a current supply of more than 272 million coins against its total supply of 494.5 million.
It is up 2,196 per cent this year. With a market dominance of 0.65 per cent, the token ranks among the top 15 crypto tokens.
Copyright © 2021 Kalkine Media
9. Ethereum Classic (ETC)
Ethereum Classic's ETC token has a crypto dominance of nearly half per cent at US$ 56.56 apiece. Its blockchain network facilitates DApps services.
ETC token has a circulating supply of more than 116 million that is 55 per cent of its maximum supply of 210.70 ETC tokens. The 18th ranked token has a market cap of US$ 6.60 billion.
Ethereum's legacy platform is said to preserve the legacy of the second-largest blockchain platform. It has risen 890 per cent YTD, up against its parent's token by four times.
10. Ethereum (ETH)
Ethereum's ETH is the second dominating token of the crypto market. It has written its contracts over Binance's smart chain. It has a market cap of US$ 266 billion at US$ 2,286 apiece.
ETH is up 210 per cent this year, with a current supply of 116.56 million. Ethereum does not have a maximum cap on its ETH coin supply.
Its market dominance stands at 18.6 per cent. In contrast, its rival Bitcoin has topped the overall crypto market dominance with 44.7 per cent. However, crypto investors have been awaiting Ethereum 2.0 launch, which is expected to boost ETH prices to record highs.
Please note: The above constitutes a preliminary view and any interest in stocks should be evaluated further from an investment point of view.