Summary

JPMorgan's clients can now buy and sell cryptocurrency assets through Grayscale and Osprey Funds.
The US investment bank, however, has prohibited its consultants from giving out recommendations on crypto tokens.
On the back of this development, Bitcoin swelled on Thursday, July 22.
JPMorgan Chase & Co. (JPM:US, NYSE:JPM) has announced that its retail investors are free to trade in the crypto space.
This made the firm the first US bank to offer trading access to Bitcoin and other blockchain-powered tokens to its high-profile wealth management clients.
The investment bank, however, has barred its advisors to provide recommendations on crypto tokens, but they can trade in digital funds such as BTC trust, Ethereum Trust, Bitcoin Trust, etc.
The US$ 630-billion asset management firm's portfolio managers will trade through the new onboard digital assets trading platform, Osprey Funds, to buy and sell crypto funds. The crypto platform claims to charge a reasonable trading fee. Advisors can trade into Grayscale Bitcoin Trust and Grayscale's Ethereum Trust, as they cannot use JPMorgan accounts directly.
On the back of this development, Bitcoin's (BTC) value rose to a one-week high of US$ 32,908 per unit on Thursday, July 22, up by three per cent.
JPMorgan's change of heart regarding Bitcoin
JPMorgan chairperson and CEO Jamie Dimon had labelled Bitcoin as a "fraud" in September 2017, adding that BTC "does not" hold any real value. In early 2018, however, he regretted making that comment.
In April 2021, the US investment bank said that it is preparing to allow affluent wealth customers to trade in bitcoin funds.
Later in May, Mr Dimon stated that he "does not have any interest in Bitcoin" and that he does not support it. However, he showed interest in the blockchain technology.
Then, in June 2021, JPMorgan analysts started predicting that BTC will hit US$ 140,000 apiece, led by its mainstream acceptance. This transition came as retail investors pumped Bitcoin to its lifetime high of around US$ 65,000 per token in April.
A glance at Bitcoin's price performance chart
BTC was marching in the green territory at US$ 32,450 apiece on Friday, July 23 (4AM EST). It has returned 12.46 per cent year-to-date (YTD).
However, the world's largest digital coin is still down by 50 per cent against its all-time high in terms of market.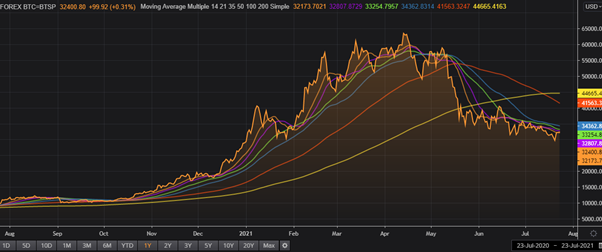 Bitcoin/USD one-year price trajectory against moving average multiple. (Source: Refinitiv)
Bitcoin continues to trade in the bearish zone despite billionaire Elon Musk's latest comments about his privately owned space tourism company SpaceX still holding Bitcoin. He also said that Tesla may recommence receiving payments in the crypto soon.
BTC is currently taking support at US$ 30,000 apiece. Its nearest resistance could be at US$ 35,000 apiece