Source: CrizzyStudio, Shutterstock
The positive financial results of the top six Canadian lenders earlier this year has not only shone a light on the improving trajectory of the economy but also on some of Toronto Stock Exchange's bank stocks. So today, we will be looking at the recent stock and financial performances of yet another TSX-listed bank – Laurentian Bank of Canada (TSX:LB).
Laurentian Bank of Canada (TSX:LB) – Stock Performance

Currently sailing through TSX's trending chart among top financial services, stocks of Laurentian Bank post a year-to-date (YTD) growth of over 30 per cent and a one-year growth of about 30 per cent. According to the data on TMX, the bank stock records a price-to-earnings (P/E) ratio of 15.4 and a price-to-book (P/B) ratio of 0.734, a while its return on equity (ROE) stands at 4.83 per cent and its return of assets (ROA) is 0.26 per cent.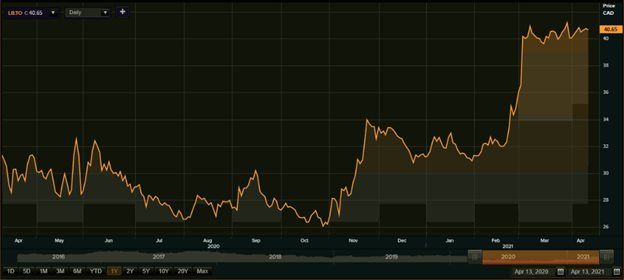 1-year chart of Laurentian Bank of Canada's stock performance (Source: Refinitiv/Thomson Reuters)
Once called the 'Montreal City and District Savings Bank', Laurentian's history goes back to the 1840s. Its first-ever public listing went up on the Montreal Stock Exchange in 1965 and soon after, following an expansion in the 1980s, the lender listed its shares on the TSX. In 1987, the bank was finally rebranded as the Laurentian Bank of Canada as we know it today.
Laurentian Bank's stock shot up to a fresh 52-week high of C$ 41.3 on March 30. Although it has since dwindled by about two per cent, closing at C$ 40.65 on Tuesday, the stock is still nearly 60 per cent above its 52-week low of C$ 25.74 (29 October 2020).
The Schedule 1 bank primarily has operations in Quebec, while it also runs offices for commercial and business banking in other provinces like Ontario, Alberta, British Columbia, etc.
At present, the C$ 1.76-billion market cap bank pays a quarterly dividend of 0.4, which is payable on May 1. As per TMX, its dividend yield stands at 3.936 per cent.
Laurentian Bank's Latest Financials
Laurentian Bank saw its adjusted net income soar by 29 per cent year-over-year (YoY) to C$ 47.6 million in the first quarter of 2021, up from that of C$ 36.9 million in Q1 FY20. Its reported net income, meanwhile, posted a YoY growth of 39 per cent to C$ 44.8 million for Q1 FY21.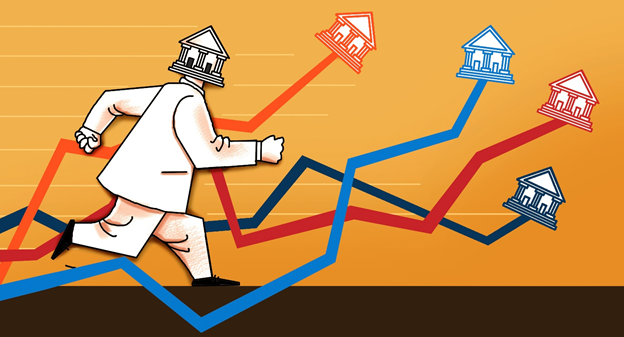 ©Kalkine Group 2021
The Montreal-based lender recorded an adjusted diluted earnings per share (EPS) of C$ 1.03 for the latest quarter, which was a 30 per cent YoY jump. Its total revenue was also up by about four per cent YoY to C$ 247.4 million for the quarter.
While some Canadian banks saw their provision for credit losses (PCL) slide in their latest quarters, Laurentian posted a C$ 1.9 million YoY increase in its PCL of C$ 16.8 million for Q1 FY21. The bank said that this jump was primarily fueled by heightened allowances on "impaired commercial loans".
PCL aside, Laurentian Bank has registered a notable increase in its quarterly net income and EPS. With the progress of the COVID-19 vaccine campaign ramping up, Canadian banks are likely to improve further this year. However, given the rising number of COVID cases around the world and the unpredictable nature of the disease, all sorts of projections need to be taken with a grain of salt.
The above constitutes a preliminary view and any interest in stocks should be evaluated further from investment point of view.