Highlights

The Bank of Canada and Federal Reserve might further increase the interest rates.
A few Toronto Stock Exchange (TSX) equities pay dividends every month.
Dividend stocks could help investors generate a passive income to beat inflation.
The Canadian equities markets have plenty of companies known for paying frequent dividends. A few Toronto Stock Exchange (TSX) equities pay dividends every month.
Given the current market situation, investors might receive a high dividend yield, which means a cash return as per the stock cost basis. As the inflation rate continues to rise in Canada and the United States, it is expected that the Bank of Canada and Federal Reserve might further increase the interest rates to control rising consumer prices.
Due to unfavourable economic conditions worldwide, an average consumer is already bearing the brunt of increased prices of goods and services. Hence, stock market investors could explore some dividend stocks for generating passive income.
Let's look at five monthly-dividend stocks you might consider exploring:
TransAlta Renewables Inc. (TSX:RNW)
During times of economic uncertainty, some analysts consider utility stocks defensive and could come in handy if a recession hits the world.
The RNW stock holds a dividend yield of 5.5 per cent, declaring a monthly dividend of C$ 0.078 per unit. On July 19, the stock of TransAlta Renewables closed at C$ 17.17 per share after climbing 0.4 per cent.
The utility company has a strong balance sheet, and in the first quarter, its free cash flow jumped nine per cent year-over-year (YoY) to C$ 108 million.
Northland Power Inc. (TSX:NPI)
TSX utility stocks generate steady sources of income that are either governed by regulations or predetermined by power purchase agreements.
Every month, Northland Power pays a dividend of C$ 0.1 per share. That translates to a dividend yield of 2.9 per cent at the time of writing.
Northland is emerging as a global leader in the development and management of offshore wind energy projects. In addition, Northland has a number of sizable renewable development projects in Scotland, Germany, Poland, New York, Mexico, and Japan.
Keyera Corp. (TSX:KEY)
Several energy companies listed on the TSX also pay monthly dividends, and Keyera is among them. The oil and gas company operates primarily in Alberta and has business interests in around 12 active gas plants.
Keyera Corp's dividend yield is six per cent, and it announced to distribute a monthly dividend of C$ 0.16 apiece, which would be payable on August 15, 2022.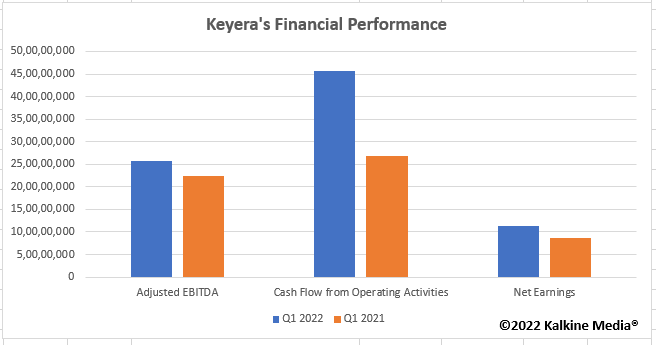 In Q1 2022, the company's adjusted EBITDA was C$ 257 million, up from C$ 225 million in the previous year's first quarter. Meanwhile, the cash flow from operating activities significantly increased to C$ 457 million from C$ 268 million in the same period.
Pembina Pipeline Corporation (TSX:PPL)
Pembina Pipeline runs a variety of pipelines, and it serves as a one-stop shop for all transportation and egress requirements for Western Canadian oil producers.
Pembina yields 5.4 per cent, and it announced a monthly dividend of C$ 0.21 per unit. In the last three years, the company has seen its dividend grow at a rate of 3.3 per cent.
The PPL stock gained investors' attention on Tuesday and increased by 0.6 per cent to close at C$ 47.02 per share.
Choice Properties Real Estate Investment Trust (TSX:CHP.UN)
The equities of commercial real estate companies frequently make consistent monthly payments that are backed by lease agreements with their tenants.
Choice Properties manages retail and commercial properties in Canada and yields 5.3 per cent. Choice's net income in the first quarter was C$ 386.98 million, compared to a net loss of C$ 62.19 million in Q1 2021.
The company's rental revenue increased to C$ 328.04 million in Q1 2022. On July 19, the CHP.UN stock was priced at C$ 13.94 apiece.
Please note, the above content constitutes a very preliminary observation or view based on digital trends and is of limited scope without any in-depth fundamental valuation or technical analysis. Any interest in stocks or sectors should be thoroughly evaluated taking into consideration the associated risks.