Highlights

In Q3 2022, Magna's sales were US$ 9,268 million.
Martinrea's net income in Q3 2022 was C$ 35.93 million.
In Q3 2022, Magna's adjusted EBIT was US$ 441 million.
In today's times, natural resources are used beyond their limit. This brings a dire need to save them. People are looking for alternatives due to the depletion of some of them.
The automobile sector is dependent on natural resources because of natural fuels like diesel and petrol. But these are exhaustible and hence have got alternatives. Due to the rising concern for natural resources, Electric vehicles (EV) have gained popularity among people and are coming into the spotlight.
Currently, the EV sector occupies a small share of the total vehicles. Many investors explore EV stocks due to the rising popularity of EVs and the world's focus on fighting climate change.
As an investor, focus on the stocks with the desired growth potential and lower risks. Also, keep track of the sector's development to reposition your portfolio accordingly. Once you have added the stock, check for the movements at regular intervals. This will give clear insights into the market functioning and trends. Let us look at two stocks and analyze their recent financial performances:
Magna International Inc. (TSX: MG)
Magna International Inc. operates as an automotive supplier with a product range that includes closure systems, exteriors, body and chassis, interiors, powertrain, contracted vehicle assembly, EV systems, seating, roof systems, tooling, and engineering.
In Q3 2022, Magna's sales rose to US$ 9,268 million from US$ 7,919 million in Q3 2021. The company's net income increased to US$ 289 million from US$ 11 million for the same comparable period. The adjusted EBIT also grew to US$ 441 million from US$ 229 million.
The quarterly dividend paid by the company was US$ 0.45 per share, and the dividend yield was reported at 3.013 per cent.
The total market capitalization of MG and MRE: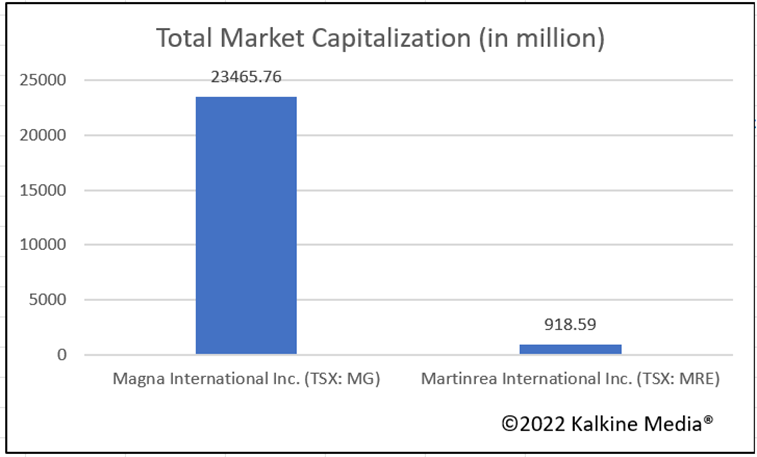 Martinrea International Inc. (TSX: MRE)
Martinrea International Inc. produces fluid management systems and steel and aluminium parts. Vehicle manufacturers majorly use the company's products in the automotive sector. It manufactures chassis modules, aluminium engine blocks, power steering, specialized products, fluid management systems and brake fluids.
In Q3 2022, Martinrea's sales rose to C$ 1,194.08 million, up 40.7 per cent year-over-year (YoY). The net income grew to C$ 35.93 million from a loss of C$ 17.12 million for the same comparable period.
Meanwhile, the adjusted EBITDA jumped to C$ 140.22 million from C$ 44.89 million. Notably, the company's total assets rose to C$ 4,159.4 million from C$ 3,613.24 million. With a dividend yield of 1.75 per cent, the company paid a dividend per share of C$ 0.05.
Bottom Line
The stock market is volatile and needs to be understood tactfully. Look at the governing factors of the specific sector and the overall market. Once you have selected your stocks, assess them according to your portfolio needs. Sometimes, the stock may not complement your investment goals. Hence, keep this in mind and stabilize your portfolio for a secure future.
Please note, the above content constitutes a very preliminary observation based on the industry and is of limited scope without any in-depth fundamental valuation or technical analysis. Any interest in stocks or sectors should be thoroughly evaluated taking into consideration the associated risks.