Highlights

June 21 is observed as World Music Day every year
A Canadian music company held a dividend yield of about five per cent
The entity posted a revenue growth of 21.6 per cent in Q4 2022 compared to Q4 2021
Canadian investors can use this day to sing to the melody of quality TSX music and media stocks, as June 21 is observed as World Music Day every year all over the planet. Investors fond of music and dividend income can explore Stingray Group (TSX: RAY.B), a diversified communication company with a dividend yield of over five per cent.
Stocks of Stingray Group rose by almost seven per cent to close at C$ 5.50 on Monday, June 20, a day before World Music Day.
The company, which focuses on the music, media and technology space, offers a multiplatform music service, Stingray Music, deployed worldwide. Consumers can access this music service via mobile and TV apps, channels and web players. Besides this, Stingray's services to consumers include 4K TV channels, concert & chows, karaoke, music videos and radio.
The small-cap media company also provides music and entertainment solutions to businesses and operates advertising networks. Now, let us dig deep into Stingray's financial and stock performance.
Stingray Group Inc's (TSX: RAY.B) revenue grew by 21.6% YoY in Q4 FY2022
Stingray Group posted C$ 72.64 million in revenues in the fourth quarter of 2022. This increase in quarterly revenue, the company noted, denoted a year-over-year (YoY) rise of 21.6 per cent led by the InStore Audio acquisition in January 2022, relaxed COVID rules and return to normalcy. Improved equipment and installation sales related to digital signage also supported this revenue growth in Q4 2022.
The Canadian media company said that its Broadcast and Recurring Commercial Music revenues grew organically by 12.7 per cent (including 23.2 per cent in the US) in the latest quarter compared to Q4 2021.
Stingray saw its net profit plunge to C$ 4.46 million in Q1 FY2022, notably down by 63 per cent YoY. This decline came as the company reported less profit on derivative financial instruments and a foreign exchange loss in the latest quarter. The C$ 382-million market cap firm pays quarterly dividends (currently C$ 0.075 per share).
Meanwhile, on a full-year basis, its revenue surged by 14 per cent in 2022 compared to 2021. Its 2022 net profit plummeted by 26.2 per cent YoY.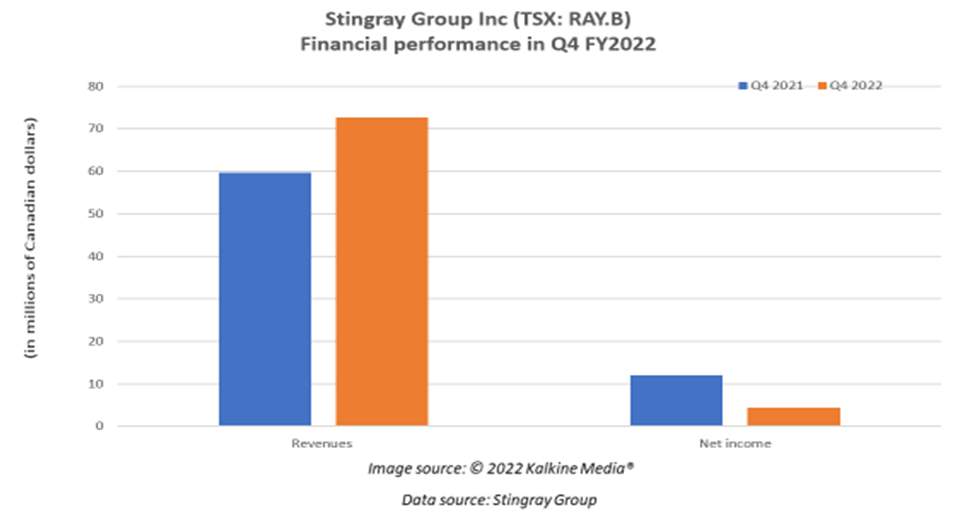 Also read: 5 TSX stocks to explore to recreate Warren Buffett's portfolio
Stingray Group stock performance
Stocks of Stingray Group recently clocked a 52-week low of C$ 5.15 (June 16).
As per Refinitiv, RAY.B stock had a Relative Strength Index (RSI) of 33.09 on June 20, marginally up from the bearish level of 30. The Moving Average Convergence/ Divergence (MACD) indicator for Stingray was also below zero line, reflecting a downward trend.
Bottomline
Investors can explore Stingray stocks on the occasion of World Music Day. Though it seems to be facing a bearish situation, this small-cap stock offers various entertainment and media solutions to consumers and businesses and could significantly expand in future.
Also read: TSX telecom stocks to buy as Quebecor & Rogers strike deal over Freedom
Please note, the above content constitutes a very preliminary observation based on the industry, and is of limited scope without any in-depth fundamental valuation or technical analysis. Any interest in stocks or sectors should be thoroughly evaluated taking into consideration the associated risks.