Stocks TELUS Corporation (TSX:T, NYSE:TU) gained in pre-market trades on Tuesday after the telecom company announced a 10-year digital alliance with the cloud platform of US tech giant Google.
As per an official release, the two companies will brainstorm and introduce new solutions to improve customer and community experiences, and cloud operations. The organisations will also support digital transformation in top industries such as healthcare, agriculture, communications technology, security, and connected home.
The key initiatives under the decade-long deal includes co-innovation on industry and market solutions, and accelerating TELUS' public cloud adoption on Google Cloud. The companies will also collaborate with the newly-listed digital IT services and outsourcing company, TELUS International (TSX:TIXT), a subsidiary of TELUS Corporation.
TELUS Stock Performance
Close on the heels of this major announcement, Telus stocks rose more than five per cent in the US pre-markets at 7:09 AM ET.
The NYSE-listed TELUS stock (NYSE:TU) closed at US$ 21.39 on Monday, while the Canadian listed stock (TSX:T) closed at C$27.26.
The stock's relative percentage change also shows a better growth than the corresponding telecom sector and the TSX Composite index.
(Source: Refinitiv, Thomson Reuters)
The telecom giant expects its top line to be above US$ 1.5 billion in 2020, up from US$ 1.09 billion on 2019. It also expects net income to range between US$ 95 million to US$ 102 million, up from US$ 69 million a year ago.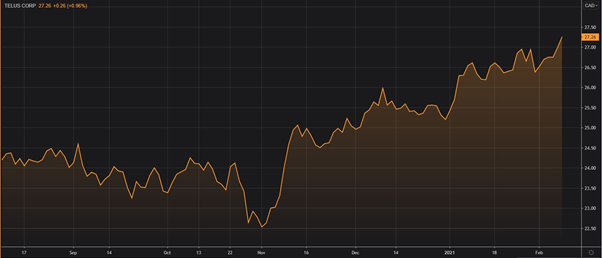 Sixth-month chart of TELUS (TSX:T) Stock (Source: Refinitiv, Thomson Reuters)
In the last three months, TELUS stock has returned over 13 per cent. Year-to-date, the scrips have grown by over 8 per cent.
The bluechip stock's gross dividend is an impressive 4.5 per cent, while five-year dividend growth is at 6.78 percent. It distributes quarterly dividend of C$ 0.311.
TELUS is an attractive option for investors looking for good dividend stocks.
However, the North American telecommunication market will likely remain flat at US$ 268 billion (same as 2020) due to COVID circumstance, as per data platform Statista.
But there are signs of growth in future, as the world moves ahead with 5G, internet of things and blockchain.
Statista adds, the industry will recover by 2022 and generate revenues over US$ 276 billion.
In other words, telecommunication industry is poised to grow in the long run. And that makes TELUS a stock to hold!
That being said, investors should do their own in-depth research before taking any investment decisions.