Summary

Rritual Superfoods has moved closer to the product rollout in the US by completing several training sessions with the CROSSMARK team.
As part of the development, CROSSMARK's proprietary Accelerator™ program has helped Rritual identify the best retail targets for its sales campaign.
The CROSSMARK team would help Rritual roll out sales and marketing campaign across 57 targeted national and regional retail chains, identified using their proprietary program.
In a strategic move that arms CROSSMARK with the requisite skills to accelerate the launch of Rritual Superfoods Inc's (RSF:CSE) products across the US, RSF has announced the completion of three training sessions with CROSSMARK's Account and Business Executives.
The Company highlighted that it was a prerequisite designed for the empowerment of the CROSSMARK team ahead of their mobilisation.
DID YOU KNOW: Rritual Superfoods smashes full year US retail distribution targets within six months
The Company disclosed that the sessions were designed to educate the CROSSMARK team on Rritual's full line of premium brand of functional superfoods. With these sessions, the CROSSMARK team would be fully prepared and will have the required knowledge about Rritual products' benefits and applications.
ALSO READ: New purchase orders worth CA$306K sweeten the pot for Rritual Superfoods
Sales and marketing campaign across 57 targeted retail chains
The CROSSMARK team will launch a sales and marketing campaign across 57 national and local retail chains, which it has defined as best targets for Rritual. CROSSMARK's core services comprise Retail Services, Marketing Services and Headquarter Sales. These services include providing insights and analytics, omnichannel expertise, eCommerce solutions, and order-to-cash. The Texas-headquartered Company also offers services for in-store as well as out-of-store consumer engagement.
In April 2021, Rritual and CROSSMARK entered into a partnership that represents a foundational leap for Rritual. The business union was designed to accelerate Rritual brand growth and open up new retail channels.
READ MORE: Rritual Superfoods (RSF:CSE) teams up with CROSSMARK Inc. to rev up its brand growth
Highlights of the CROSSMARK advancement:

CROSSMARK in a nutshell
US-based leading sales and marketing services agency CROSSMARK focuses on the growth of retail brands across various categories in the consumer goods industry.
The Company has driven the world's most powerful companies for over a century, leading to success in sales and managing brand.
CROSSMARK employs more than 25K people who are responsible for examining all major retailers in North America—from buying desks to consumer baskets.
The Company's unique omnichannel and eCommerce expertise continues to transform its business, well beyond the brick-and-mortar model.
The Company has recently introduced its proprietary CROSSMARK Accelerator™ platform. The platform offers state-of-the-art insights and analytics through artificial intelligence (AI) and advanced modeling.
DO READ: Rritual to meet global retailers at ECRM European Virtual Conference
Mr David Kerbel, CEO of Rritual, commented: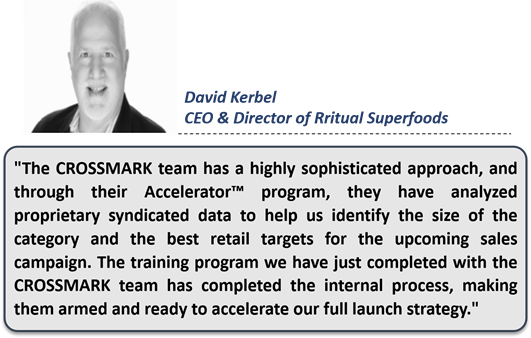 On 15 June 2021, RSF shares closed the day's trade at CA$0.82.
MUST READ: Rritual makes deeper inroads in the US with product launch on Rite Aid e-commerce platform