After making gains on the first day of this week, the equity markets in Canada declined on Tuesday, September 21. The S&P/TSX Composite Index declined by 0.99 per cent and closed at 19,368.69 points. Meanwhile, the S&P/TSX Venture Composite decreased by 1.47 per cent to 616.72 points.
The information technology and health care sector declined significantly by 2.2 per cent and 2.17 per cent, respectively. Other sectors like energy, base metals and financial also ended the trading session in the negative zone.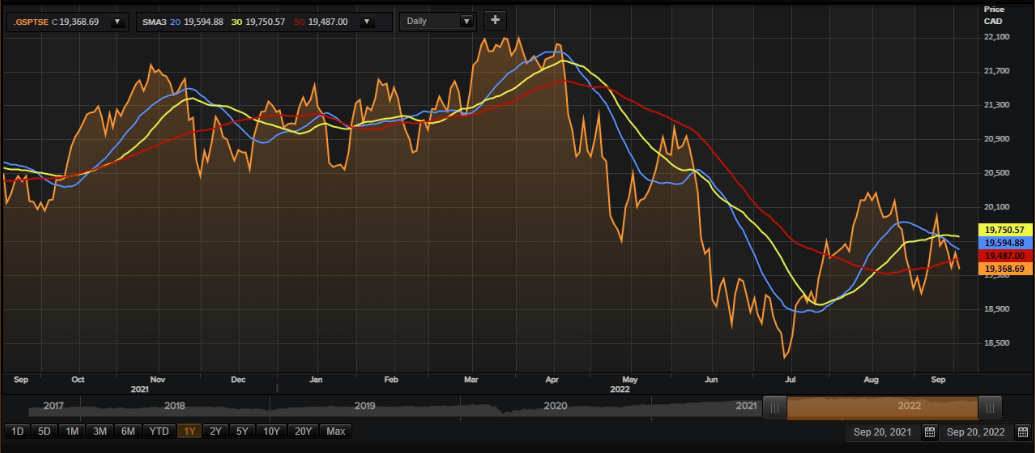 One-year price chart of TSX Composite Index along with SMA 20-day, SMA 30-day, SMA-50-day (September 20). Analysis by © 2022 Kalkine Media®
Volume Active
Barrick Gold Corporation (TSX: ABX) traded the most on the Toronto Stock Exchange, and its price decline (-2.1 per cent) indicated that it was sold during the trading hours. ABX's trading volume was 11.25 million shares.
Meanwhile. the TC Energy Corporation (TSX: TRP) had a trading volume of 10.05 million shares, and Suncor Energy Inc.'s (TSX: SU) 10.01 million shares exchanged hands on the TSX.
Wall Street update
Ahead of the decision on interest rates in the United States, the equity markets experienced a sell-off condition. The NASDAQ Composite closed at 11,425.05 points after decreasing by 0.95 per cent.
Meanwhile, the NYSE Composite declined by 1.36 per cent to 14,474.72 points.
Commodities
At US$ 1,673.4 per troy ounce, gold futures were down 0.29 per cent. In the crude oil space, the November Brent oil contract dropped 1.15 per cent to trade at US$ 90.94 per barrel.
Currency News
While CAD/EUR remained constant at 0.75, CAD/USD fell 0.81 per cent to 0.75.
At 109.89, the US Dollar Index Futures were up 0.39%.