Canadian stocks edged higher during the trading session on Wednesday, September 14, and the S&P/TSX Composite Index increased by 0.41 per cent to close at 19,726.14 points.
The index rose after stocks in the energy, IT, and health care sectors made gains. Notably, the energy sector soared three per cent, and the health care sector was up by 1.9 per cent at close.
One-year price chart of TSX Composite Index along with SMA 20-day, SMA 30-day, SMA-50-day (September 14). Analysis by © 2022 Kalkine Media®).
Volume Active
Amid the rising energy sector, investors focused on Suncor Energy Inc. as its stock became the most traded on the Toronto Stock Exchange with a volume of 11.8 million. Another energy company called Canadian Natural Resources Limited recorded a volume of about 11.1 million shares, and its price jumped by 2.4 per cent during the trading session.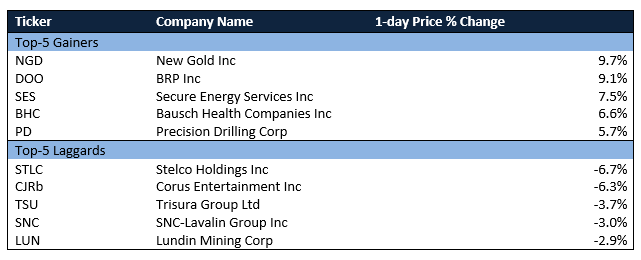 Wall Street update
The equities in the US closed higher on September 14 as the NASDAQ Composite surged by 0.74 per cent and closed at 11,719.68 points. Meanwhile, the NYSE Composite closed at 14,843.21 points after increasing by 0.15 per cent.
Commodities
The price of gold (December futures) decreased by 0.63 per cent to US$ 1,706.55 per troy ounce. In the crude oil space, the October delivery price of crude oil increased by 1.75 per cent to reach US$ 88.84 per barrel, and the Brent oil contract (for November) surged by 1.3 per cent to US$ 94.38 per barrel.
Currency news
The Canadian dollar against the US dollar (CAD/USD) remained unchanged at 0.76. Meanwhile, the US Dollar Index Futures was at 109.36, down by 0.15 per cent.