Following a choppy trading day in which equities fluctuated between gains and losses, Canada's major stock index hit a new low for the year while US markets remained split.
The S&P/TSX Composite declined by 0.1 per cent and closed at 18,307.91 points. Meanwhile, the S&P/TSX Venture Composite was up by 1.14 per cent and closed at 573.91 points.
The utility sector was down by 1.5 per cent, and the financial sector fell 0.99 per cent. On the other hand, the energy and base metals sectors were up by 2.29 per cent and 2.23 per cent.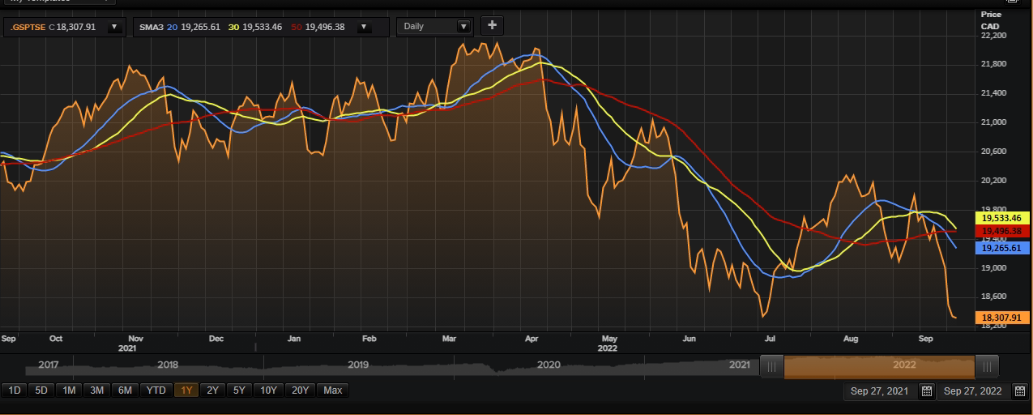 One-year price chart of TSX Composite Index along with SMA 20-day, SMA 30-day, SMA-50-day (September 28). Analysis by © 2022 Kalkine Media®
Volume Active
Suncor Energy Inc. (TSX: SU) was up by 1.44 per cent during the trading session and recorded the highest volume (10.8 million). Meanwhile, Lundin Mining Corporation (TSX: LUN) was in second place, as 8.16 million shares traded hands on the TSX.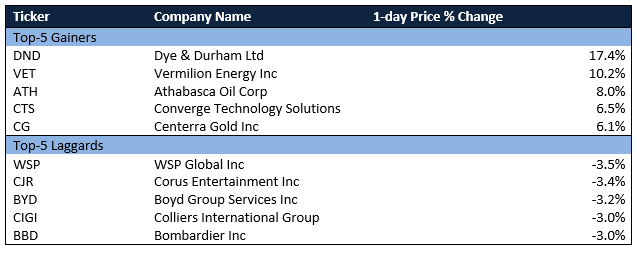 Wall Street update
The equities markets in the United States recorded mixed investor sentiments on Tuesday, September 27. The NASDAQ Composite climbed by 0.24 per cent and closed at 10,829.5 points.
Meanwhile, the NYSE Composite was down by 0.284 per cent and settled at 13,541.76 points at the end of the trading session.
Commodities
For December delivery, the Gold Futures were up by 0.16 per cent to US$ 1,635.95 per troy ounce. The Brent Oil contract gained 2.38 per cent in the crude oil sector to US$ 84.83 per barrel.
Currency news
The value of the CAD/USD remained constant at 0.73. Meanwhile, the US Dollar Index Futures increased by 0.09 per cent to 114.13.