Highlights

TFSAs offer tax-free withdrawal of the saved money, and they can hold stock investments
Three TSX stocks mentioned here are known to be large-cap stocks, and pay dividends
All operate in different industries, and hence, they can be considered for the diversification of a portfolio
Tax-free saving accounts, popularly dubbed TFSAs, bring with them numerous benefits. For long, these have been providing a way for Canadians, who have attained the age of 18 years, to save money with a tax-free withdrawal option.
What is TFSA annual contribution limit?
TFSAs can be opened through a financial institution or a credit union or even an insurance entity. It requires a valid social insurance number (SIN) to do so. The annual dollar limit for the year 2022 is C$6,000.
One must remember that since TFSAs began in 2009, and if someone turned 18 in any year after that, the dollar limit for each calendar year can be aggregated from that year onward to make even more contributions. Last year also, the dollar limit was C$6,000.
Qualified investments in TFSAs include securities, which are listed on a designated exchange like the TSX.
Mentioned below are three stocks, all of which are large-cap dividend stocks, from three different sectors that can be considered for a TFSA portfolio. Interestingly, the market cap of all three is between C$20 billion and C$30 billion.
Also read: YFI crypto gains: Can Yearn Finance stay unaffected by Ronin DeFi hack?
A player in the utilities industry, Fortis has interests in transmission and distribution. The company operates in several US states, besides Canada.
Fortis posted annual net earnings of over C$1.23 billion in fiscal 2021. Its adjusted net earnings for the same year was over C$1.21 billion.
For Q4 2021, its net earnings stood at C$328 million as compared with C$331 million for Q4 2020.
Also read: UFO Gaming & Starlink (STARL): 2 dirt cheap metaverse tokens
Its market cap stands over C$29.3 billion. It last declared a dividend of C$0.535 per share on February 10, 2022.
FTS stock closed at C$61.57 on Wednesday, March 30, noting a one-year return of nearly 12.8 per cent.
Power Corporation of Canada (TSX: POW)
Almost a decade old company, Power Corporation of Canada is into financial services, with controlling stakes in IGM Financial and a few other entities.
Power Corporation noted net earnings of over C$2.91 billion in 2021, while its adjusted net earnings was over C$3.23 billion.
In Q4 2021, its net earnings were C$626 million as compared with C$623 million for Q4 2020.
The C$26.4-billion market cap company last declared a dividend of C$0.495 per share on March 18, 2022.
POW stock closed at C$39.03 on Wednesday, noting a one-year return of 17.6 per cent.
Also read: Ronin Network hacking: What is Ronin bridge & its RON token?
Magna International Inc (TSX: MG)
A player in the vehicles and parts industry, Magna International supplies a variety of products used in the production of vehicles.
Magna International posted sales of over US$9.1 billion for three months ending December 31, 2021. In fiscal 2021, its sales figure was over US$36.2 billion and its adjusted EBIT was over US$2 billion.
Magna last declared a dividend of US$0.45 per share on February 11, 2022.
Its stock closed at C$80.97 on Wednesday.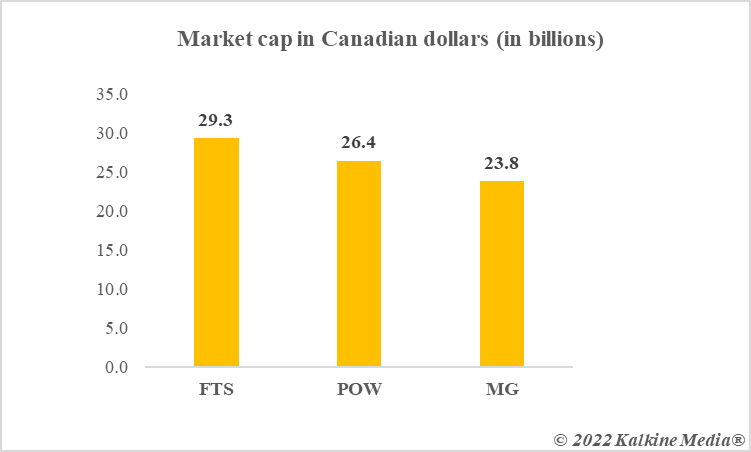 Bottom line
TFSAs can be a healthy option for Canadians as they come with a tax-free withdrawal feature. The dollar limit for the contribution this year is C$6,000.
Though stocks do not provide fixed returns, the above three can make for an interesting watch for their roles in the industries they operate in.