Highlights

Yearn Finance is a player in the DeFi category, and has the YFI as its governance token
Lately, a DeFi player, Ronin bridge, has come under the attack of some hackers and lost cryptos
YFI has a high price per token, and it has gained a little over the past 24 hours
Of late, the crypt universe has had some bittersweet experiences. Some reports suggest that iconic footballer Lionel Messi has signed an endorsement deal with a fan token crypto project Socios.com. On the other hand, the hack of the Ronin Network and the resulting loss of hundreds of millions of dollars worth of crypto assets has yet again brought the vulnerabilities of decentralized finance (DeFi) into the limelight.
The first news had led to a surge in the price of Chiliz token (CHZ), which is linked to Socios.com. The second, however, has caused the tokens of Ronin Network (RON) and Axie Infinity (AXS) to lose value over the past 24 hours. Amid these fluctuations, let's know about a DeFi project, Yearn Finance.
How is Yearn Finance a DeFi player?
The DeFi space claims to help crypto enthusiasts earn passive income from their holding. A holder can deposit assets in the pool, which are borrowed by others, and as a result, interest income accrues to the lender.
Users can connect their wallets to the Yearn platform, which runs on Ethereum and Fantom. The holding can be deposited in the vault, which the Yearn platform puts to use in yield farming.
Also read: What is Bundil app & does it have a native crypto token?
Yearn Finance is said to be an aggregator for protocols like Aave and Compound. The project claims it can maximize the yield by using automated farming.
Yearn Finance crypto (YFI)
The YFI token supports the decentralized governance feature of the project. Once a proposal is put to a vote, holders of YFI tokens can stake them to participate in voting.
Also read: What is Saitama ecosystem? Crypto seeks to educate Gen Z on finance
YFI crypto price
The Yearn Finance cryptocurrency ranks just below Bitcoin in terms of price per token. With a market cap of nearly US$840 million as of writing, the YFI crypto ranked among the top 100 assets. YFI crypto's price was nearly US$22,900.
It is notable that the crypto was priced at nearly US$41,000 on January 3, 2022. By this measure, the YFI token has lost substantially over the past nearly three months. The price plummeted to nearly US$17,500 on February 24.
Since it has shown high volatility, YFI crypto price prediction is not possible.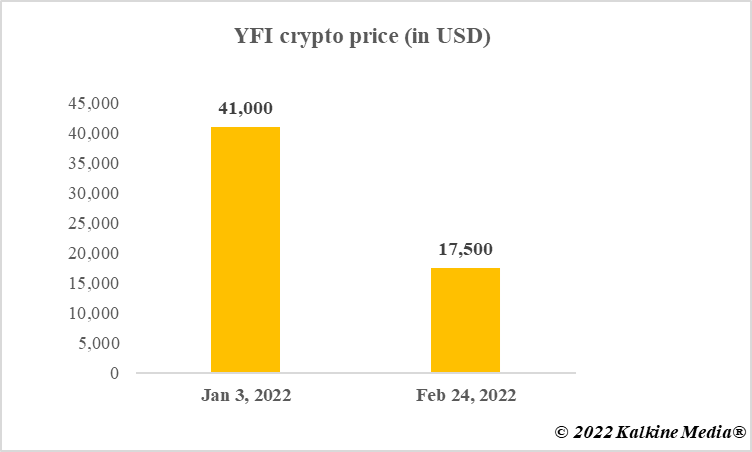 Data provided by CoinMarketCap.com
Bottom line
Over the past 24 hours, the YFI token has gained a little, but the price has yet to reclaim the lost ground. Separately, the hacking of Ronin Network and one of the biggest heists in DeFi may put further pressure on cryptos in the DeFi category. Yearn Finance claims it can maximize the yield for crypto holders, but how this develops in the long-term has yet to be seen. YFI also has a very high price per token, which helps it stand apart from very low-priced tokens like Shiba Inu and BitTorrent.
Also read: UFO Gaming & Starlink (STARL): 2 dirt cheap metaverse tokens
Risk Disclosure: Trading in cryptocurrencies involves high risks including the risk of losing some, or all, of your investment amount, and may not be suitable for all investors. Prices of cryptocurrencies are extremely volatile and may be affected by external factors such as financial, regulatory, or political events. The laws that apply to crypto products (and how a particular crypto product is regulated) may change. Before deciding to trade in financial instrument or cryptocurrencies you should be fully informed of the risks and costs associated with trading in the financial markets, carefully consider your investment objectives, level of experience, and risk appetite, and seek professional advice where needed. Kalkine Media cannot and does not represent or guarantee that any of the information/data available here is accurate, reliable, current, complete or appropriate for your needs. Kalkine Media will not accept liability for any loss or damage as a result of your trading or your reliance on the information shared on this website.