Highlights

The TSX main equity index dipped by over 12 per cent year-to-date

The TSX Composite Index, however, rose by about one per cent on Monday, July 18

DOL stock grew by over 34 per cent in 52 weeks
Stock markets have seen a retreat in 2022 as the main S&P/TSX Composite Index declined significantly since the start of this year. Global inflation, mainly fuelled by the Russia-Ukraine crisis and supply chain bottlenecks, continues to create price pressure and spook investors worldwide.
In addition, central banks' efforts to ease inflation has triggered the fear of economic recession as consumer face higher interest rates. However, investors with a long-term perspective could explore quality defensive stocks like Telus (TSX: T), Superior Plus (TSX: SPB), Dollarama (TSX: DOL) etc., amid such market downturns.
Here are five TSX defensive stocks that investors could consider for their portfolio amid the current volatility.
1.

Telus Corporation (TSX: T)
Telus recently declared to invest C$ 430 million in improving its telecom business operations, network infrastructure, and spectrum across Calgary under its C$ 17-billion investment plan from now to 2026.
As for its stock performance, Telus climbed over two per cent in a year. According to Refinitiv findings, Telus saw a Relative Strength Index (RSI) of 38.13, which indicates that it is not experiencing an overselling condition.
Some analysts believe that an RSI value of less than 30 indicates that stock market traders are overselling a stock.
2.

Superior Plus Corp (TSX: SPB)
Superior is a mid-cap company with diversified distribution and transmission assets to supply energy fuels and speciality chemicals. In June, the Canadian utility firm acquired Quarles Petroleum Inc for US$ 144 million to grow its propane and refined fuel distribution asset portfolio.
SPB stock spiked by nearly five per cent from a 52-week low of C$ 10.8 (February 24). However, SPB fell by about 13 per cent YTD. Refinitiv data shows Superior Plus stocks recorded an RSI of 44.08 on July 18.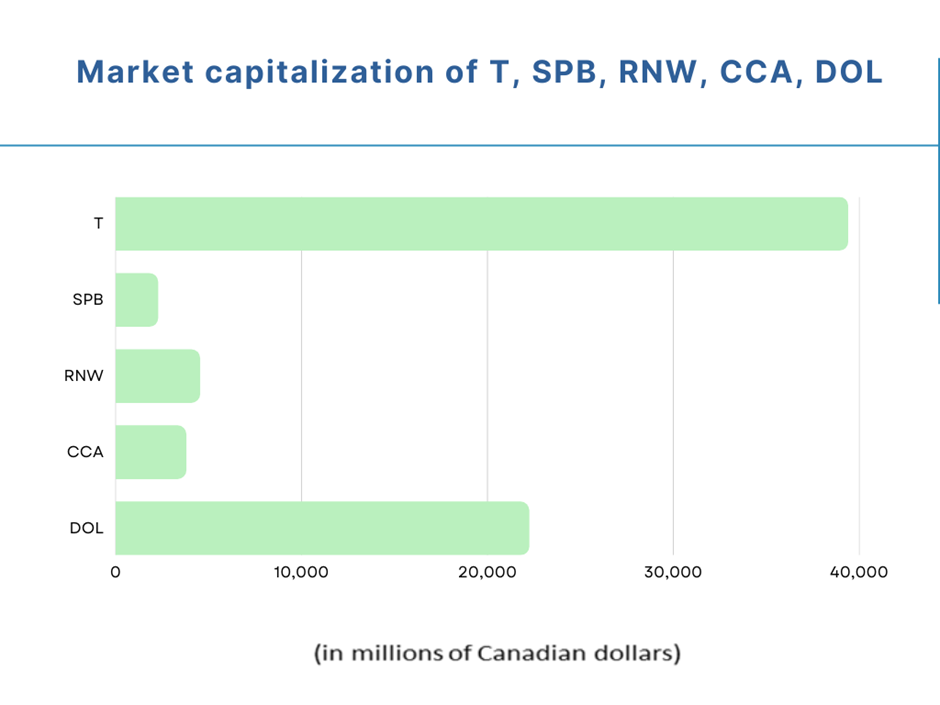 ©Kalkine Media®; ©Garis Studio via Canva.com
3.

TransAlta Renewables Inc (TSX: RNW)
TransAlta Renewable is a C$ 4.56 billion market cap company with renewable power production facilities and transmission assets. TransAlta disburses a dividend of C$ 0.078 every month, scheduled for July 29, August 31, and September 29.
RNW stock swelled by nearly four per cent quarter-to-date (QTD) and has been on a consolidated trend with an RSI of 56.31 on July 18, as per Refinitiv data.
4. Cogeco Communications Inc (TSX: CCA)
Cogeco Communications increased its revenue by 16.6 per cent year-over-year (YoY) to C$ 728.1 million in Q3 FY2022. As a result, the telecommunication service firm improved its profit by 2.5 per cent YoY to C$ 105.4 in the latest quarter.
Cogeco stocks lost roughly 32 per cent in a year and, according to Refinitiv information, were in the oversold territory with an RSI of 28.25 on July 18.
5.

Dollarama Inc (TSX: DOL)
Discount retail store owner and operator, Dollarama holds a market capitalization of C$ 22.24 billion. The Canadian retail company will deliver a quarterly dividend of C$ 0.055 on August 5.
DOL stock grew by over 34 per cent in 52 weeks. Data collected from Refinitiv suggest that DOL stock is upticking with a moderate RSI value of 57.71 on July 18.
Bottom line
Long-term investors looking to play defensive amid the current market uncertainty could explore these five TSX stocks. Apart from sturdy portfolio income, these stocks could diversify portfolio risk by widening exposure to the communication service, utility, and consumer defensive sector.
Please note, the above content constitutes a very preliminary observation based on the industry, and is of limited scope without any in-depth fundamental valuation or technical analysis. Any interest in stocks or sectors should be thoroughly evaluated taking into consideration the associated risks.