When tough times descend, our natural fight-or-flight tendency comes to the fore. A financial doom like a recession is also a situation that forces us to be worried and defensive. For instance, a recession in the economy brings tough times for people.
When two consecutive quarters mark negative growth, a recession sets in. It is characterized by higher unemployment, reduced savings, decreased overall spending and a hit on the economy. In other words, it has a severe impact on the subsistence level of the people.
However, a recession may not sound like a disaster for those who safeguard themselves beforehand.
You can easily survive this economic storm by making smart choices and working on your finances effectively. "NOW" is the right time to start working on your different financial aspects, such as savings, spending and investment.
There are a few simple ways to look at if you are preparing yourself for a recession:
Set up an emergency fund
To protect yourself, create your emergency fund. This acts as a saviour during times of recession. This fund helps you meet your day-to-day expenses if you face an income dip.
The dip can be due to unemployment or financial losses. An emergency fund must be prepared to fund expenses for three to six months.
Parallel to this, it is crucial to mind your spending as well. Analyze your spending pattern and put a limit. To save more, it is advisable to avoid non-essential and impulsive purchases.
Prepare a budget and adhere to it
During the recession, people may lose their jobs and face financial constraints. In such situations, opt for different budgeting techniques.
It is advisable to track your income and spend simultaneously. Restrict your spending and stick to your budget throughout. Once you have clarity on your monthly finances, you can make slight changes as per your varying needs every month.
Consolidate your debts and get rid of them
Finishing your debt is one of the effective ways to deal with a recession. Once you pay off your existing debts, it will eventually lead to reduced monthly spending for you.
One of the effective ways is to go for debt consolidation loans. This is a workable method that will increase your ability to save.
Work on additional income sources
Recessions are unpredictable, and their consequences are hard to digest. Be prepared for it and look for additional income sources to have extra cash in your pocket.
Also, this will help you to acquire new skills and expertise. Once you put your skills to use will boost your earning potential and keep you on top of your finances.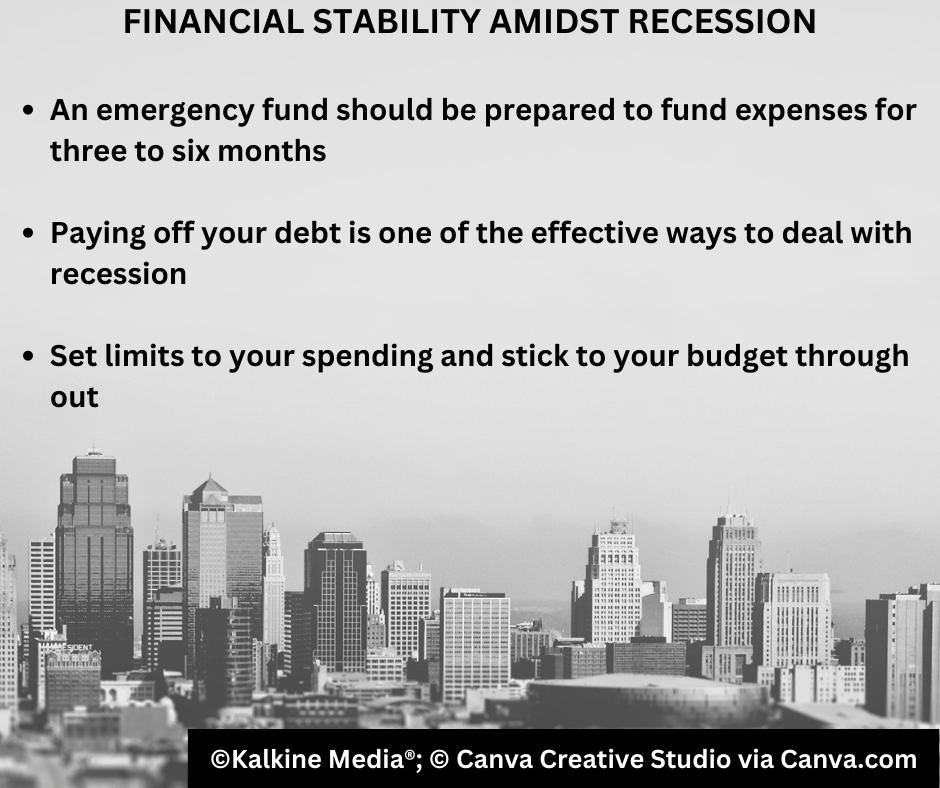 Be proactive
While working on the techniques, you must be alert and clear in your approach. Protect your finances before they are affected.
Opt for a frugal lifestyle to stay unaffected during these challenging times. This does not mean cutting on your necessary expenses. It is just being always mindful of your spending. You can easily safeguard yourself from a financial setback by adopting this lifestyle.
Do not fret over long-term investments
Do not panic about your long-term investments when a recession sets in. When investing for several decades, these ups and downs are a part of it. Always keep calm and do not take any investment decisions impulsively. Always move ahead with the mindset that this is temporary, and this, too, shall pass.
Bottom Line
A recession should not be synonymous with financial mess and instability for you. You can survive through this overwhelming phase with extra planning and caution.
Do not wait for the recession to hit you. Instead, you may consider following the abovementioned ways to survive a recession or financial adversity.