Summary

The pandemic is transforming the global economy and technology has taken the center stage.
Tech stocks emerged as the winners in the COVID-roiled markets of 2020.
However, the stocks crashed in the first week of September, with the technology index losing over 8 per cent in a week.
Tech stocks rebounded during Wednesday's trade and Constellation Software (TSX: CSU) and Shopify (TSX: SHOP) emerged as hot stocks on the TSX.
Wall Street's latest tech rebound seems to have rubbed off on the key Canadian index. As the NASDAQ climbed 2.7 per cent on Wednesday, Apple (AAPL:US) and Tesla (TSLA:US) emerged as the most active stocks on the tech heavy index. On the same day, the Toronto Stock Exchange (TSX) tech index also jumped 3.86 point or 2.4 per cent with Constellation Software (TSX: CSU) and Shopify (TSX: SHOP) emerging as the top tech stocks on the index.
Wednesday's Tech-tonic Turnaround
The COVID-hit summer of 2020 has been hot for tech stocks on both the Canadian and US equity markets. But that was until last week. Heavyweight tech stocks started tumbling in the first week of September, sending the NASDAQ into correctional territory.
Back home, the information technology index doffed 8.5 per cent between September 2 to September 8. The tech rout also had an impact on the TSX composite index, leading it to enter the red zone in three consecutive trading sessions.
Things finally turned around on Wednesday, after Canadian tech stocks clawed their way back into green territory, supported by tech gains on the Wall Street. Heavyweights Constellation Software and Shopify traded at C$ 1,516.79 and C$ 1,250.26, respectively.
Here's quick look at the two stocks and their current performances:
Shopify Inc. (TSX: SHOP)
Shopify, Canada's largest e-commerce firm, has been a key player in shifting small- and medium-sized businesses online. It serves as one-stop-shop for all digital commercial needs, helping entities and merchants with multiple-pronged solutions that includes Point of Sale (POS), website development, payment gateway integration, analytics, social network integration and engagement tools.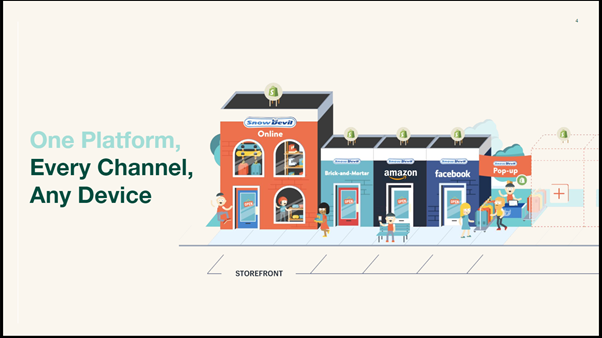 (Source: Shopify investor's deck)
At the time of writing this story (September 10), Shopify stocks are trading at C$ 1273.12 and has returned over 146 per cent gains year-to-date (YTD).
Shopify's current market capitalization is C$ 137 billion and has high price-to-book ratio of 25.08. The company hasn't paid any dividend till date. Its current price-to-cash flow ratio is 1180.3, as per TSX.
Shopify stands out from its tech peer Amazon. It is not an out-and-out e-commerce firm, rather helps businesses embrace the e-commerce business model. The company's success story lies in the fact that it puts its merchants first. Till date, Shopify partners' revenues exceeded the revenues of the tech giant itself. The more businesses expand and earn revenues, the more Shopify's revenues grow.
Read: Is Shopify heading for a stock spilt?
Shopify stocks went down 8.6 per cent month-to-date during the tech rout. But now that tech stocks are on the rebound path, Shopify is also likely to bounce-back.
Constellation Software Inc. (TSX: CSU)
Constellation stocks have witnessed a slow and steady surge of 19.7 per cent YTD. The shares are up 2.6 per cent in the last three months. While tech stocks tumbled during the September first-week's market crash, Constellation stocks traded flat, showing its resilience during hard times.
Its real-time price is C$ 1510 (as on September 10).
The company has a current market capitalization of nearly C$ 32 billion and distributed quarterly dividend of US$ 1. Its current dividend yield is 0.35 per cent and the P/E ratio is 70.6. As per the TSX, Constellation stock's return on equity is over 50 per cent while return on assets is 10 per cent. The current price-to-cash flow ratio is 23.40.
Constellation is a tech titan providing software services to public and private companies. It also acquires smaller companies, expanding and developing their software verticals.
In its second quarter results ending June 30, 2020, the company's revenue grew nine per cent year-over-year to US$ 922 million. Net income increased 12 per cent to US$ 83 million from US$ 73 million in Q2 2019.
Constellation went public on the TSX in 2006. In the last two decades, the company has returned over 3900 per cent.
Pandemic-led Tech Rally
The pandemic has transformed the global economy. Some industries, such as the aviation and auto, have suffered a huge setback, falling back by several years. On the other hand, stands technology, whose growth seems boundless.
Read: Canadian Tech Stocks Soaring Saga in Pandemic Time
Primarily three kinds of technology are shaping up this tech rally in the equity markets.
First, are tech firms serving the homebody economy or work-from-home environment that includes e-commerce and learning management system companies. Second, is the telecommunications industry that is supporting this tech surge with quality data services. And finally, the telehealth services that is garnering pace amid the COVID times and social distancing rules.
The pandemic has changed the world as we know. And these changes are here to stay. Technology, the next stage of human revolution, has been shaping up our lives for more than five decades. In these pandemic-laden times, technology has taken the center stage, acting as a torch in dark times.