Highlights

The TSXV has a variety of junior stocks to offer to retail investors in Canada.
com is involved in the acquisition and management of leading software companies.
New Found Gold is engaged in exploring gold properties in the Canadian provinces like Ontario.
The stock market has remained volatile since the beginning of this year. Initially, the volatility was due to the outbreak of the omicron variant of the coronavirus and later due to the war between Russia and Ukraine.
Despite the volatility, stock markets never fail to attract traders, and on that note, we have shortlisted some lightweights of the TSX Venture Exchange.
Let's take a look at them:
Topicus.com Inc (TSXV:TOI)
Topicus.com is involved in acquiring and managing leading software companies and providing software to corporate and public sector companies.
Also Read: 3 TSX smart penny stocks to buy in May
According to Refinitiv data, the technology company's Relative Strength Index (RSI) value is 37.3. On April 29, the TOI stock had declined by 1.1 per cent and closed at C$ 79.9 per share.
Some analysts believe that an RSI value of 30 or less represents an oversold stock condition. However, the TOI stock doesn't appear to be witnessing that condition.
If the technology sector surges in future, the stock could reach the level of an uptrend, which is often considered above the RSI value of 40.
Partners Value Investments LP (TSXV:PVF.UN)
It is an investment partnership and holds a stake in Brookfield Asset Management. At market close on Friday, the PVF.UN stock was priced at C$ 73.86 per share.
In 2021, Partners Value generated a net income of US$ 31 million and distributed a quarterly dividend of US$ 0.281 per unit to the shareholders.
The company's balance sheet displayed cash and cash equivalents worth US$ 80.7 million, and the market capitalization of Partners Value is C$ 5.4 billion.
Alphamin Resources Corp. (TSXV:AFM)
The junior metals and mining company is involved in producing and selling tin concentrate and has business operations in the Democratic Republic of the Congo.
Over the past few weeks, the base metals sector has performed well overall, and on April 29, the AFM stock had climbed 0.7 per cent and closed at C$ 1.39 apiece.
In Q1 2022, Aplhamin said its net cash position increased to US$ 129.5 million after a dividend payment of US$ 30 million.
New Found Gold Corp. (TSXV:NFG)
New Found Gold is engaged in exploring gold properties in the Canadian provinces like Ontario, Labrador, and Newfoundland. Recently, the company announced the appointment of Collin Kettell as its chief executive officer (CEO).
On April 7, the metals and mining company said that it recorded production of 13,378 oz in Q1 2022, representing an increase of 4.2 per cent over the previous quarter.
Meanwhile, New Found Gold's revenue increased to C$ 31.9 million, up 6.7 per cent from the previous quarter.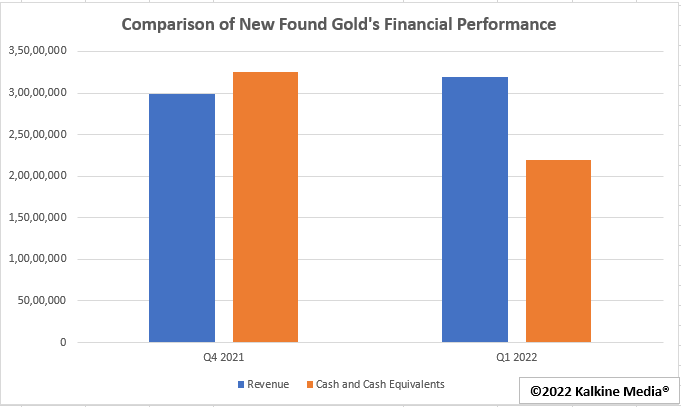 Reconnaissance Energy Africa Ltd. (TSXV:RECO)
The oil and gas company recorded a price surge of 3.7 per cent during the trading session on April 29 and closed at C$ 6.92 per share. On March 1, Reconnaissance Energy announced the completion of a C$ 47.5 million bought deal offering.
The 10-day average volume of the RECO shares was 287,317, and its market cap is approximately US$ 1.4 billion.
As of September 30, 2021, the oil and gas company's cash position was strong as it had C$ 69.9 million in cash.
Also Read: EMO, ODV, and DSV: 3 TSXV precious metals stocks to buy?
Please note, the above content constitutes a very preliminary observation or view based on digital trends and is of limited scope without any in-depth fundamental valuation or technical analysis. Any interest in stocks or sectors should be thoroughly evaluated taking into consideration the associated risks.