Highlights

In Q3 2022, Altus Group's adjusted EBITDA was noted at C$ 32.91 million.
In Q3 2022, Brookfield Asset's net income was US$ 223 million.
Altus Group's revenue in Q3 2022 was C$ 177.69 million.
During market fluctuations and volatility, investors are bound to reduce their spending and change their strategies. But there are also investors with limited money even during normal market situations. They can explore stocks that are priced lower. Regardless of the return provided by the stock, it is crucial to be aware of all factors and analyze them one by one. Try to align them with your investment goals to have the desired return. This facilitates stabilizing the financial standing of the investors.
Since the beginning of the year, the market has been through volatility and hounded by recessionary fears. Amid this situation, it can be difficult for investors to pick stocks that are suitable for them. In every situation, investors must keep their research intact and remain updated with the changing trends.
So, let us look at two stocks under C$ 70 with their recent financial performances:
Brookfield Asset Management Inc. (TSX: BAM.A)
Brookfield Asset is into power and infrastructure assets along with commercial property The investment portfolio of the company includes private equity, renewable power, Real Estate, and Infrastructure. Real Estate consists of retail and office properties. Renewable power consists of wind, and solar storage generating facilities. The infrastructure consists of data infrastructure, energy, sustainable resource assets, utilities, and Private Equity consists of industrial and business operations.
In Q3 2022, Brookfield Asset posted a net income of US$ 223 million. Brookfield's total assets rose to US$ 41,387 million from US$ 11,493 million as of December 31, 2022. The total revenue declined to US$ 2,023 million from US$ 2,266 million.
As on September 30, 2022, Brookfield reported its cash and cash equivalents with an increase to US$ 3,153 million from US$ 393 million on December 31, 2021. With a dividend per share of US$ 0.14, the company reported a dividend yield of 1.248 per cent. The earnings per share (EPS) is at US$ 2.71.
The total market capitalization of BAM.A and AIF: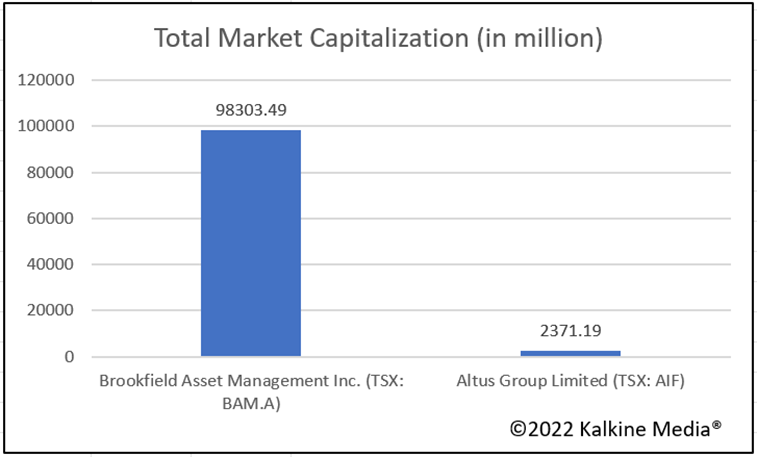 Altus Group Limited (TSX: AIF)
Altus Group Limited is a real estate company based in Canada. There are three segments operated by the company that include software, advisory, Commercial Real Estate Consulting and Altus Analytics.
In Q3 2022, Altus Group's revenue increased to C$ 177.69 million from C$ 151.79 million in Q3 2021. The adjusted EBITDA also rose to C$ 32.91 million from C$ 24.41 million for the same comparative period. The company incurred a profit which was reported at C$ 6.82 million versus a loss of C$ 295 thousand. Altus Group pays a dividend per share of C$ 0.15 every quarter. The EPS is at C$ 0.17.
Bottom Line
Before picking up a stock, be aware of the past and present performance of the company and match them to your risk appetite. Evaluate the stock and make sure to abide by your portfolio capacity. You can strengthen your financial position by selecting stocks consciously and weighing them overall.
Sometimes, the market may not respond as per our anticipation. Hence, keep your portfolio risk tolerant and consider its regular repositioning.
Please note, the above content constitutes a very preliminary observation based on the industry and is of limited scope without any in-depth fundamental valuation or technical analysis. Any interest in stocks or sectors should be thoroughly evaluated taking into consideration the associated risks.