Highlights

In Canada, the main equity index has declined by 6.53 per cent year-to-date (YTD).
The S&P/TSX Composite Index fell by 0.187 per cent to 19,836.12 points on August 29.
Investors could be facing trouble while selecting stocks for their portfolios.
The Canadian stock market continued to decline on Monday, August 29, as the S&P/TSX Composite Index fell by 0.187 per cent to 19,836.12 points. At market close on Friday, August 26, the main Canadian index had slipped by 299.05 points as the healthcare sector dipped significantly by 5.05 per cent.
Stock markets worldwide have remained volatile due to various macroeconomic factors and continue to experience high volatility. In Canada, the main equity index has declined by 6.53 per cent year-to-date (YTD) and slightly increased by 0.73 per cent month-to-date.
Due to the ongoing instability in the market, Kalkine Media® has curated a list of stocks on the Toronto Stock Exchange. Let's look at their performances:
Hydro One Limited (TSX: H)
Hydro One is an electricity transmission and distribution corporation for energy. In almost any situation, investors can rely on top utilities. At market close on August 29, the share price of Hydro One was up by one per cent from the previous close.
On August 9, the utility company announced its results for Q2 and said its basic earnings per share (EPS) surged 7.5 per cent year-over-year (YoY) to C$ 0.43.
Hydro One's revenues grew from C$ 1,722 million in Q2 2021 to C$ 1,840 million in the second quarter of this year. Meanwhile, the net income increased from C$ 238 million to C$ 255 million in the same period.
Notably, the net cash from operating activities rose significantly to C$ 621 million in Q2 2022. In the same quarter of the previous year, the net cash from operating activities was C$ 412 million.
Waste Connections Inc. (TSX: WCN)
Few industries are as reliable as garbage disposal, and investors could explore stocks in this industry. Waste Connections is one the largest waste disposal companies worldwide, and its stock was up by 0.6 per cent at market close on August 29.
Despite uncertainties in the market, Waste Connections raised its revenue guidance for fiscal 2022 and estimates its revenues will be US$ 7.125 billion instead of US$ 6.875 billion.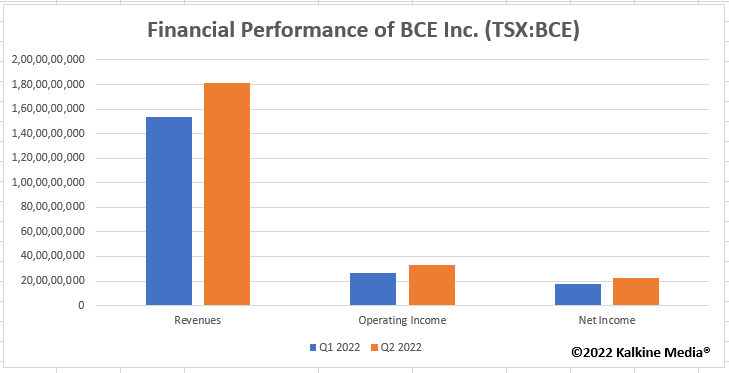 In Q2 FY22, the company's revenues increased by 18.4 per cent to US$ 1.816 billion, and the net income surged to US$ 224.1 million from US$ 177.04 million in Q2 FY21.
The company has shown significant growth in paying dividends as it grew by 11.37 per cent in the last three years. Waste Connections is expected to pay a dividend of US$ 0.23 on September 1.
Dollarama Inc. (TSX: DOL)
The consumer defensive company offers discounted products to its customers. As the prices of products continue to increase due to a high inflation rate, people could look for cheaper products to save money.
The DOL stock increased by 0.8 per cent during the Monday trading session and closed at C$ 81.13 apiece. In Q1 2023, Dollarama's sales jumped 12.4 per cent YoY to C$ 1,072.9 million and operating income increased to C$ 220 million, reflecting an increase of 24.4 per cent YoY.
Dollarama last paid a dividend of C$ 0.0553 per unit to its shareholders, and its dividend yield is 0.273 per cent.
The demand for communications services could expand as a result of increased usage of remote working and learning. BCE is one of Canada's top communication services providers, and it looks to expand its fibre internet access to more than 117,000 homes and businesses in Ontario.
BCE's operating revenues increased to C$ 5,861 million in Q2 2022, up by 2.9 per cent YoY. Meanwhile, the net earnings decreased by 10.9 per cent to C$ 654 million.
However, the telecommunications services provider's free cash flow increased by 7.1 per cent YoY to C$ 1,333 million in Q2 2022. BCE said its balance sheet remained strong in the second quarter as it had available liquidity of C$ 3.1 billion, including C$ 596 million in cash.
The BCE stock surged by 2.1 per cent quarter-to-date (QTD) and outperformed the main Canadian equity index as it declined by 1.8 per cent in the same period. The BCE stock's relative strength index (RSI) value was 49.6, as per Refinitiv data, and this could mean that the stock is nearing the neutral zone.
Fortis Inc. (TSX: FTS)
Fortis is among the top utility companies in Canada, and its stock climbed 0.425 per cent during intraday trading to close at C$ 59.08 per share. In Q2 2022, Fortis' net earnings amounted to C$ 284 million, reflecting an increase of 31 per cent YoY.
The company said it achieved a 20 per cent reduction in Scope 1 emissions in 2021 compared to the levels in 2019. Also, Fortis increased its renewable electricity generation capacity by 50 per cent in comparison to 2020.
The FTS stock grew by 2.4 per cent over the last year, and its 52-week high was C$ 65.26 per share on May 25, 2022.
Bottom line
As the markets remain volatile, it could have become difficult for investors to select the stocks for their portfolios. Some analysts believe a diverse portfolio could help investors neutralize losses during an uncertain market situation. Hence, exploring stocks from different sectors could be considered while making a portfolio.
Please note, the above content constitutes a very preliminary observation or view based on industry and is of limited scope without any in-depth fundamental valuation or technical analysis. Any interest in stocks or sectors should be thoroughly evaluated taking into consideration the associated risks.