Until last year, Zhong Shanshan was barely known outside of China. This reserved billionaire, who has rarely appeared in the press, has had an unusual career covering journalism, mushroom farming, and healthcare.
Now, he has become Asia's richest person, surpassing India's Mukesh Ambani and a group of Chinese tech tycoons comprising Jack Ma, as per Bloomberg's Billionaire Index.
Zhong's net worth has soared by US$ 70.9 billion this year, the fastest surge of wealth so far. His current net worth stands at US$ 77.8 billion, making him the 11th-richest person on the globe as per the Bloomberg Billionaires Index.
In September, the billionaire who swirled his wealth from bottled water and injections had dethroned Jack Ma as China's richest man. He owns Nongfu Spring, which claims to be the top company in China's vast bottled-water marketplace. It is prevalent across the country where most people stopped drinking tap water for health concerns.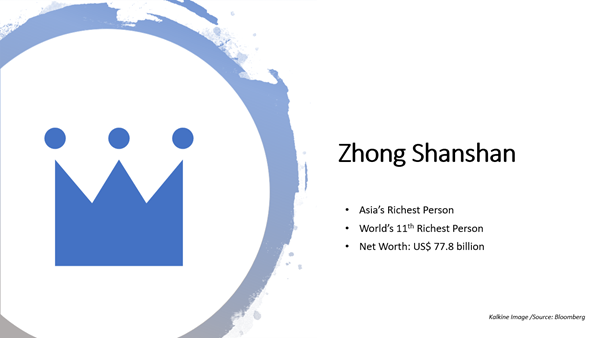 Nongfu Spring Co Ltd (Hong Kong Stock Exchange: 9633)
The company sold 388.2 million units and raised nearly US$ 1.1 billion in its initial public offering (IPO) deal. The company delivered one of the largest IPOs of 2020 in Hong Kong. Shares of the bottled water producer zoomed 54 per cent on the first trading day on 8 September 2020. It has backing of investors such as Fund Manager Fidelity, Hedge Fund Coatue, and Sovereign Wealth Fund GIC.
In market fundamentals, its stock has a price-to-earnings (P/E) ratio of 100.68 and a present price ratio of 59.59. Its 30-day average trading volume stands at nearly 7.26 million units. The stock is offering current earnings per share (EPS) of HK$ 0.46. The stock has a current price of HK$ 54.90 per unit. The company has 5.03 billion outstanding shares listed on the Hong Kong Stock Exchange.
Apart from bottled water, the company manufactures other packaged drinks like tea, fruit juices, and coffee. Nongfu Spring reported its 2019 revenue surged 17.3 per cent to US$ 3.51 billion. But in January to May this year, its revenue dropped 12.6 per cent year-over-year (YoY) to 8.66 US$ 1.27 billion due to sales pinched by the coronavirus pandemic, the company stated. The company is likely to announce its 2020 annual earnings on February 19, 2021.