The main equity index in Canada continued to decline on Monday, September 26, after significant losses during the trading session on Friday, last week.
On September 26, the S&P/TSX Composite Index declined by 0.83 per cent and closed at 18,327.04 points. Meanwhile, the junior index (S&P/TSX Venture Composite) was down by 1.84 per cent and closed at 567.39 points.
The energy sector dipped significantly by 3.3 per cent and sectors like base metals, financial, and industrials were down by 1.5 per cent, 0.18 per cent, and 0.14 per cent.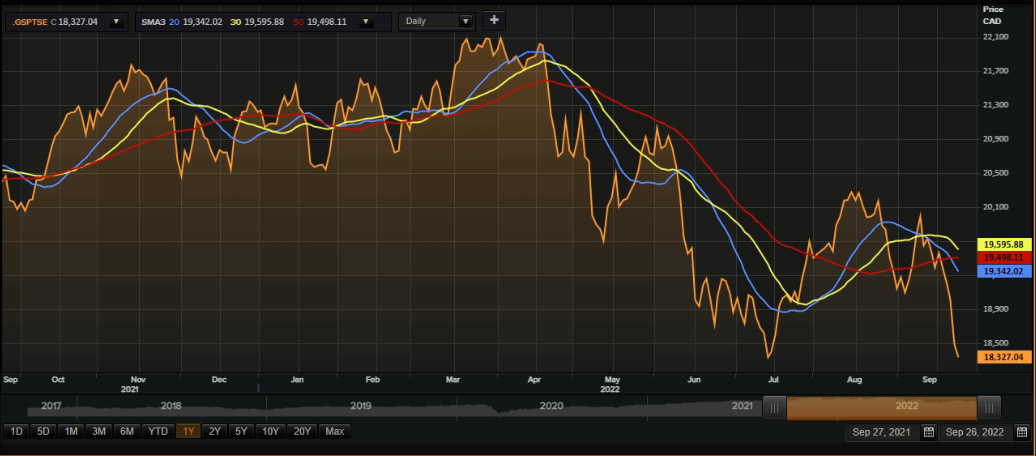 One-year price chart of TSX Composite Index along with SMA 20-day, SMA 30-day, SMA-50-day (September 26). Analysis by © 2022 Kalkine Media®
Volume Active
Suncor Energy Inc. (TSX: SU) recorded the highest trading volume as 25.4 million SU shares exchanged hands on the TSX. Followed by Suncor was TC Energy Corporation (TSX: TRP), and its trading volume was 23.01 million shares.
On the third sport of the volume active list was Barrick Gold Corporation (TSX: ABX) and its volume was 20.37 million.

Wall Street update
Like the Canadian markets, the US markets were also in the negative territory. On September 26, the NASDAQ Composite was down by 0.59 per cent to 10,802.92 points.
Meanwhile, the NYSE Composite was down by 1.57 per cent to 13,580.39 points.
Commodities
The Gold Futures were down by one per cent to US$ 1,634.65 per troy ounce. Meanwhile, the crude oil prices declined significantly on Monday.
The Crude Oil WTI Futures were down by 3.58 per cent to US$ 76.7 a barrel.
Currency news
The CAD/USD declined by 0.98 per cent to 0.729 and the US Dollar Futures for December went up by 0.99 per cent to 114.085.