Summary

Canadian investors have continued to show their faith in former top stocks of Bombardier Inc (TSX: BBD) and Air Canada (TSX: AC).
Bombardier stocks trended heavily at the Toronto Stock Exchange (TSX) on Tuesday, following the announcement of its amended deal with Alstom SA.
Air Canada, despite incurring heavy losses, remains popular among investors amid the pandemic despite.
Investors have been returning to their favorite stocks of Bombardier Inc (TSX: BBD) and Air Canada (TSX: AC), disregarding the beating their businesses took amid the pandemic. Shares of these Canadian companies, which suffered a massive blow during the coronavirus-inflicted market crash in March, have experienced an increase in trading activity in the last five to four months. While Bombardier stocks continue to be available at a discounted price, Air Canada stocks have been slowly recovering the lost ground. These stocks have been drawing attention among investors with their low prices and the track record of being former top stocks that gave good returns. Let's take a closer look at these companies and their recent performances.
Bombardier Inc (TSX: BBD)
Current BBD Stock Price: C$ 0.44
Bombardier Inc made headlines on Wednesday (September 16) after announcing that its rail business will be sold to Alstom SA at a revised price. The French train manufacture, which had agreed to buy Bombardier Transportation in February this year, will now be purchasing it on the basis of an enterprise value of US$ 8.4 billion. This revised deal saw a price reduction of US$ 350 million. Bombardier will receive net proceeds of about US$ 4 billion, down nearly US$ 500 million from previous projections. The deal is now set to close earlier, by the first quarter of 2021, instead of the first half of 2021 as previously decided.
The announcement of the amended deal caused a jump in Bombardier stock price on Wednesday.
When the pandemic caused a massive market crash in March, Bombardier stock price plummeted 59 per cent between March 3 and 24. Its share value fell over 47 per cent in the last six months, and about 55 per cent year-to-date (YTD). Nonetheless, Bombardier has been registering heavy activity on the stock market, with an average trade of 3.6 million in the last 10 days.
Bombardier stock has been a favorite among Canadian investors, despite a difficult year for its business. The Montreal-based train and plane manufacturer was already under a crushing debt when the coronavirus pandemic arrived and added to its troubles. It has been reshaping its business model to cope with the losses, from selling its assets to reducing its workforce. Last year, Wichita-based Spirit AeroSystems Holdings bought its aerostructure business for C$ 1 billion in cash and assumption of overall liabilities. In February, apart from the Alstom deal, the company also exited the commercial jet business by selling its stake in A220 passenger jet to Airbus.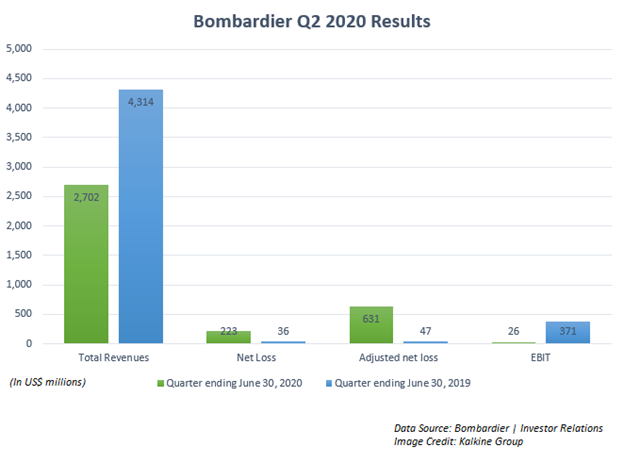 Bombardier's net loss went up by 519 per cent to US$ 223 million in its second quarter ending 30 June 2020. It posted a 37 per cent year-over-year (YoY) drop in revenues and a 93 per cent YoY drop in earnings before income and taxes (EBIT). It currently has a market capitalization of C$ 925 million. Its current price-to-book (P/B) stands at -0.12 and price-to-cash flow (P/CF) at 12.40, as per data on TSX.
Air Canada (TSX: AC)
Current AC Stock Price: C$ 18.97
Shares of Air Canada have been popular among investors throughout the pandemic despite the airline incurring heavy losses due to the market crash. Most recently, its beaten-down stock saw a price rise following the restart of domestic flights. The company also announced its limited offer of Infinite Canada Flight Pass, which gives the buyer three months of unlimited domestic air travel at a fixed rate.
When the outbreak of COVID-19 forced governments to shut down their international and domestic borders around March, commercial passenger airlines paid dearly. Air Canada saw its stock price plummet by 82 per cent between January 14 and March 18. Its scrip value dropped over 29 per cent in the last six months and close to 63 per cent year-to-date. However, its track record of surviving the 2003 SARS-triggered bankruptcy like a champ and being a top performing stock on the TSX before the COVID pandemic has the investors coming back for large trading volumes.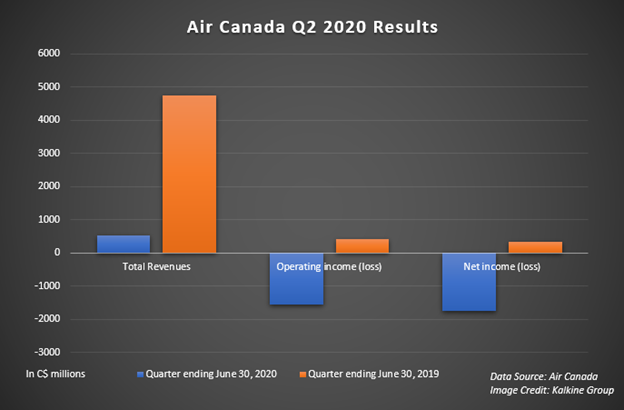 Air Canada saw an 89 per cent fall in total revenue YoY and an operating loss of over C$ 1.5 billion in its second quarter ending 30 June 2020. With all the lockdown restrictions in place, it also suffered a whopping 96 per cent YoY decline in the number of passengers carried in this quarter.
Air Canada currently has a market cap of C$ 5.62 billion. Its current price-to-book (P/B) ratio stands at 2.75 and its price-to-cash-flow (P/CF) ratio is 18.70. In the last 30 days, Air Canada has seen an average trade of 5 million.
Most recently, the International Air Transport Association (IATA) urged the Canadian government to reevaluate its travel restrictions. In early September, Air Canada came up with a voluntary COVID-19 testing initiative at Toronto's Pearson Airport. The IATA suggested that the government supports this initiative and initiate a less restrictive quarantine protocol for air travel.
Tech stocks have dramatically outpaced most of its peers and the broader market amid the COVID-19 pandemic. The combined effect of the lockdown, stay-at-home economy and the shift towards automation has taken the momentum in IT stocks to a two-decade high.
This rally in tech stocks is likely to continue as the world adapts to the 'next' normal.
But the sector is vast, and the market is teeming with shares of specific domains such as e-commerce, gaming, internet of things (IoT), artificial intelligence, virtual reality, cybersecurity, cloud computing, semiconductors and many more.
So, how one should analyze a tech stock? How to get your hands on futuristic, high-growth tech stocks?
With Kalkine you will find answers to those questions, with our in-depth technical reviews and fundamental analysis of organizational, we help investors making the right choices.
From best value to growth stocks in tech, this is your chance at bigger, better and definitive returns.
CLICK HERE FOR YOUR FREE REPORT!