Highlights

Bank of Montreal said that its Canadian P&C division saw its net profit jump 17 per YoY
Alimentation's total revenues increased by 37.4 per cent YoY to US$ 18.65 billion
Telus saw its net profit surge by 44.8 per cent to C$ 498 million in Q2 2022
Canadians just beginning to invest in the stock market can explore large-cap stocks like Bank of Montreal (TSX: BMO), Alimentation Couche-Tard (TSX: ATD), BCE (TSX: BCE), Canadian Utilities (TSX: CU) etc. that could appreciate their portfolio value in the long-term.
Rising market volatility stemming from persistent economic pressure might continue in the near term, instilling fear of a market downturn or crash, especially among new investors. Mortgage rates may remain elevated or keep rising until the central banks see inflation reaching a target of two per cent.
Rookies could also overcome their fear and make healthy investment choices in such market dynamics and uncertainties by sticking to a long-term value approach.
Hence, Kalkine Media® has selected some TSX-listed stocks with a large market size that young investors can consider in the current volatile environment to fetch significant value in the long horizon.
1. Bank of Montreal (TSX: BMO)
Bank of Montreal's market capitalization is C$ 81.76 billion, offering personal and commercial banking, wealth management and capital market services across Canada and the United States.
Bank of Montreal is among the five banks in the country and could make a reliable equity investment choice in the long run.
The Toronto-based financial company said its Canadian P&C division saw its net profit jump 17 per cent year-over-year (YoY) to C$ 965 million in Q3 2022. The US P&C division also noted a net profit of C$ 568 million in the latest quarter, noting a YoY rise of three per cent.
However, BMO Wealth Management and BMO Capital Markets posted a net income of C$ 324 million (down from C$ 379 million) and C$ 262 million (down from C$ 553 million) in the third quarter this year compared to Q3 2021 amid the challenging market conditions.
The Canadian bank saw its top line dip to C$ 6.09 billion in Q3 2022 relative to C$ 7.56 billion in Q3 2021. The large-cap company posted C$ 1.36 billion in net income in the latest quarter compared to C$ 2.27 billion in the same quarter last year. However, being a dividend aristocrat, the Bank of Montreal will deliver a quarterly dividend of C$ 1.39 on November 28.
2. Alimentation Couche-Tard Inc (TSX: ATD)
Alimentation Couche-Tard is among the biggest retailers in Canada, operating through its convenience store network. While announcing its Q1 FY2023 results, the Laval, Quebec-headquartered company, revealed that it acquired one company-operated store initially in the first quarter of this fiscal year. Not only this, but Alimentation also completed constructing 23 stores and relocating seven stores.
Furthermore, Couche-Tard recorded a total of 12,157 sites as on July 17, 2022. Besides this, the retail giant posted 1,905 numbers of Circle K brand sites under licensing agreements, taking its total network to 14,062.
In the income statement, Alimentation saw a double-digit rise of 37.4 per cent to US$ 18.65 billion in total revenues in the first quarter of FY2023. Net income amounted to US$ 872.4 million in the latest quarter, reflecting a positive YoY variation of 14.1 per cent.
3. BCE Inc (TSX: BCE)
BCE is a C$ 57.59 billion market capitalization telecom company advancing network technologies and expanding its business footprint country-wide. The communication service giant said its wireless segment continues to see momentum as it noted mobile phone net subscriber activations of 110,761 and 'strong' service revenue growth in the second quarter of 2022.
The telecom operator highlighted that its retail internet net activations increased by 27.9 per cent while residential internet revenue jumped by eight per cent in Q2 2022 compared to Q2 2021.
BCE's operating revenue climbed 2.9 per cent to C$ 5.86 billion in the second quarter of this year. The blue-chip company posted a free cash flow of C$ 1.33 billion in the latest quarter, reflecting YoY growth of 7.1 per cent.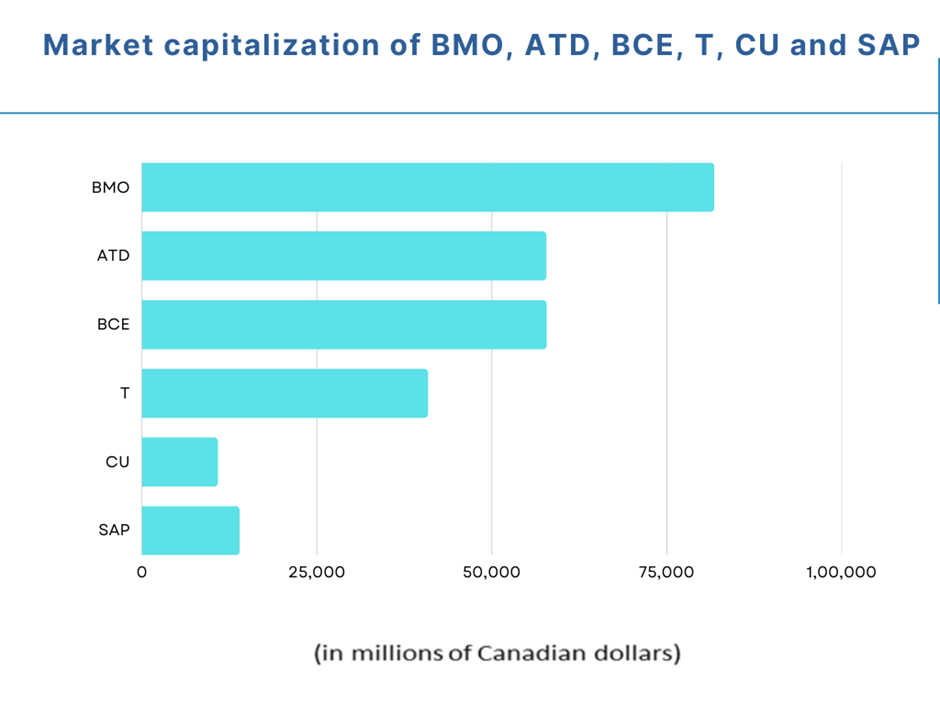 ©Kalkine Media®; ©Garis Studio via Canva.com
4. Telus Corporation (TSX: T)
Telus is also among the top telecom operators in Canada, with a market capitalization of C$ 4,084 billion. Telus is set to distribute a quarterly dividend of C$ 0.339 on October 3, representing a 7.1 per cent surge from the dividend payout of C$ 0.316 announced a year ago. Telus saw its net profit surge by 44.8 per cent to C$ 498 million in the second quarter of fiscal 2022.
In August, the telecommunication company received court approval for its previously announced acquisition of LifeWorks (TSX: LWRK). The large-cap company also got regulatory approval from the Competition Bureau of Canada and Hart-Scott-Rodino (HSR). With this acquisition, Telus aims to expand its digital healthcare technology footprint via its health division, Telus Health.
5. Canadian Utilities Limited (TSX: CU)
Low-risk investors could look for defensive stocks like Canadian Utilities that could provide a sense of stability despite market crashes or downturns. Utility stocks are considered less prone to market fluctuation and could provide stable returns in the long run.
Canadian Utilities said that it invested C$ 294 million, in total, in capital projects in the second quarter of FY2022. Canadian Utilities significantly increased profit attributable to equity owners to C$ 151 million in Q2 compared to C$ 5 million in Q2 2021.
Saputo is a dairy processor headquartered in Montreal with C$ 13.93 billion in market capitalization. The Canadian dairy giant saw its top line jump by 24.1 per cent to C$ 4.32 billion in Q1 FY2023 compared to C$ 3.48 billion in the same period last year. The dairy products company more than doubled its net profit to C$ 139 million in the latest quarter from C$ 53 million in the second quarter previous year.
Saputo is set to distribute C$ 0.18 as a quarterly dividend on September 16. Also, the consumer products company said it would implement further price raises in line with pricing protocols in the fiscal year, considering the inflationary environment.
Bottom line
New investors can follow a long-term approach amid the ongoing market condition to capture substantial value in the future. These TSX stocks have a large market size and could survive market hiccups better than small-cap or mid-cap stocks. Also, all stocks mentioned here distribute quarterly dividends. Hence they could be explored for diversifying investment portfolios.
Please note, the above content constitutes a very preliminary observation based on the industry, and is of limited scope without any in-depth fundamental valuation or technical analysis. Any interest in stocks or sectors should be thoroughly evaluated taking into consideration the associated risks.