Summary
REIT stocks allow investors to increase their exposure to the real estate sector and diversify their portfolio.
Morguard Corporation reported an increase of US$ 7.4 million or 17.2% in funds from operations during Q1 2023 compared to Q1 2022.
Mainstreet Equity Corp. presented revenue growth of 16% during its financial results announcement for Q2 2023.
The real estate sector offers the financial benefits associated with investing without needing technical know-how of the field. The real estate investment trust or REIT segment has allowed investors exposure to real estate without having to do any of the physical examination associated with it.
REITs are helpful in diversifying one's portfolio as they are counter-cyclical in nature. They are also suitable in the long run as they are linked to movements in the real estate market, which can last for a decade or more.
Lastly, REITs are also helpful as an inflation hedge as they can be more inflation-proof than stocks. Thus, REITs can be useful in securing your portfolio and offering it a cushion for stressful times. On that note, here are two Canadian REIT stocks that deserve your attention:
Morguard Corporation (TSX: MRC)
Morguard operates not just in the Canadian real estate market but also in the American market for property. The company has investment and ownership segments in real estate, and it also provides advisory services along with portfolio management.
The company announced its financial results for Q1 2023 on May 2, 2023. According to the report, the net income for the company decreased by CA$ 263.1 million during the quarter, with a net loss of CA$ 31.4 million.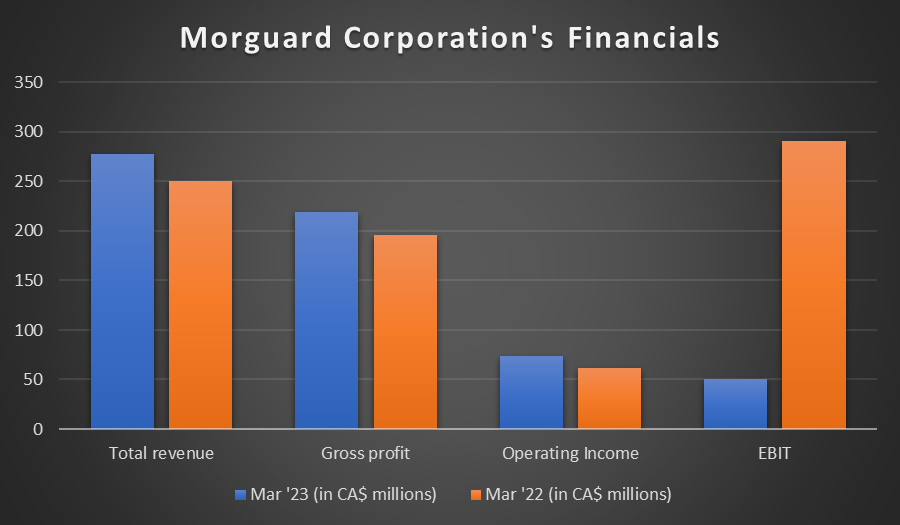 Image source: ©2023 Kalkine®; Data source: Company Reports
The company reported normalized funds from operations of CA$ 50.3 million, which translates to CA$ 4.56 per common share in Q1 2023. This marked an increase of CA$ 7.4 million or 17.2% over Q1 2022. Additionally, the total revenue from real estate properties was higher by CA$ 23.8 million or 10.7% as compared to the same period in 2022.
The report also mentioned that the company will be offering a dividend of CA$ 0.15 per common share to be paid on June 30, 2023.
Mainstreet Equity Corp. (TSX: MEQ)
The company operates in the mid-market rental apartment building segment of real estate. However, Mainstreet's specialty lies in multi-family residential housing and generates revenue through rental income obtained.
The company presented revenue growth of 16% during its financial results announcement for Q2 2023 on May 9, 2023. The report highlighted that the company's funds from operations grew 25% during Q2 2023, while the net operating income rose 18%.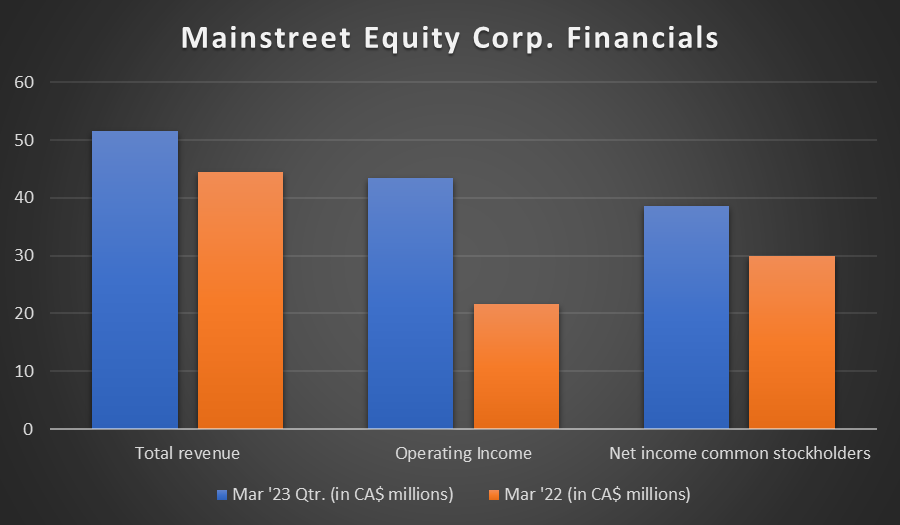 Image source: ©2023 Kalkine®; Data source: Company Reports
Disclaimer:
Please note, the above content constitutes a very preliminary observation based on the industry and is of limited scope without any in-depth fundamental valuation or technical analysis. Any interest in stocks or sectors should be thoroughly evaluated taking into consideration the associated risks.