The broader Canadian benchmark index tested a new record high of 20,067.19 on Monday, June 7, settling higher for the second straight day.
The S&P/TSX Composite climbed by 0.03%, or 6.1 points, on Monday, supported by a rally in the healthcare, telecom and utilities stocks.
Gains, however, were offset by weakness in the energy and financials sectors.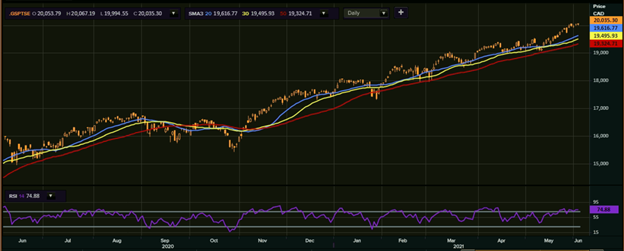 1-Year Price Chart (as on June 07, 2021). Source: Refinitiv
On the macroeconomic front, a tapering of monetary stimulus is expected to be discussed in the US Federal Reserves meeting scheduled for next week, although no action is foreseen before year-end.
The Bank of Canada, on the other hand, is likely to maintain its tapering of bond purchases for now, especially after the May jobs report released on Friday.
Actively Traded Stocks
BCE Inc was the most actively traded stock on TSX on Monday, with a volume of 19.07 million, followed by BlackBerry Limited, with 15.9 million shares, and Suncor Energy Inc, with 15.2 million shares.
Wall Street Update
Washington lawmakers are redoubling efforts to create a bipartisan infrastructure spending package, and Democrats are expected to vote on the bill on Wednesday.
The Dow and S&P 500 ended a sluggish session in red on Monday, as investors stayed alert for news of a worldwide minimum corporate tax rate.
The Dow Jones Industrial Average shed 126.15 points to close at 34,630, while the S&P 500 closed flat at 4,227. The Nasdaq Composite Index ended at 13,882 with a gain of 67.23 points.
Commodity Update
Gold traded at US$ 1,898.80, up 0.38%.
Crude prices eased some gain as Brent Oil traded lower at US$ 71.49/bbl, while WTI Crude Oil slipped 0.70% to US$ 69.23/bbl.
Currency News
On Monday, June 7, the Canadian Dollar ended in red against the US greenback, with USD/CAD climbing 0.02% to close at 1.2079.
The US Dollar Index declined against the basket of major currencies on Monday, down 0.17% to close at 89.99.
Money Market
The US 10-year bond yield ended flat on Monday at 1.569, with no change from the previous closing.
The Canada 10-year bond yield gained 1.44% to 1.447, following a 4.21% dip in the previous trading session.