The TSX Composite Index spiked by 1.54 per cent, Thursday, June 2, to take it past the 21,000-point mark. The last time it was above 21,000 points was on May 5.
In what seems like a reversal of sorts from recent days, energy was the only sector in the red, down 0.3 per cent, while all others gained. Industrials was up 2.6 per cent, base metals 4.6 per cent and tech 3.4 per cent.
The 318.09-point gain more than offset the previous two days of losses as the index closed at 21,031.81.

One-year price chart (June 2). Analysis by © 2022 Kalkine Media®
Volume actives
Athabasca Oil Corporation saw 16 million shares traded, making it the most active stock. It was followed by Crescent Point Energy Corp that saw nearly 10 million shares switch hands, and Enbridge Inc saw nine million shares traded.
Movers and laggards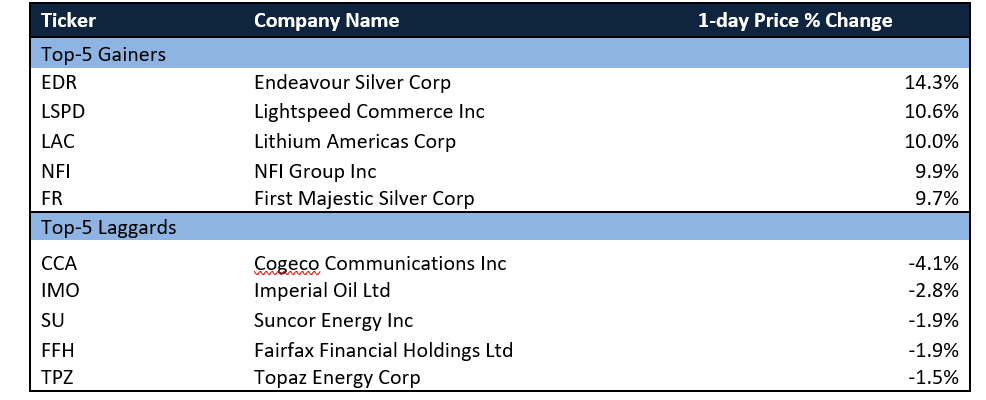 Wall Street updates
On Wall Street, the S&P 500 increased by 1.84 per cent, 75.59 points, to 4,176.82 points. The tech-heavy Nasdaq Composite zoomed 2.69 per cent, 322.44 points, to 12,316.90 points, and the Dow grew 1.33 per cent, 435.05 points, to 33,248.28.
Commodities gain
Gold gained 1.23 per cent to US$ 1,871.40. The price of Brent oil gained 3.57 per cent and was at US$ 117.61/bbl and that of crude oil was up 1.4 per cent to US$ 116.87/bbl.
Currency news
The loonie rose 0.69 per cent compared to the US dollar while USD/CAD ended at 1.2569. The US Dollar Index was at 101.75 against the basket of major currencies, down 0.73 per cent.
Money market
The US 10-year bond yield was up 0.06 per cent to 2.913 and the Canada 10-year bond yield was up 0.94 per cent to 3.005.