The main Canadian stock market index sank on Thursday, July 22, under the pressure of declining healthcare, base metals and energy stocks.
While the base metal sector dwindled by 0.25% due to falling gold futures, the energy sector plummeted 0.13% even as crude prices rose. A descending healthcare sector was dragged further down, by 2.09%, by falling pot stocks such as Aurora Cannabis and Tilray Inc.
The index, however, noted a mild uptick in the tech and the industrials sectors. At the end of the trading session, the S&P/TSX composite Index tumbled 12.53 points, or 0.06%, to settle at 20,097.52 on Thursday.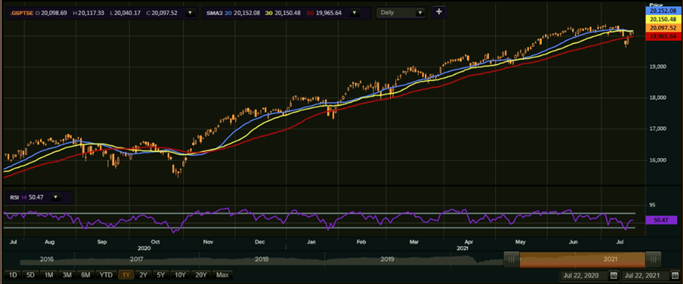 1-Year Price Chart. Analysis by Kalkine Group
Gainers and Losers
Actively Traded Stocks
The most actively traded stocks on the TSX on Thursday were Royal Bank of Canada, with a trading volume of 10.32 million, followed by Orea Mining Corp, with that of 7.99 million, and Manulife Financial Corporation, with that of 6.5 million.
Wall Street Update
Latest numbers showed that sales of previously owned houses in the US has increased for the first time in five months. But an unexpected surge in unemployment claims reignited fears about the economy, causing US equities to mostly struggle through Thursday's trading day.
The Dow closed flat at 34,823, the S&P climbed marginally by 0.2% to 4,367.48, while Nasdaq rose only 0.36% to 14,684.60.
Commodity Update
Gold traded flat at US$ 1,805.40 on Thursday, up 0.11%.
Crude maintained its momentum as Brent Oil rose 2.16 % to US$ 73.79/bbl and WTI Crude Oil jumped 2.29% to US$ 71.91/bbl.
Currency News
The Canadian Dollar lost some ground against the US Dollar on July 22, while USD/CAD closed at 1.2565, up 0.10%.
The US Dollar index rose against the basket of major currencies and closed at 92.83 on Thursday, reflecting a gain of 0.08%.
Money Market
The US 10-year bond yield ended its two-day gain streak on Thursday, closing at 1.282 after a slide of 0.78%.
The Canada 10-year bond yield, on the other hand, made a correction of 1.47% and closed at 1.206.